BLOG
Our Favorites + Building Knowledge and Materials
---
Tiny Home Plans with Big Curb Appeal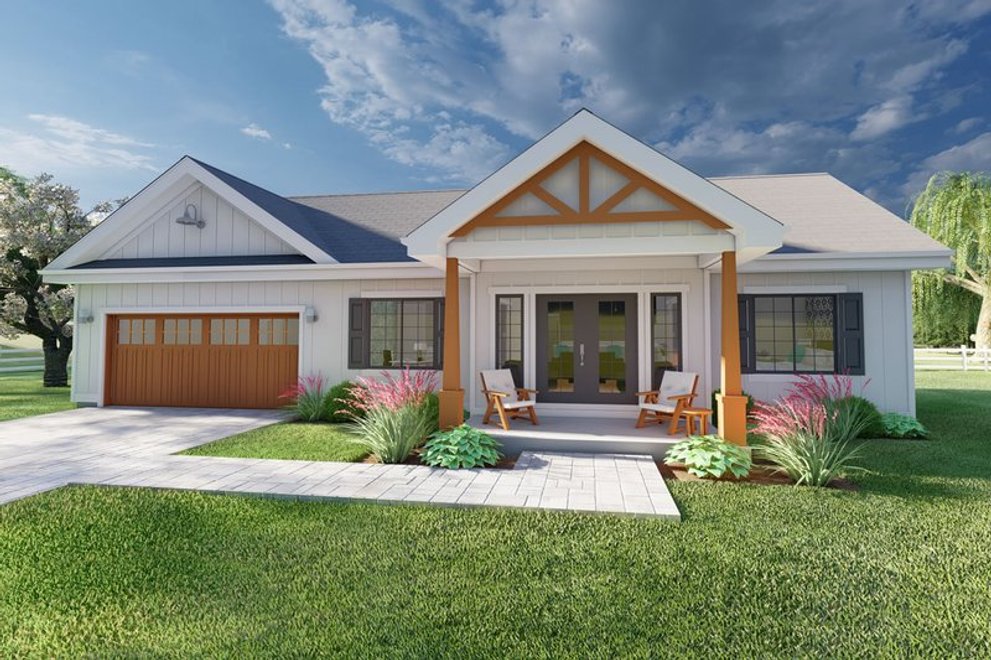 By Gabby Torrenti
Thinking about downsizing or building a versatile guest home? These tiny home plans feature huge curb appeal and are all under 1,000 square feet (the definition of tiny varies; check with your local building authority for any applicable regulations). You'll find open floor plans, outdoor living spaces, and impressive style.
Do you want to see all of our tiny home plans? Browse the full collection here.
Tiny Home with Tasteful Stone Details
Plan 1077-7
This 640-square-foot cottage house plan is the perfect option for a couple looking to downsize or someone simply wishing for an off-the-grid lifestyle. After stepping in off the covered porch, this home opens into a sizable living space, which leads directly into the kitchen space. A center island in the kitchen breaks up the space, while also offering extra meal-prep space. Down a short hallway, a coat closet and stacked washer and dryer add to the home's convenience and lead into the bathroom. This space includes a sink, toilet, and combined bathtub and shower, as well as its own linen closet. Across the way, the home is made complete with a sizable bedroom with an optional coffered ceiling. Despite its size, this home does not leave out a single detail.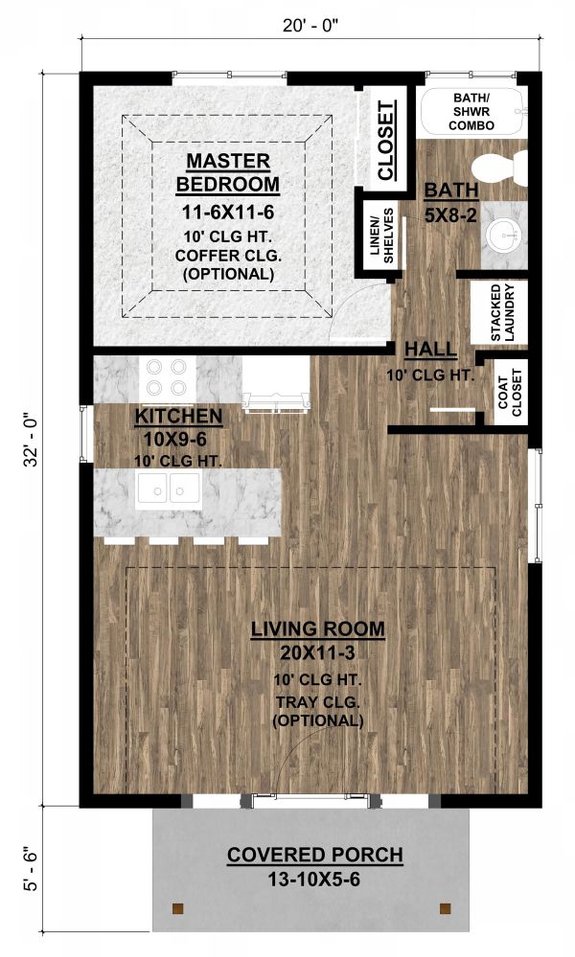 Farmhouse-Style Tiny Home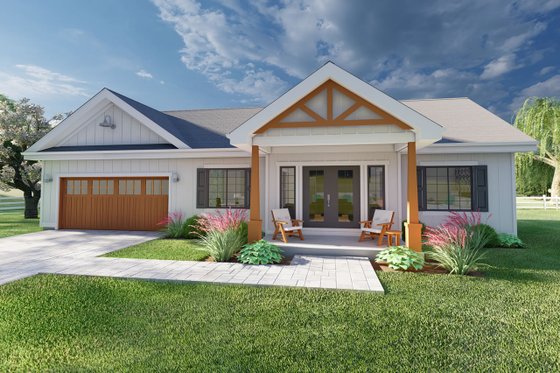 Plan 126-175
With a spacious front porch and rugged truss, this little house plan nicely combines Craftsman and farmhouse style. Beyond the porch, the home greets you with a combined living room and kitchen space, separated by a breakfast bar that makes enjoying a meal with family simple. Just a few steps away, a versatile guest space can be used for hosting company or as an office to work from home. A full bathroom leads into a mudroom with a pantry and space for your wash and dryer, helping keep your home neat and tidy. Across the home, a primary suite gives owners an escape, with sliding doors to separate it from the rest of the home. This suite includes a sizable bedroom, a bathroom with dual sinks and a roll-in shower, and a walk-in closet with plenty of storage space. This farmhouse home packs quite a bit into a space-saving 928 square feet.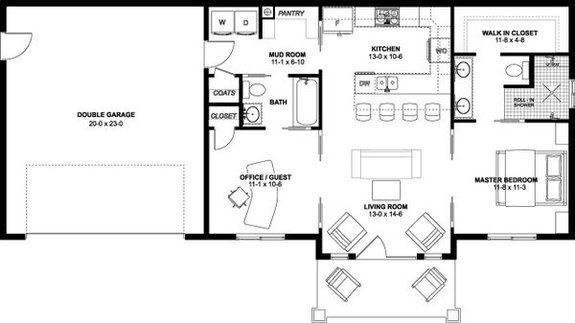 Adorable Cabin House Plan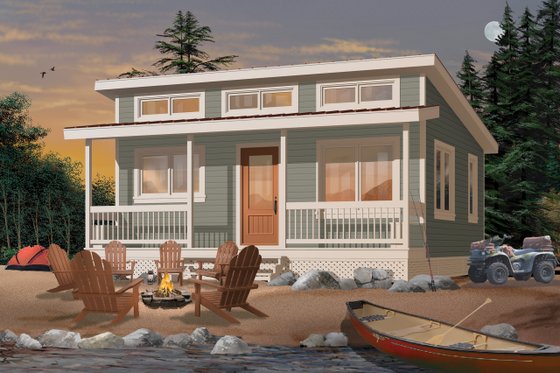 Plan 23-2290
This cozy cabin is perfectly designed for tiny home living by the water. With a spacious porch for enjoying the view, this home is the perfect fit for lakeside living. At 480 square fit, it's the perfect miniature home away from home. Beyond the deck, this home features a front sitting area, which leads seamlessly into the eat-in kitchen for a casual, vacation-appropriate vibe. At the back of the home, two bedrooms provide plenty of space for the owners, as well as any visitors. The hall bathroom sits between the bedrooms and offers a shower.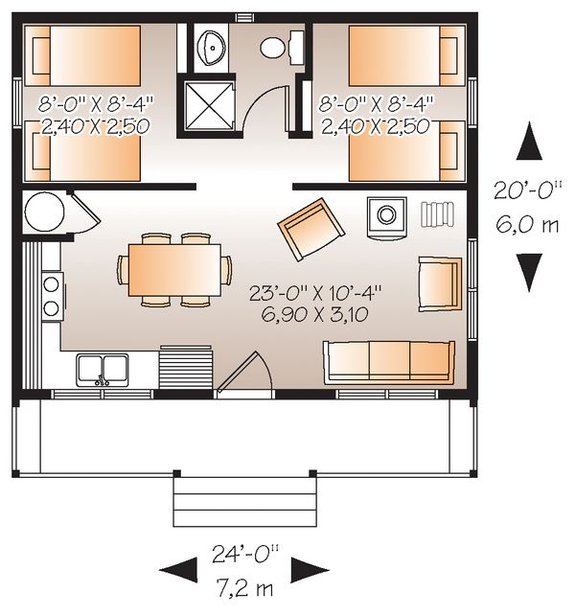 Convenient Bungalow Home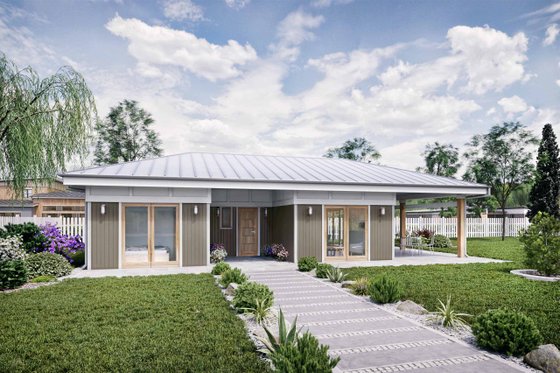 Plan 924-11
At 795 square feet, this single-level home packs lots of living space onto one floor. Inside, a convenient entryway splits to allow access to both sides of the home. On the right side, a living space provides plenty of room to relax, leading into the eat-in kitchen. Step out to the spacious porch to enjoy a soft early-fall evening with a cup of cider. A pantry makes keeping ingredients within reach simple. On the home's opposite side, a primary suite gives owners their own space, with a sizable closet to store all of their belongings. A few steps away, a second bedroom makes a great home office, with outdoor access letting you get a breath of fresh air between meetings.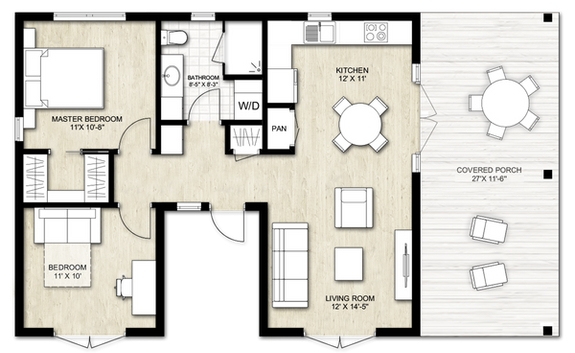 Modern Studio Space
Plan 48-953
Ideal as a studio space or additional room to work from home, this 312-square-foot structure is ideal for maximizing your property. Off the front patio, this space opens into a large office/studio space, which can easily be converted into a home office, room for partaking in a hobby, or simply a place to relax with family. A few steps away, a full bathroom makes this structure perfectly livable. Back at the front of the home, a folding table swings out from the wall, allowing space for dining or extra workspace. Open shelving and a sink space add to the space's convenience. If you're in need of some extra space or a quiet area to conduct business, this structure is a perfect option.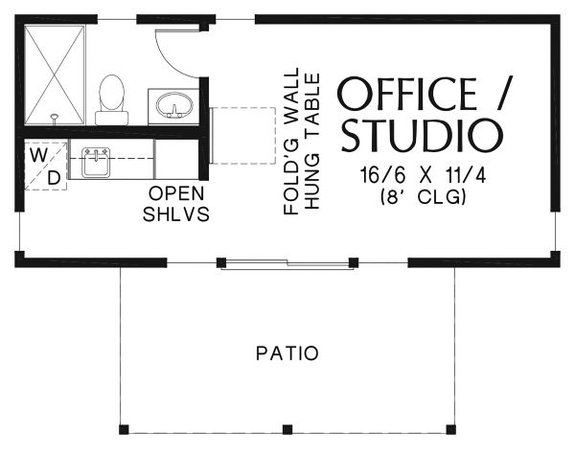 Contemporary Tiny Cabin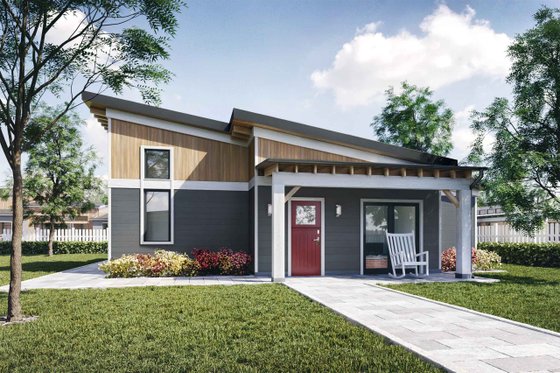 Plan 924-12
This modern tiny home would make the perfect addition to any property or primary residence for those looking to downsize. With a slanted roof and front porch, this space is visually stunning, with even more details on the inside. Beyond the entryway, the living space features plenty of room to relax, leading into an eat-in kitchen, which then flows outside to a covered porch for alfresco dining when the weather's nice. Down a short hallway, the primary bedroom includes its own closet and easy proximity to the washer and dryer, the hall bathroom, and plenty of additional storage space. A private exit to the backyard makes enjoying a cup of coffee alfresco simple. The second bedroom, which can house children, guests, or office space, also opens outside, in this case to the front porch.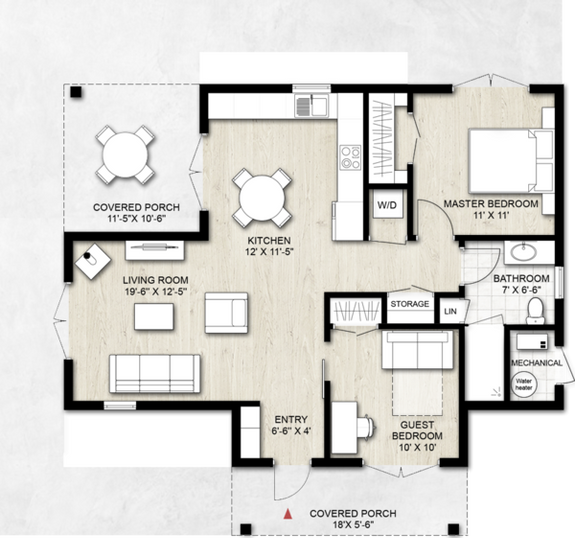 Want to see more? Browse the full collection of tiny homes here.
Get Personalized Help