by: Courtney Pittman
Building dream house plan designs doesn't have to be an expensive task. What's the cheapest house to build? Some of our cheapest house plans to build are full of smart layouts and elegance. You don't have to break the bank to build your dream home. Finding simple and affordable floor plans has become more important as land and building costs continue to rise.
See our cheapest house plan designs here.
Believe it or not, constructing a remarkable and viable dwelling can be both a reality AND budget friendly. Smaller footprints, simple designs, open floor plans, and smart material choices are all small ways to achieve the cheapest house to build possible, while still utilizing space in easy and efficient ways. You never know, you may even have money left over to splurge on that dreamy couch you've always wanted. Yes please!
With thousands of designs to choose from, selecting the perfect (and cheapest!) dream home can be daunting. But fear not! We've gathered our cheapest house plans (don't let the word "cheap" fool you) that are jam-packed with affordable luxury. Can we get an AMEN?
These drool-worthy home designs are affordable, cheap, budget-friendly (however you want to put it), and give us all the feels.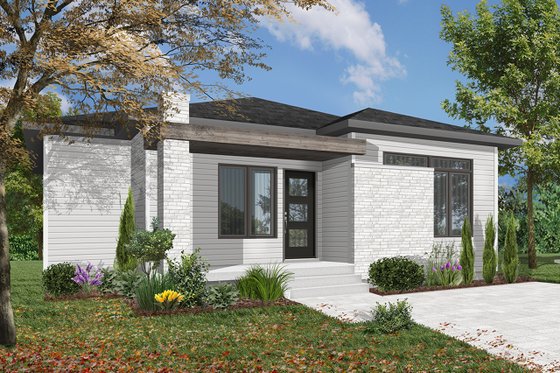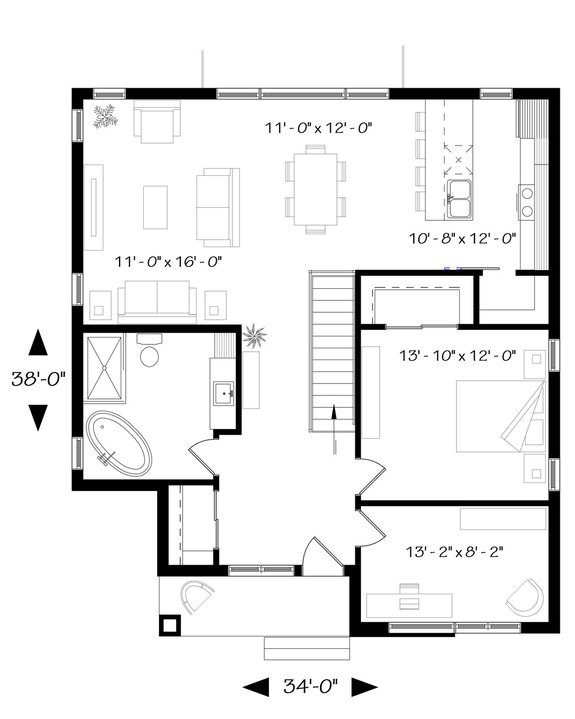 Casual and cool, Plan23-2638 (above) presents a simple yet memorable exterior. With the dining room, kitchen, and great room all open to one another, homeowners are able to have flexibility when it comes to arrangements and use of space (which also allows the home to feel larger than it actually is).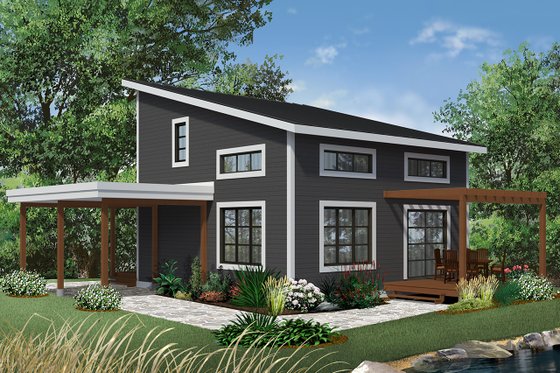 This terrific house design (plan23-2631) offers an uncomplicated design that is full of style. A small footprint and easygoing floor plan make this house plan design both affordable and modern. Win, win! Multiple outdoor areas grant homeowners even more livable space, while connecting the indoors and out for seamless entertaining.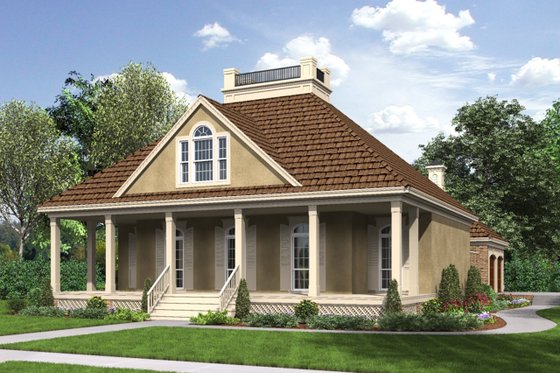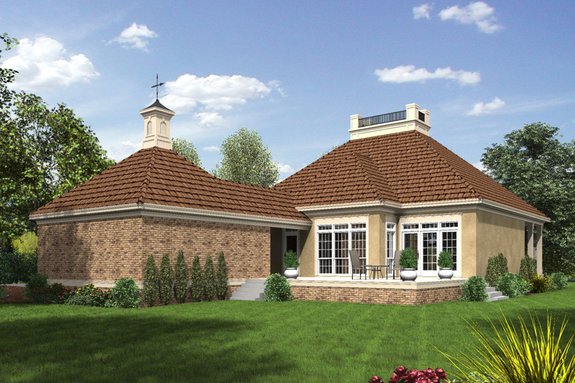 Plenty of porch room in plan45-573 welcomes lazy afternoons and invites the outdoors in with a large veranda (above) in the front, a rear terrace, and a courtyard that maximizes living space. Friends and family will have oodles of room to relax and kick up their feet while enjoying all that nature has to offer.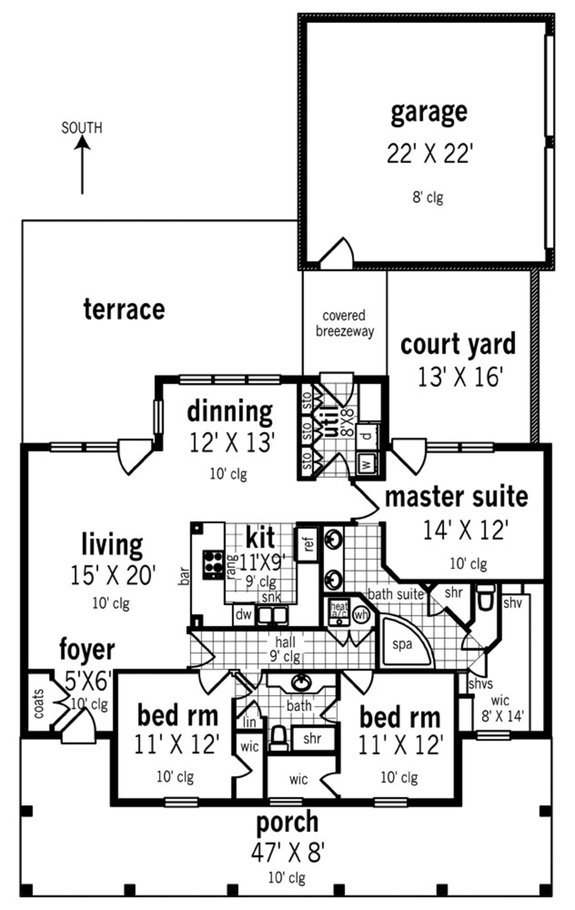 The living room opens effortlessly to the kitchen bar and dining room allowing homeowners to entertain friends and family easily. Two bedrooms and a master suite reside on the main floor with the master at the back of the house for extra privacy.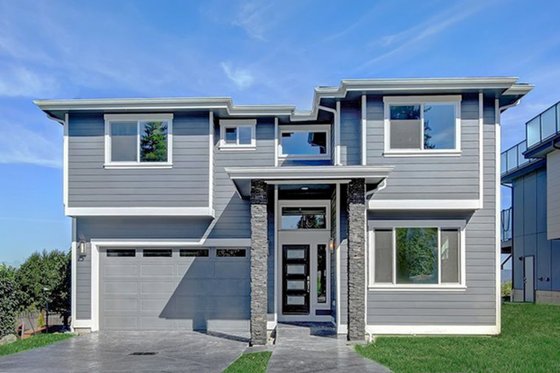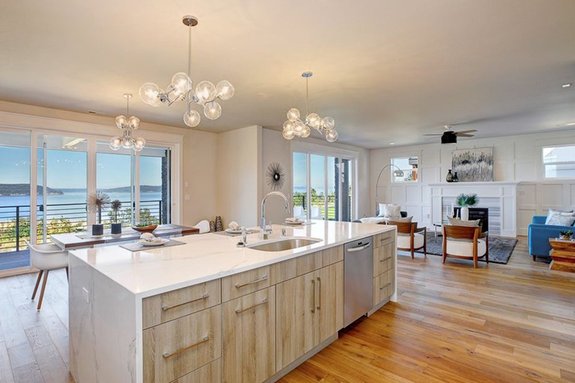 The cheapest house to build doesn't have to be small. Plan569-40 is perfect for a bigger (or growing) family that wants to have space – without spending an arm and a leg to get it. With two stories, this home saves space (and cash) and is great for a narrow lot. The super simple design and open layout (above) lend a spacious feeling, while cutting back on costs.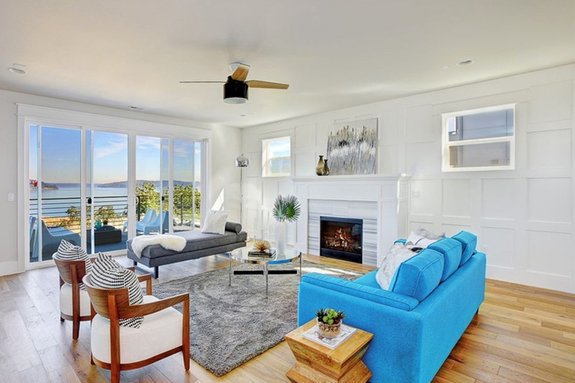 Sliding glass doors (pictured above) open right up to the outdoor dining and living area, extending the living space with ease and functionality. A guest suite on the first floor could also be used as an extra bedroom, home office, playroom…the options are endless!
Want more space in your house design but at a cheaper price? Well, you're in luck. Plan513-18 (above) is loaded with 1,988 square feet of pure goodness. This gem boats a family-friendly layout that encourages functional living with a splash of style.
Highlights we love include 12 foot ceilings in the living room for added luxury, four bedrooms plus a master suite on the opposite end of the house (hello privacy!), a study, a large kitchen island, and a covered rear porch to top it all off – JACKPOT!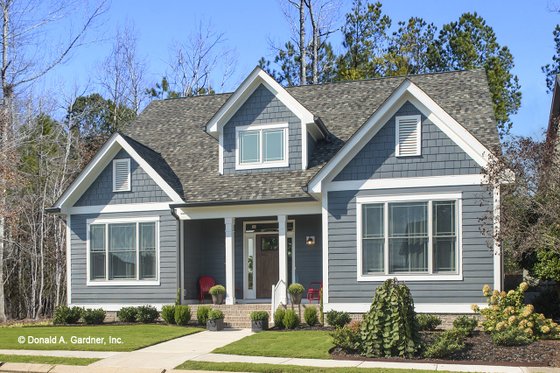 In perfect symmetry, this cottage (plan929-770) vividly expresses curb appeal in a modern way. The twin gables and columns, topped with a large gabled dormer, create a welcoming exterior. Compact but mighty, this design features a contemporary floor plan in a smaller square footage making it cheap to build (and we don't hate it).
The kitchen's L-shaped counter top doubles as a serving bar, creating additional space for quick meals. Vaulted ceilings and windows (pictured above) allow the great room to feel open, airy, and bigger than it actually is – making it the perfect gathering spot for family and friends alike! The upstairs not only includes two bedrooms, but a generous bonus room and balcony that overlook the great room.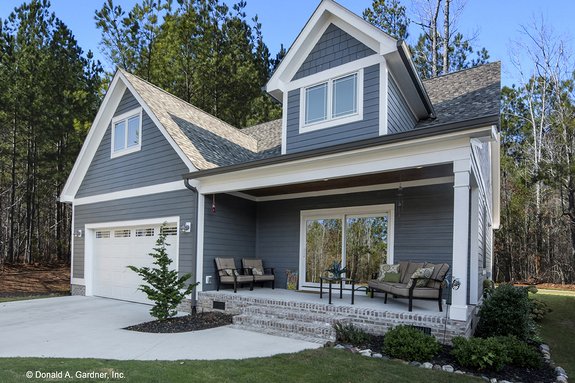 The rear porch at the back of the plan (above) can be used year-round (just add a fire pit) and enjoys a full view of the open great room.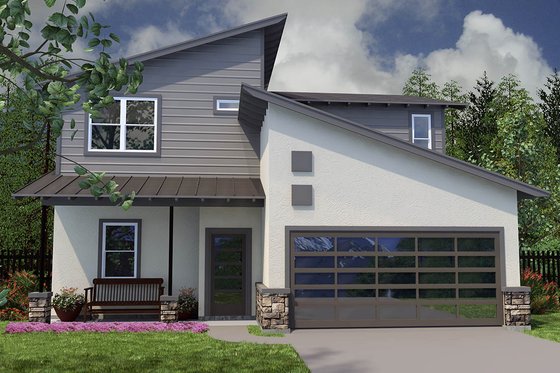 Brimming with character and style, this modern (and cheap) house plan (plan472-8) is designed for today's living with an open layout between the main living areas. Step down beyond the bookshelves into the living room and up the tread stairs to the second floor which boasts an outdoor living balcony. The master bedroom is conveniently located on the main floor and has double the closet space.
This tiny rustic house design (plan23-2603) provides an affordable home whether it is used as a primary residence or a vacation cabin. Highlights we love include an open living area (which has access to the front covered porch), a flexible kitchen space that is large enough for a table or an island, a dining area with a retractable wall that permits it to be used for dining, a home office, or a guest bedroom (you decide!).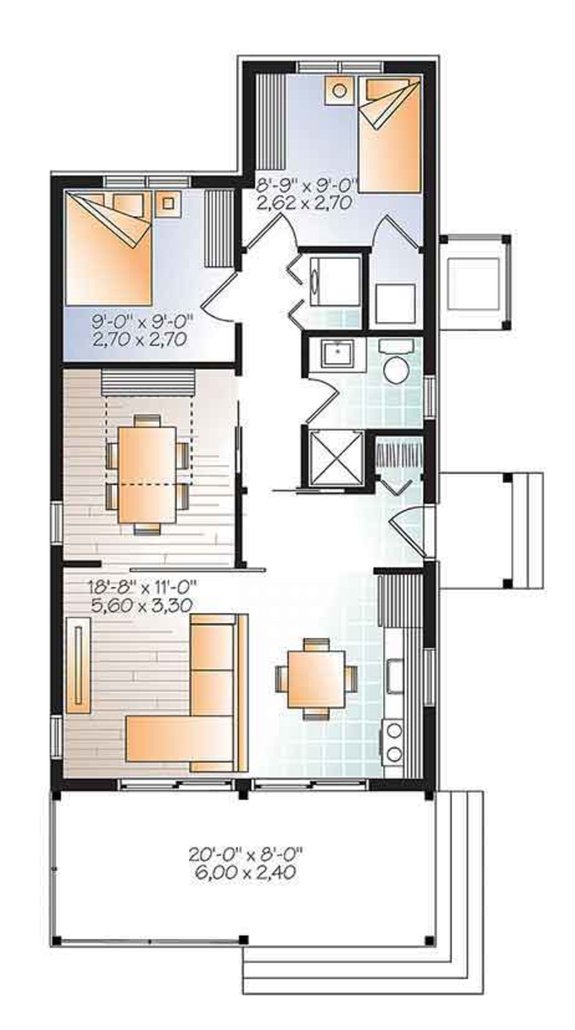 Both bedrooms are located at the far end of the home (above) for added privacy. This plan can also be flipped on the lot to allow the porch to be at the rear of the home.
Click here to see our collection of affordable home plans.
Browse our modern home plan collection here.