By Boyce Thompson
The median size of a new single family home completed in 2018 in the U.S. was 2,386 square feet, compared to 1,525 square feet in 1973. That's according to recently published data from the U.S. Census, which has been tracking the size and characteristics of new homes for decades. The data raise a vital question: What kind of home plan does 2,386 square feet get you?
Plan on building? Download your complete beginner's guide here.
The data shows that the average new home has 2.5 baths, at least three bedrooms, and two garage bays, which also happens to be the sweet spot for house plan sales. Here's a good example of the typical new home built today – an on-trend, 2,575-square-foot, farmhouse-style home with three bedrooms and 2.5 baths. Plan120-183 (pictured below) is long on modern features, including a first-floor master suite, breakfast nook, and utility closet. It's also ready for expansion with bonus space upstairs could be finished to include more bedrooms or even a home theater.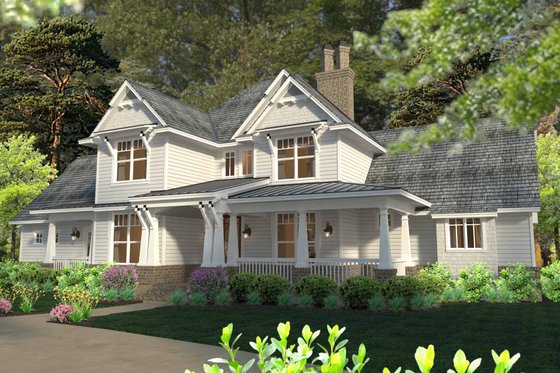 Plan120-183
The Census data provides many useful guideposts. Consider this – In 1973, only half of new homes had air conditioning. Today, nearly all new homes (93 percent) do. A similar percentage (92) of new homes have at least one porch, deck, or patio, and about half have two or more of these outdoor spaces. Outdoor spaces are vital to the desirability of new homes. Designers today do a much better job integrating outdoor spaces into floor plans. Here's a striking modern house plan (plan48-476 below) designed to wrap around a great back porch with a pool. Floor-to-ceiling windows connect indoor and outdoor spaces.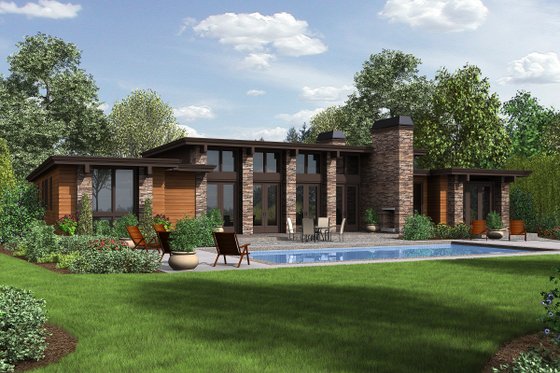 Plan48-476
The data also show that some things haven't changed much. Most homes are still heated with gas (60 in 2018) or electricity (39 in 2018), percentages that have held steady through recent years. And despite the rise in alternative framing methods, the vast majority of new homes (92 percent) are still framed with wood. 97 percent are site-built, as opposed to modular or other. Contrary to impression created by media coverage, modular construction is losing share; it accounts for only 1 percent of new homes completed today.
Interestingly, the data also show little movement over the years in the percentage of new homes with one or more fireplaces; the number remains steady at around 44 percent. That said, fireplaces can be a vital component of many house plans, particularly second homes. Here's a prime example – a 2,470-square-foot Craftsman-style house plan (plan17-2131 below) that would make for a great vacation home. A large fireplace anchors the great room.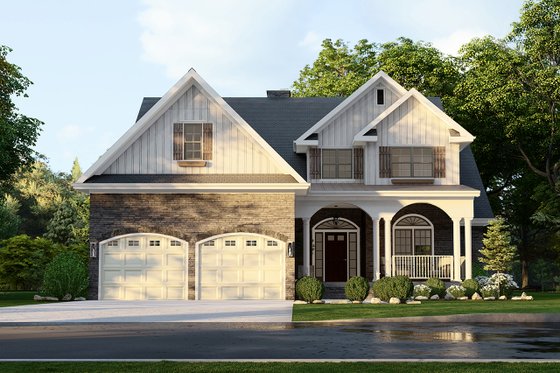 Plan17-2131
Extra bedrooms and baths account for much of the growth in home size. Forty-five years ago, 80 percent of new homes had two or fewer baths. Family members were more likely to share bathrooms, and first-floor powders for guests weren't that common in the typical new home. Flash forward to today: 65 percent of new homes have at least 2.5 baths and more than a third have three or more.
Bedroom count is also expanding. Nearly half of new homes (45 percent) today have four or more bedrooms. Only 23 percent had a bedroom count this high in 1973. In house plans with four or more bedrooms, at least one often doubles as an office or a guest suite. That's the case with this 2,556-square-foot Farmhouse-style house plan, (plan137-252 below) which manages to pack two bedrooms, one an optional study, into a first-floor footprint. The bedroom/study, with a walk-in closet that could be used to store business records, is adjacent to a full bath.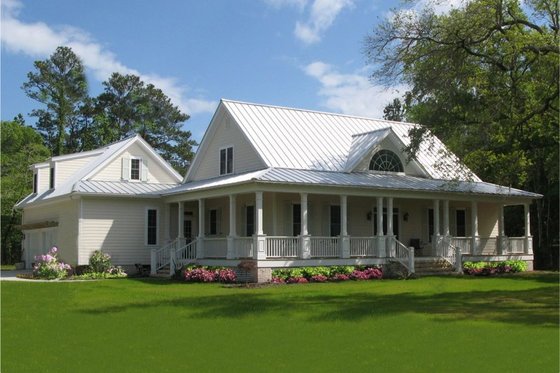 Plan137-252
One of the biggest changes in new-home composition is garages. Once again, Census data illuminates the trend. In 1971, less than half (39 percent) of new homes had two garage bays. Sixty-four percent of new homes have two garage bays today, and another 21 percent have three or more.
Another sea change is in new home foundations. As home building migrated to the Sunbelt, there was a corresponding rise in homes built on slab foundations, as opposed to basements or crawlspaces. A full 60 percent of new homes today are built on slab or "other" foundations, compared to just 38 percent in 1973. During that time, the percentage of new homes with a basement has fallen from 41 to 25.
The data also show a rise in the use of modern materials that require less maintenance. Wood siding, which used to be a fairly popular spec at 30 percent of new homes, is now employed on just 5 percent of new homes. During that time, brick's share of the siding market has fallen from 35 to 21 percent, likely largely due to its expense. In the meantime, two products that weren't even tracked in the early 70s, vinyl and fiber cement, now account for almost half of new homes built.
In 2018, half of new homes (49 percent) had 2 stories, 46 percent one story, and 5 percent three stories or more. What's interesting, though, is the regional breakdown. In the Northeast, where land is expensive and lots smaller, only 20 percent of new homes are one story. In the South, by contrast, 48 percent of new homes have only one story. The figure stands at 42 percent in the West.
If you are thinking about buying a plan with a second-floor laundry, rest assured – that's an increasingly popular choice. The data, which the Census hasn't been keeping that long, show that they are now found in 18 percent of new homes without basements. For today's busy families, it makes sense to have laundry on the second floor, close to the spot where dirty clothes are often discarded. Here's a prime example: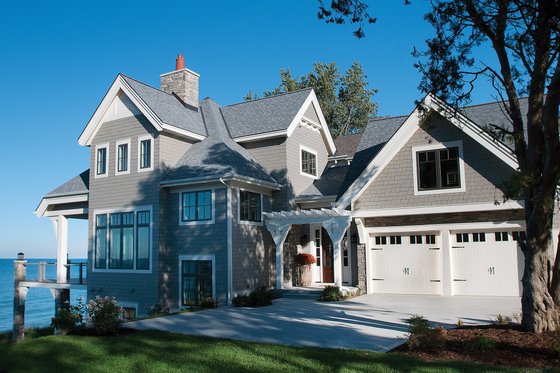 Plan928-11
The median size of a new home may have increased almost 1,000 square feet since your parents built their dream house in the early 1970s. But the reality is that if you built a small home today, you'd get much more usable living space. That's because today's house plans, like the one below, are much more open, with family, dining, and kitchen spaces flowing together.
In the early 1970s, small ranch plans were a staple of new construction. You can still buy retro plans in this style, but the floor plans have been updated. This 1,555-square-foot ranch plan (plan938-30 below), for instance, manages to squeeze three bedrooms and two baths into its tight footprint. A great room with an open kitchen has been substituted for the separate living and dining rooms often found in older plans. The great room intimately connects to a covered lanai in back. Outdoor spaces aren't included in the square footage count because they aren't considered conditioned space.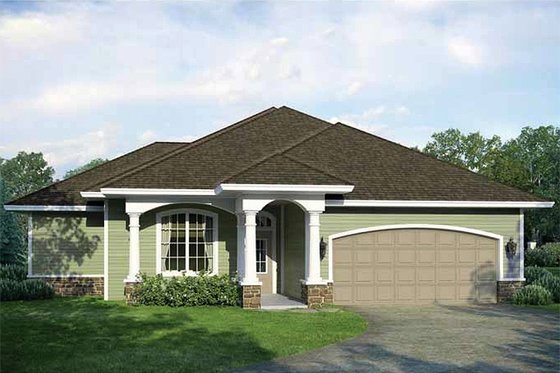 Plan938-30
Data taken from U.S. Census, Annual Characteristics of New Housing, Single-Family Completed
Browse best-selling house plans
Explore new home plans