by: Courtney Pittman
Characterized by minimal, straightforward, and efficient home designs, modern architecture boasts a style that is spacious and livable. From clean lines, open floor plans, large expanses of glass (hello natural light!), and minimalist interiors, modern house plans are uncomplicated and exude simplicity. With seamless connections between the interiors and exteriors, modern dwellings tend to echo the land they are built on.
This design style should feel spacious and bright. Streamlined features such as easygoing layouts, minimal interior walls, and simple roof profiles, are common characteristics of contemporary homes and promote flexibility. Organic elements (like wood, stone, and glass) deliver a warm and inviting tone to this architecture style.
Here are seven house plans that exhibit the modern style we just can't get enough of.
This modern design (plan928-287) gathers views from almost every angle with plenty of windows. An airy floor plan grants homeowners ease and flexibility.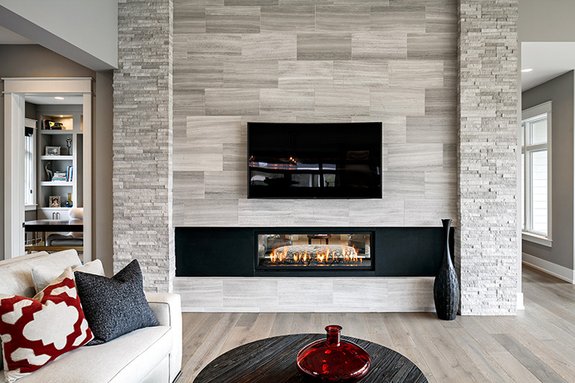 A double-sided fireplace (above) warms both the living and hearth rooms, while a home theater delivers ample entertainment. The master suite (located on the main floor) offers a unique layout with a vast walk-in closet between the spacious bathroom and bedroom.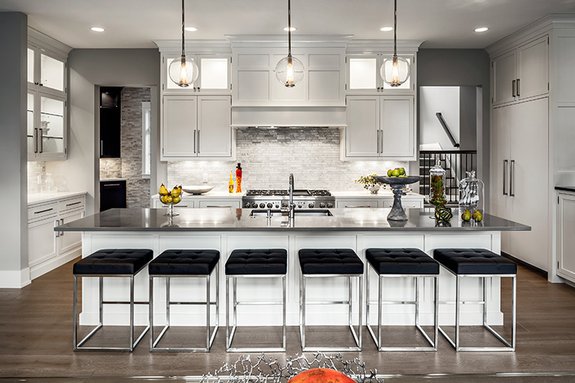 A wide kitchen island (above) seats up to six people and creates a food-focused entertaining space for friends and family.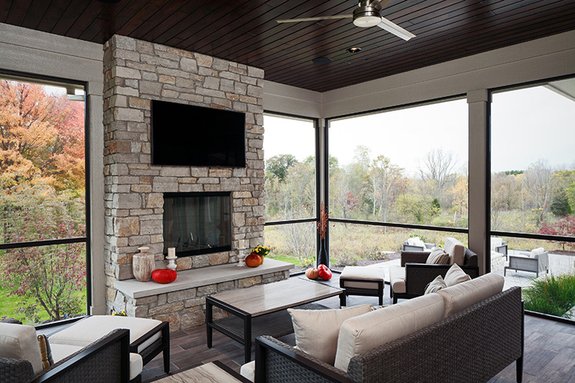 Multiple outdoor spaces such as the covered patio and screened porch (above) allow homeowners to enjoy their own private oasis and a quick escape from daily stressors year-round.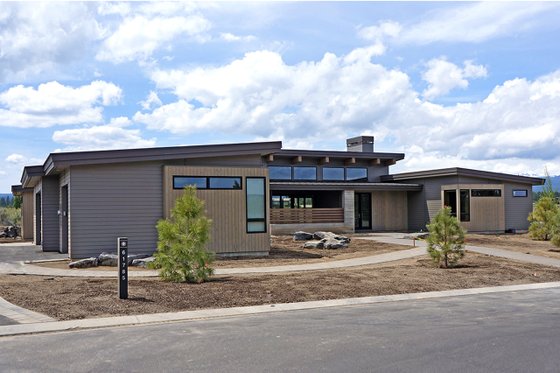 This modern design (plan 892-25, above) boasts clean lines that reflect the modern lifestyle with a simple and functional approach to architecture.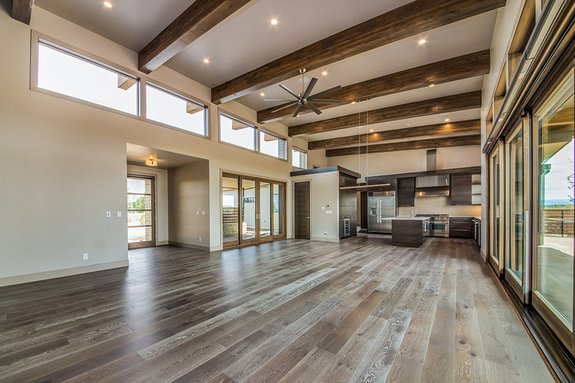 The open floor plan encourages convenience with easy access to the outdoors just off the great room and dining spaces (above). Vaulted ceilings (also pictured above) help the area feel bright and open, while wood beams add warmth and character. Sliding glass doors deliver natural light and bring the outside in, making the room feel even bigger.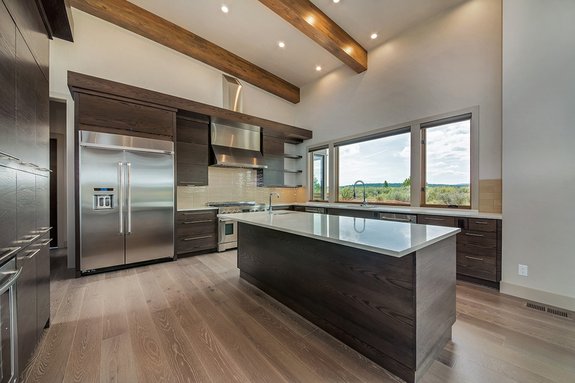 This stunning kitchen (above) is brimming with character (just look at those wood beam ceilings and attractive cabinets). A grand window above the kitchen sink lets an abundance of light fill the space, while a generously sized island is the perfect gathering spot for family and guests.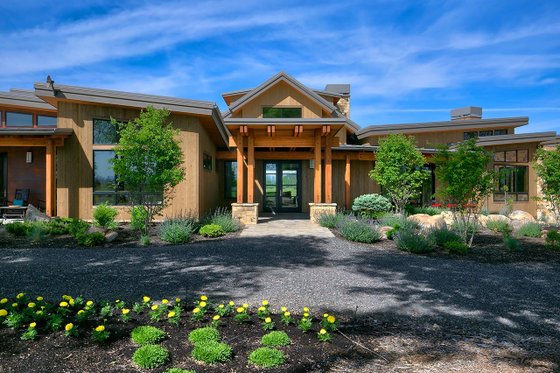 Plan892-20 is all about functionality with an open layout, flex space, mudroom, and a generous laundry room. A metal butterfly roof gives off modern appeal and pays homage to mid-century homes.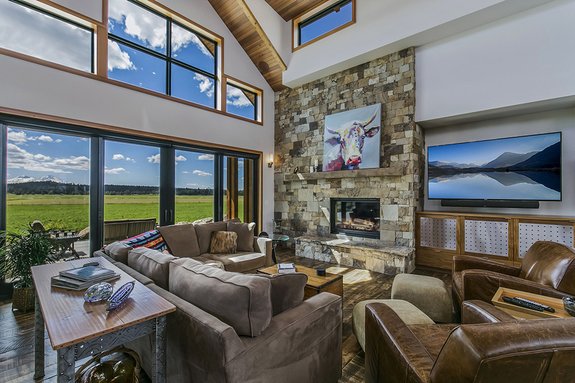 Breezy and modern, this great room is full of casual living space (above). Large windows and glass doors open to the outdoor terrace and extend the living area. A stone fireplace administers warmth and lends a cozy feel to this contemporary design.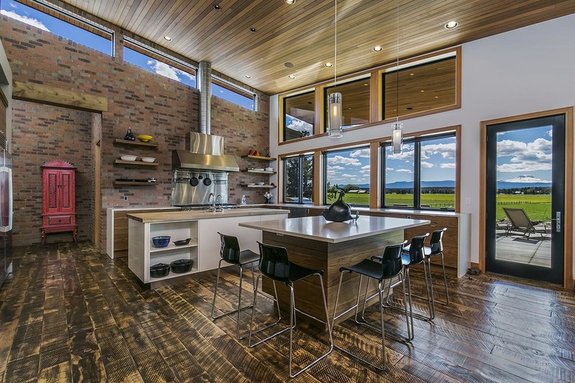 Diverse materials and textures (brick, wood, metal, and glass) give an ornamental touch to this cook space (pictured above). A double kitchen island improves traffic flow and function while providing extra seating when entertaining (because let's be honest, everyone hangs out in the kitchen). Abundant windows modernize this room and make it feel bright and open.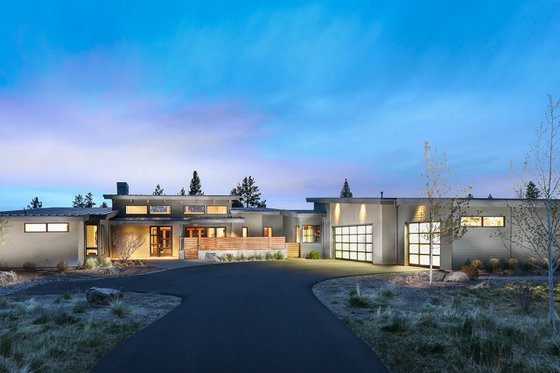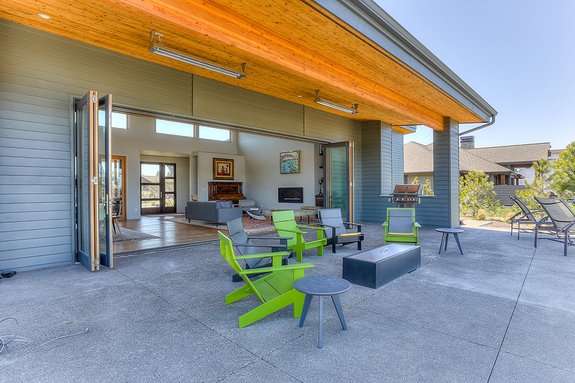 Here's a sleek and clean design (plan 892-12) that exudes luxury. Spacious and open, this modern house is great for a growing family or homeowners who host and entertain regularly. The main living areas enjoy a full view of the covered outdoor terrace (also pictured above) with retractable doors that extend the living space for a seamless flow.
Three levels of outdoor living, dining, and entertaining space encourages long evening sits year-round.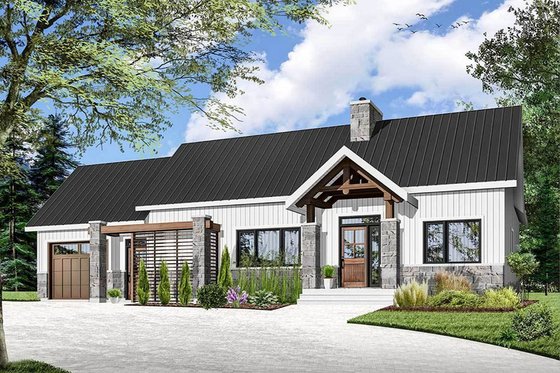 A mix of simple (and open) spaces and organic materials (such as wood and stone) convey a modern, yet homey, tone in plan23-2637 (above). Detailed with farmhouse charm (board-and-batten siding and a gable roof over the entrance) and modern tastes (an open layout and large kitchen), this design combines the best of both worlds.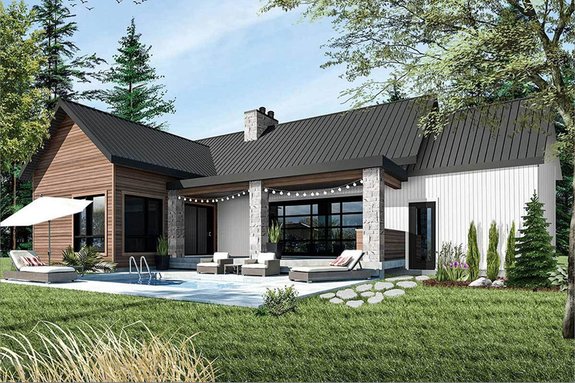 Flanked by stone columns, the rear covered porch retains simplicity while incorporating modern features. An outdoor grill makes entertaining a breeze and is a nice retreat where friends and family can kick back and relax.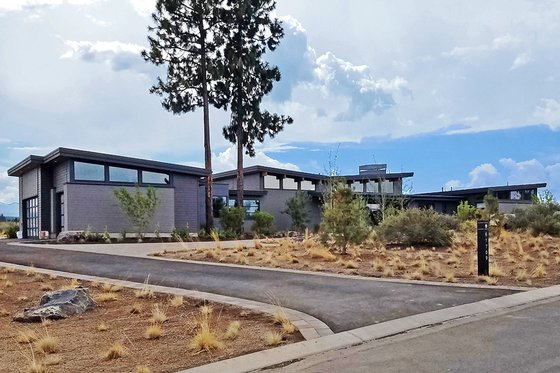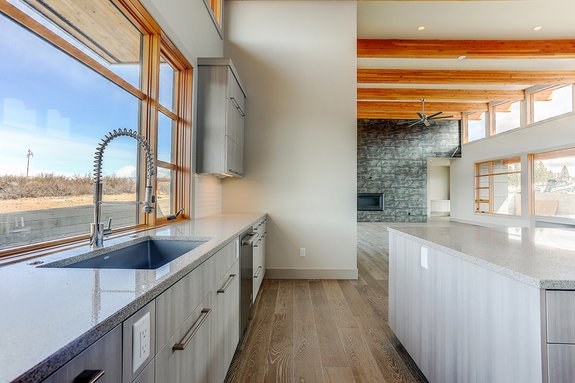 Spacious and open, this modern home (plan892-24) is great for a growing family or homeowners who host and entertain regularly. A large kitchen is sizable enough for large crowds and opens directly to the living and dining rooms for a seamless flow.
On the exterior, an ample amount of outdoor living space is able to fulfill a myriad of functions and makes entertaining guests a piece of cake (watch out, they may never want to leave).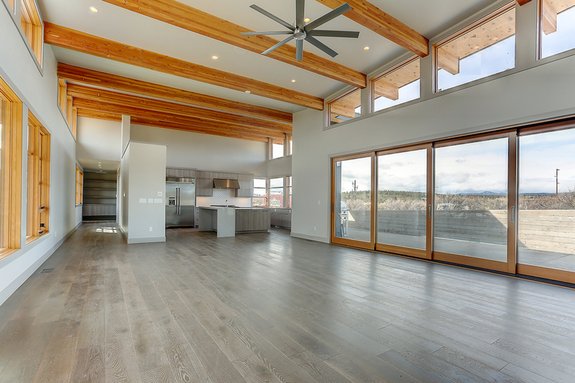 The views from this expansive great room (above) are exceptional thanks to the glass retractable doors that open to the outdoor terrace. Windows above the doors and vaulted wood beam ceilings allow the room to feel clean and airy, while the open floor plan connects it to the other social spaces.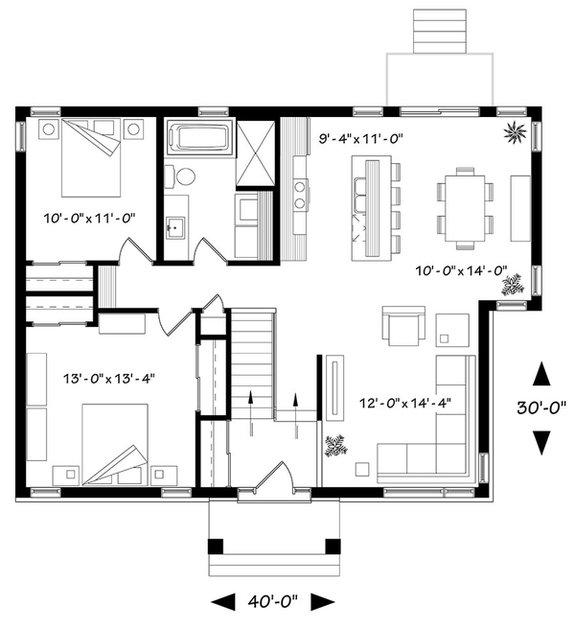 A unified design aesthetic is created throughout this petite modern home (plan23-2620, above) thanks to the open floor plan. At just 1,146 square feet, this house design maximizes efficiency. Packing in two bedrooms, one bathroom, and an open living flow between the kitchen, dining, and great rooms, this modern stunner has simple convenience written all over it.
On the exterior, a mix of organic materials (such as wood and stone) convey a contemporary, yet homey, tone. Detailed with cozy charm and a spacious layout, this design combines the best of both worlds.
Click here to see our collection of modern homes.
For plans with open layouts,click here.