By Courtney Pittman
Modern Farmhouse Chic
There's a reason why the modern farmhouse style continues to grow in popularity. They represent a simpler time and offer an approachable feel. Characterized by warmth and clean lines, this trend retains traditional, homey elements while lending updated architectural features. It's the perfect balance of classic comfort and modern luxury. Let's look at some ways to pull off the modern farmhouse approach.
1. Covered Porch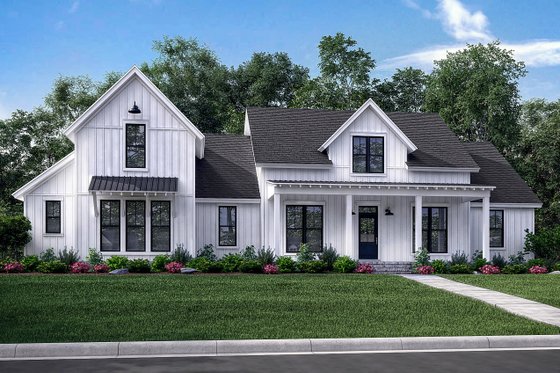 The classic farmhouse style is all about the front porch (also known as the veranda). Defined by these outdoor spaces, porches have long been a farmhouse must-have (and we don't hate it). Although they were traditionally meant as a reprieve from the heat before air-conditioners were invented, homeowners just can't seem to get enough of their functionality and charisma today.
Plan 430-165 (above) features a gorgeous covered veranda. Not only does this porch greet guests and grant major curb appeal, but it also allows for easy outdoor entertaining. Add some rocking chairs, pour some tea, and you're all set!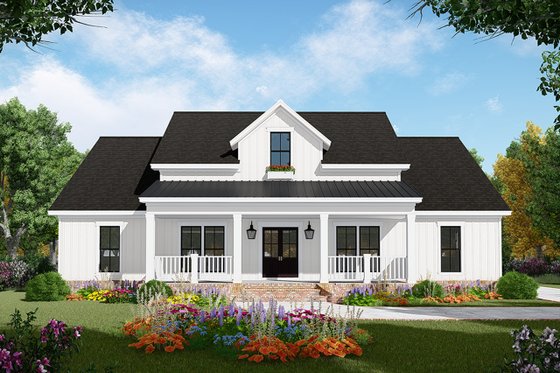 With a clean and inviting front porch, plan 21-442 (above) delivers a sleek, homey feel. This old-fashioned addition allows homeowners to feel connected to their friends and neighbors.
2. Metal Roof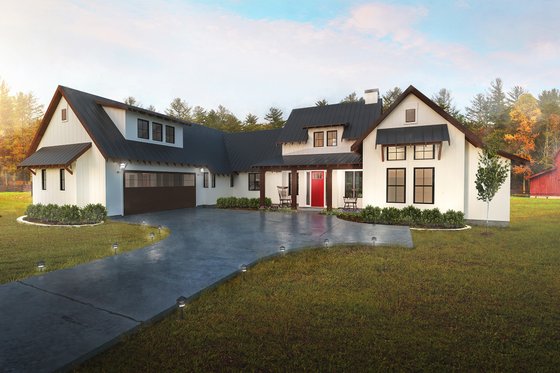 A metal roof, such as the one in plan 80-219 (above), provides an old-fashioned feel. Not only does it allow your home to attain that rustic look – it is also super durable. These lightweight, easy-to-install, and energy efficient roofs will add years to your home.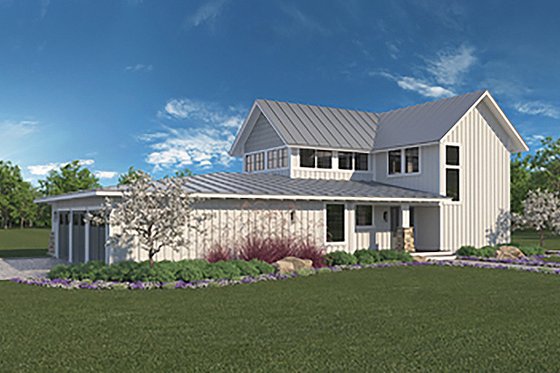 The use of metal on the roof in plan 1068-1 (above) provides sleek lines, administering a modern touch to this design.
3. Windows Galore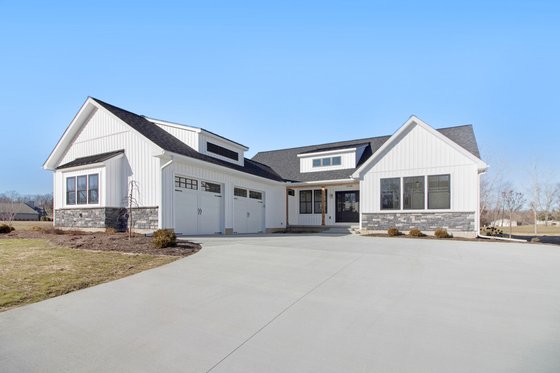 Quartered windows with black window trim (like the ones in plan 928-303 above,) are another way for homeowners to achieve the farmhouse look. They present the home with a simple, vintage touch, while still retaining a modern approach.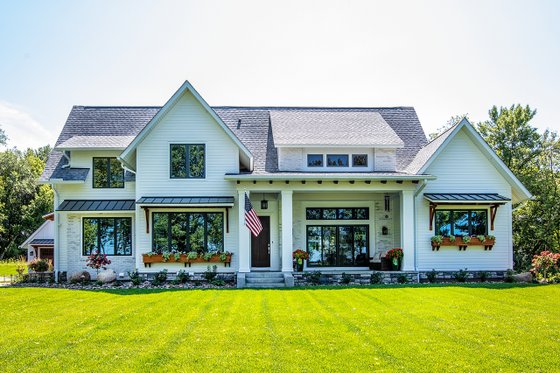 To take this look even farther, add sleek awnings above the windows and barn-style lanterns like the ones pictured in plan 51-1132 (above). This gives the home a subtle splash of pizzazz while still maintaining a contemporary exterior. Wrap this approach up with white painted wood paneling.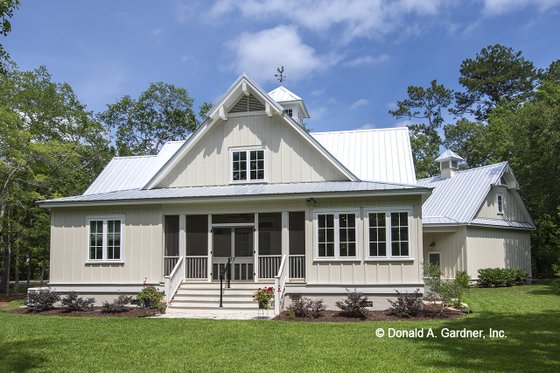 A metal roof in plan 929-807 (above) lends a classic look to this design. Installing white board-and-batten on the exterior can deliver vintage curb appeal without being overly dramatic.
4. Interior Must-Haves
Modest touches that bring rustic appeal to a contemporary design help convey the modern farmhouse style on the interior. The home should feel welcoming and comfortable – while still cultivating finesse. Reclaimed wood accents, neutral color palettes, and barn-style architectural details help create a space that feels tangible and warm.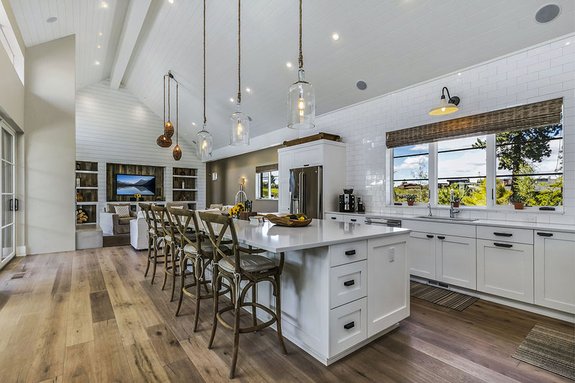 Take a look at this kitchen in plan 892-21 (above). The color palette is bright and white allowing the room to feel clean and modern.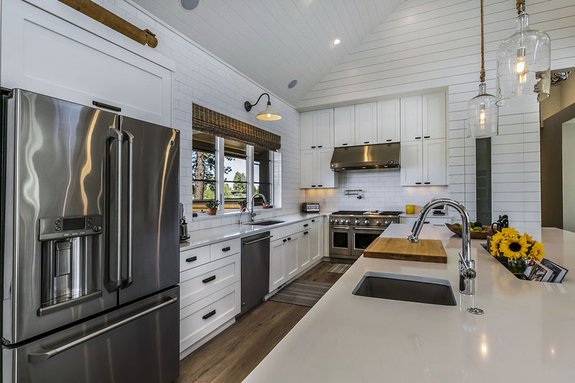 White shaker style cabinets, barn-lighting (like the pendant lighting above), reclaimed wood floors, and white shiplap walls (above), render an old fashioned feeling, while stainless steel appliances, big windows, subway tile, and bright vaulted ceilings deliver both old and new elements to the space making it feel open and airy.
Plan 928-304 (above) features a drool-worthy farmhouse kitchen with just the right blend of modern, rustic, and simplicity. The combination of white, light blues, and wood tones make this kitchen feel clean and inviting. An added farm-inspired element to this kitchen is the white wood range above the stove. This modest addition contributes farmhouse style – without going overboard. Decorative legs at the end of the kitchen island are another way to continue this trend.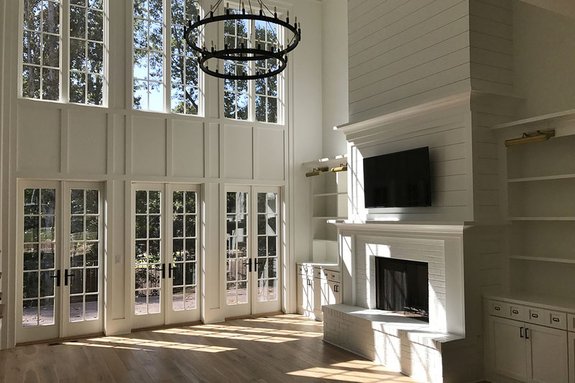 WOW is right! This impressive living room (plan 437-86 above) boasts floor-to-ceiling statement windows that provide loads of natural light. White shiplap adorns the fireplace mantle – continuing to the ceiling and elongating the room. To take this look farther, add built-ins (a classic staple) and barn-inspired lighting – an easygoing addition to the space.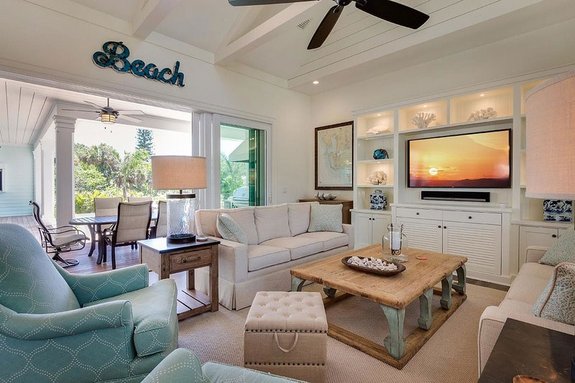 Wood beams are a great way to add a rustic to feel to any home. The beams in plan 938-82 (above) are painted white and accented with shiplap, while dormer windows lend a classic farm touch. These materials help the space feel light and open. You can also enhance the feeling of the room by adding items such as dormer windows and vintage wall sconces (pictured above).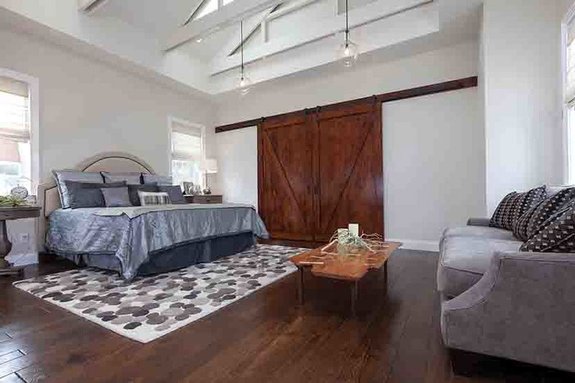 Nothing says farmhouse like barn doors. Plan 1058-73 (above) uses sliding barn doors in the master suite to connect the room to the large closet (see image below). They present a stylish focal point while also providing a practical way to section off a room (without taking up tons of space). (insert other image 1058-73)
See more Farmhouse Home Plans
See more Country Home Plans