BLOG
Our Favorites + Building Knowledge and Materials
---
Must-Have One Story Open Floor Plans
Open floor plans are a great option if you're looking for more space and to increase the sense of flow in your house design. But did you know that these types of plans are also available on one story homes? The combination of an open floor plan and single-level living is ideal for a variety of circumstances, and we have many plans that can accommodate your preferences. Whether you're looking to downsize, need additional space for family members, or simply want the convenience of a one story home, one of these plans might be right for you!
One Story Modern Farmhouse Plan
Enjoy the convenience of single-story living with this attractive design
Plan 430-241
If you enjoy the rustic appeal of the farmhouse style, then this one story plan could be just what you're looking for. The spacious great room easily transitions into the dining and kitchen area–complete with a walk-in pantry and convenient island. One wing of the house contains two secondary bedrooms along with a bathroom. The other side houses the primary bedroom with a large private bathroom and walk-in closet. Take advantage of the views off the back and front porches.
The two-car garage includes spots for your vehicles and extra room for additional storage.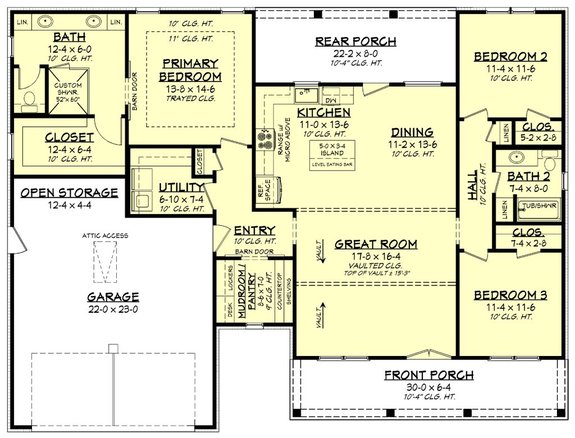 Cute One Story Design with Lots of Space
The open floor plan creates more space than you think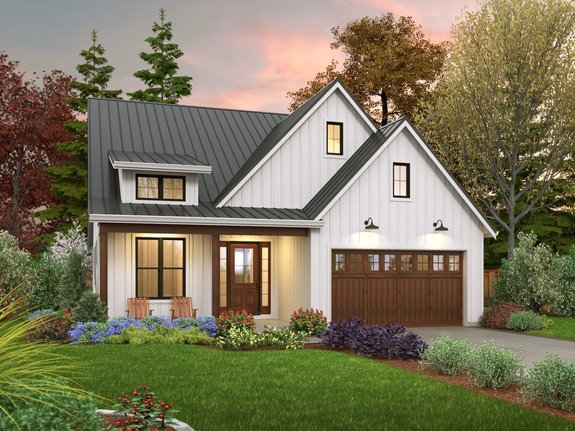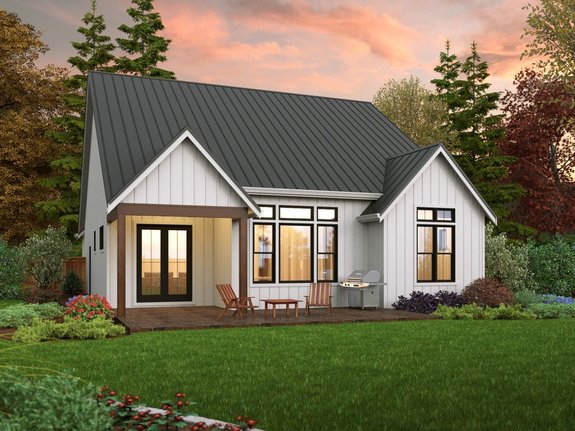 Plan 48-1032
Don't let the smaller size of this house design fool you, there's plenty of open flow! As soon as you enter through the foyer, you're greeted with a spacious, vaulted living room that flows seamlessly into a dining area and roomy kitchen. You'll enjoy relaxing outside or dining al fresco in the outdoor area connected to the dining room.
The vaulted master bedroom is located off to the side of the airy main room and includes a private bath and a spacious walk-in closet. The secondary bedrooms are at the front of the house, conveniently near the laundry room and an additional bathroom.
The two-car garage has lots of space for vehicles and includes extra room for additional storage.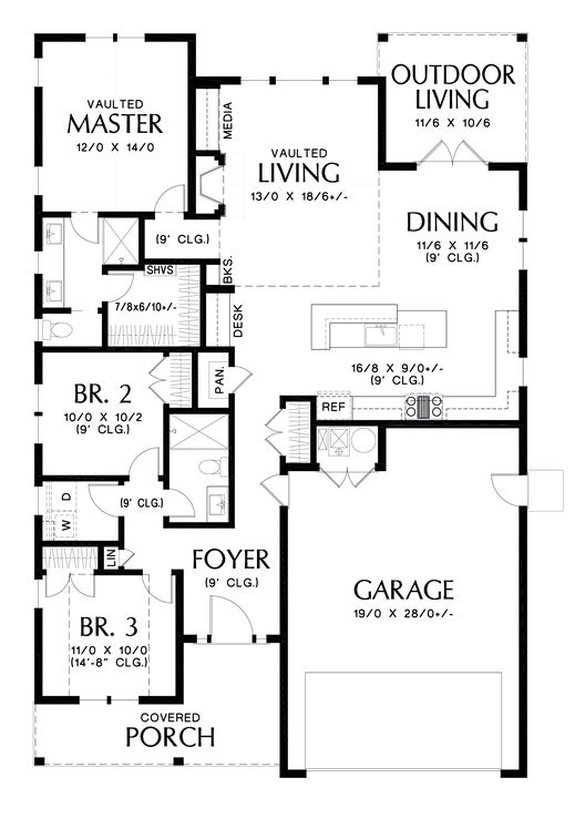 Classic Farmhouse Appeal in a One Story Plan
The timeless appeal of this classic style makes an ideal house design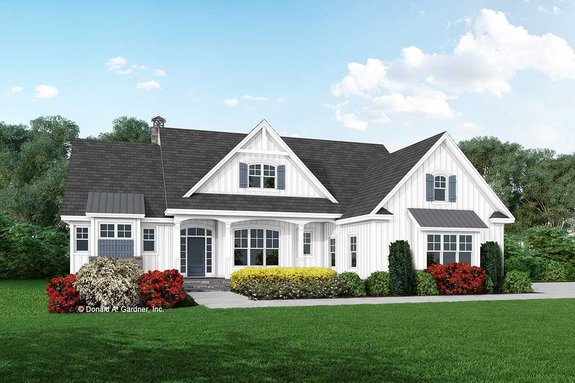 Plan 929-1114
The timeless draw of the farmhouse style is enhanced with this plan's open design and single story layout. As you pass through the spacious front porch, you'll find yourself in an open and bright area that easily connects the great room (with skylights), and the large kitchen with a cathedral ceiling (that includes a walk-in pantry). You'll have access to both a rear porch and patio through the great room, which might become your favorite spot for relaxing.
In one wing of this house resides the luxe master suite, with two walk-in closets and a modern bathroom with dual vanities. On the other side, there are two additional bedrooms both with walk-in closets and easy access to a second bathroom.
The attached garage can be accessed near the laundry room and has space for storage both on the first floor and in a bonus space above.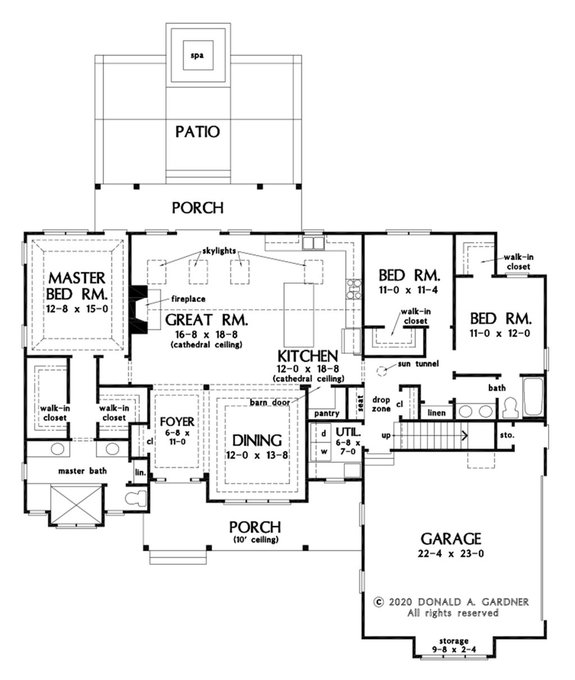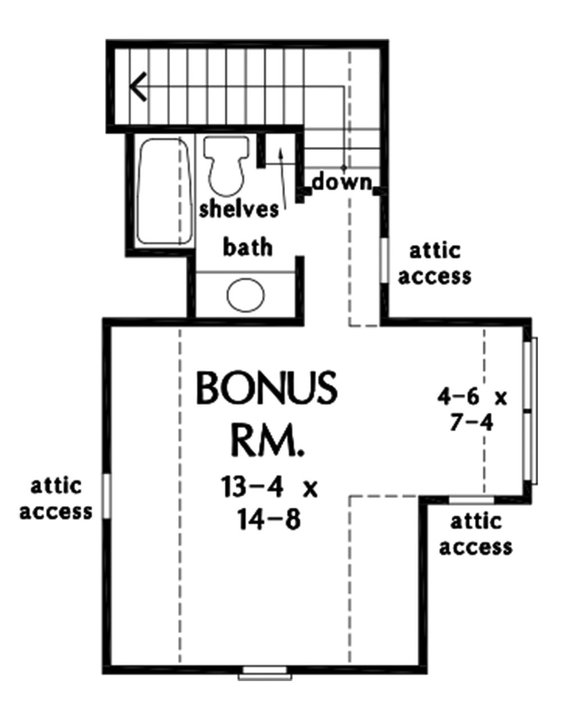 One Story Southern Style House Plan Exudes Charm
This open design includes plenty of space to relax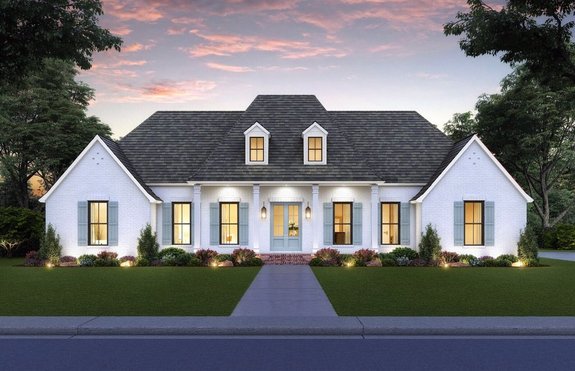 Plan 1074-33
If spacious indoor-outdoor living is a must for you, then have a look at this plan! Right as you enter you'll find yourself in a generous great room with a vaulted ceiling and lots of natural light. The living area gracefully moves into a dining space, and then flows to the open kitchen with a convenient pantry and extended kitchen island. Relaxing is a breeze with this plan, either indoor or outdoors on the spacious rear porch with ample room for an outdoor dining setup.
The master suite is privately located on one side of this plan, and includes a luxurious master bath with a separate shower and bath, walk-in closet, and easy access to the laundry room. The other wing of the design contains three additional bedrooms, each with their own walk-in closet and access to two more bathrooms. This plan also gives you a powder room and laundry room.
There is a two-car garage designed at the rear of the house, with access to the main layout either through the mudroom, or directly through the rear patio.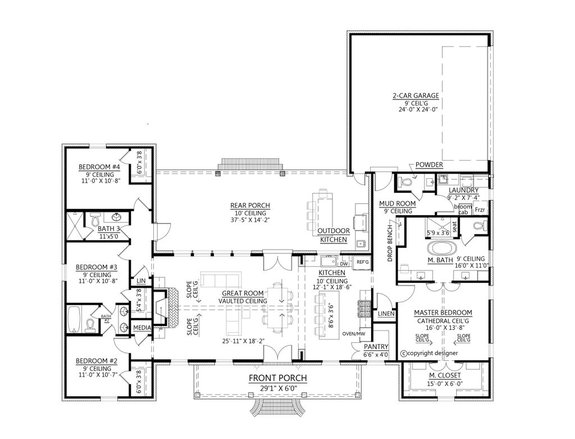 Open One Story Design with Welcoming Ambiance
There's definite curb appeal to this one story home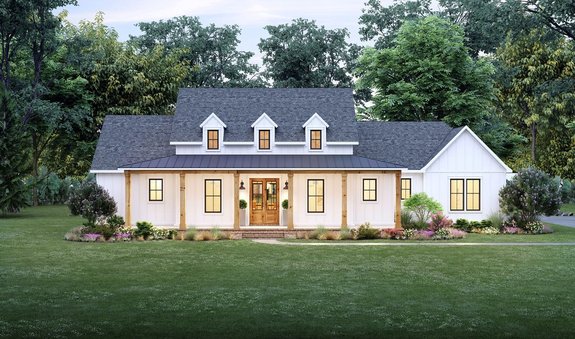 Plan 1074-31
A wrap around porch is a wonderful addition to this spacious one story farmhouse style design, and is great for relaxation. This home exudes welcoming vibes, and once you're through the front door, you'll be greeted with the spaciousness of a vaulted great room that includes rustic wood beams and exposed brick. There is access to an ample rear porch with space for a fireplace and outdoor dining options. From there you'll flow into the seamlessly connected dining space and sizable kitchen with a walk-in pantry.
The master bedroom includes a vaulted ceiling and access to a private bathroom and walk-in closet. The two secondary bedrooms are located on the other side of the home with closets included and convenient access to an additional full bathroom.
The two-car garage is located to the rear, and offers access to the main floor via a mudroom where you'll find an additional powder room.
One Story Craftsman Style Open House Plan
What's not to love about this open and airy single-story home?
Plan 1070-118
If you want space without sacrificing style, then we have the house design for you. Walk down the welcoming entryway and you'll find yourself at the center of an open and bright great room with a high vaulted ceiling and easy access to the rear covered porch. As you move into the bright dining area, you'll also find a spacious kitchen that connects to an outdoor patio–perfect for dining al fresco.
The master bedroom connects to a private patio and includes a luxe bathroom, separate toilet compartment, and walk-in closet. The other side of this plan includes two additional bedrooms, each with a walk-in closet of its own and near an additional full bathroom. There's also additional space for an office, den, or exercise room steps away from the powder room.
Need extra space in the garage? This plan comes with a two-car garage as well as additional garage space for a vehicle or storage.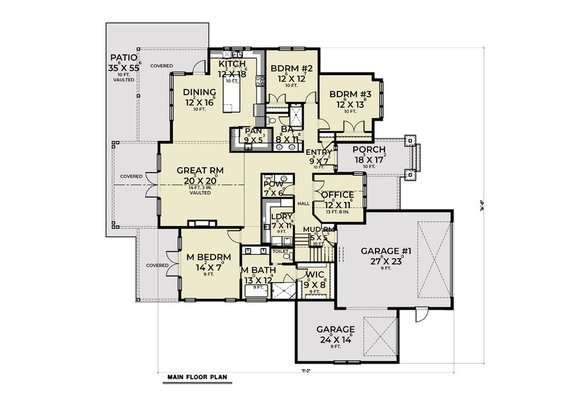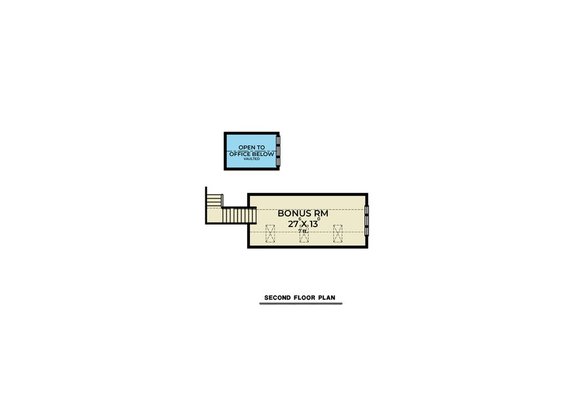 Single-Story House Plan with Extra Space
Stylish and open one-story living never felt so charming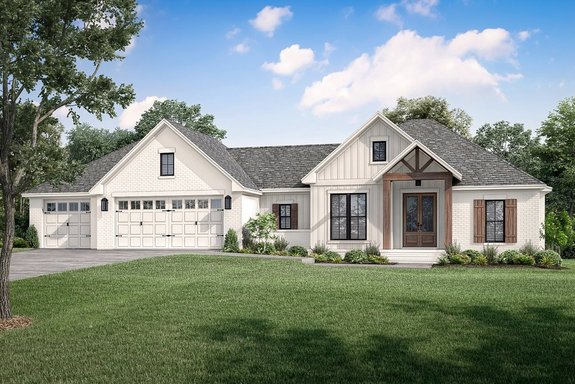 Plan 430-240
If it's space you need, you've come to the right place. This farmhouse style plan is one-story living at its most convenient. The open and inviting great room offers elevated ceilings and plenty of natural light from the rear porch. The dining area and kitchen flow together seamlessly, and include modern conveniences such as a walk-in pantry, kitchen island, and eating bar.
Beyond the open main area is the primary bedroom attached to a private bathroom and generous walk-in closet. The other wing of the home contains two bedrooms with walk-in closets and a full bathroom. There is space for another room at the front of the house that would be perfect for a study, office, or library.
This design also includes a two-car garage and additional garage space for a vehicle, extra storage, or a workbench.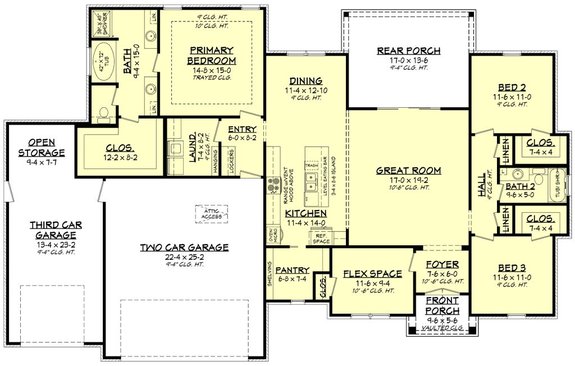 Stunning One-Story Layout with Craftsman Appeal
Open and spacious design with ageless allure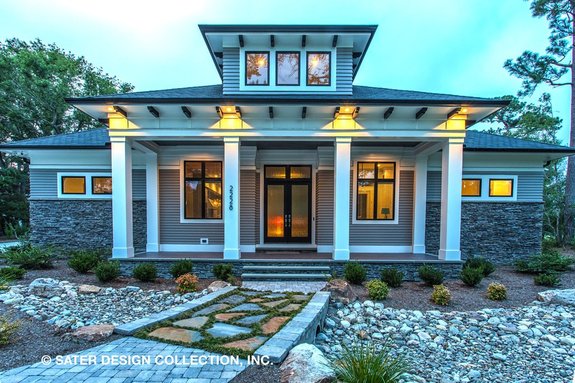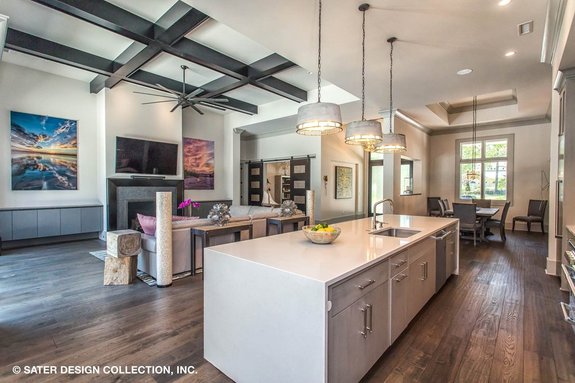 Plan 930-522
There's a lot to like about this single-story floor plan, including the fact that gives you lots of open space, in both common and private areas alike. The expansive great room has beamed ceilings that add just the right amount of ambiance. Plenty of natural light flows in through the windows with views of the backyard. You'll then find yourself moving easily into the kitchen space with a breakfast nook, and enjoying vistas of the outdoor veranda. The dining area is adjacent to the kitchen for ease in serving and clearing up meals.
Take advantage of the master suite that boasts of dual walk-in closets and an oversized master bath. Two guest suites are located on the other side of the house, and would make for perfect overnight accommodations. Two additional bedrooms feature private bathrooms and walk-in closets. At the front of the house is an additional room that is ideal for a study or office.
Looking for lots of garage space? You'll find it with this plan that includes a four-car garage space with easy access to the veranda.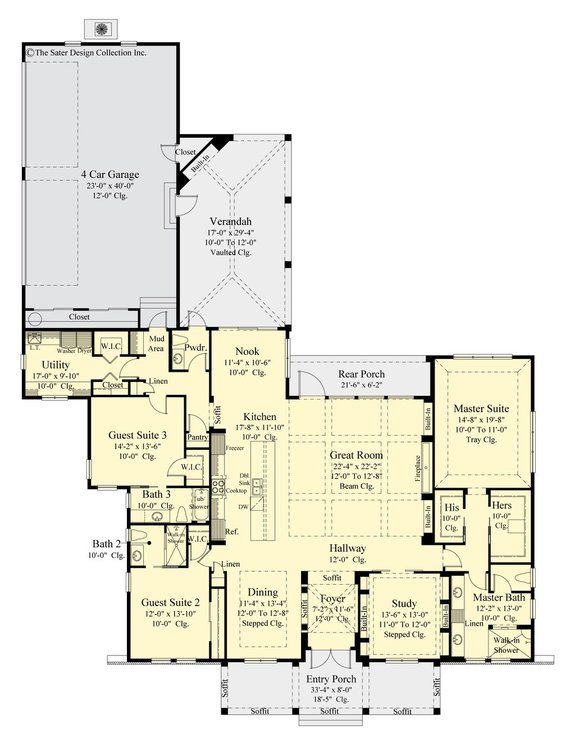 One-story living has never been easier than with an open floor plan. No matter what size house you're looking for, an open and flowing design is sure to provide you with plenty of space to enjoy each and every day.
Get Personalized Help