By Courtney Pittman
Let the party planning begin! The holidays are just around the corner, which means it's time to start thinking about hosting in style. With clean lines and open layouts, our collection of farmhouse home plan designs make it easy to entertain friends and family this holiday season (or any season!).
Click here to browse our collection of farmhouse home designs or check out our farmhouse trend guide (for free!).
Boasting open floor plans, many of our farmhouse designs eliminate barriers between the kitchen and main gathering areas so you can interact with others while you cook up something good. Farmhouse home plan designs typically sport spacious country kitchens (get the farmhouse look in your kitchen with these sweet tips from Country Living) with large islands that invite everyone to hang out. Check out some new ways to get the farmhouse look from HGTV! These house plans create the perfect backdrop for hosting and entertaining friends and family this holiday season. Let's take a look!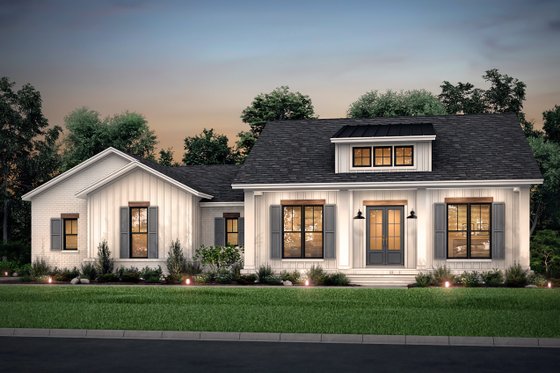 Plan 430-208
This new design gives you 2,044 square feet of living space on one easy-to-navigate level. The master suite invites you to relax in the luxurious private bathroom. Open to the main gathering spaces, the kitchen features a large island, generous walk-in pantry, and plenty of counter space. A rear porch opens to the great room for easy indoor-outdoor living and offers an optional outdoor kitchen.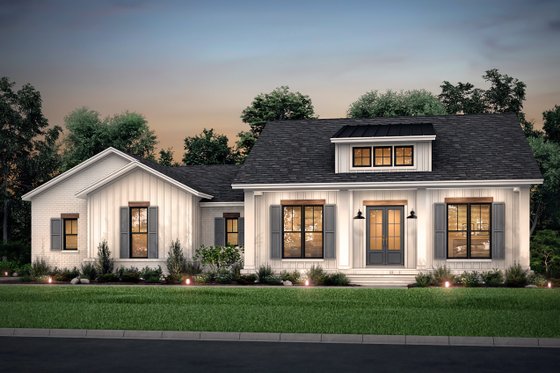 Plan 430-208
Host in style with this new farmhouse home design. An easygoing flow between the main living areas makes entertaining friends and family smooth and seamless. The large kitchen island can seat up to four guests, while a spacious walk-in pantry keeps things organized. A covered terrace, just off the kitchen and dining room, its perfect for holiday entertaining when the weather is favorable.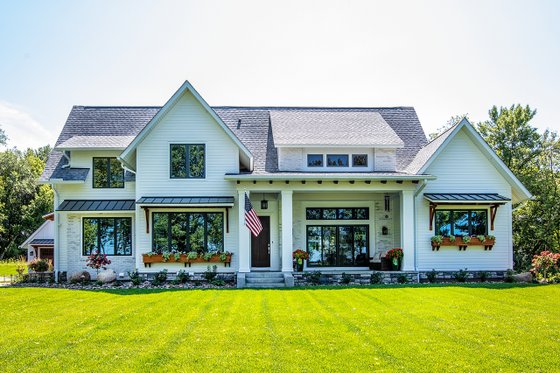 Plan 51-1132
This bestselling four-bedroom farmhouse home design feels fresh, from its metal roof to its huge kitchen. A large great room sports a cozy fireplace, while the spacious kitchen features a generous island. The master suite gives you a view of the backyard, plus a luxurious private bathroom with double sinks, a tub with a view, and a separate shower. Don't miss the covered porch and patio at the back of the home (just off the great room).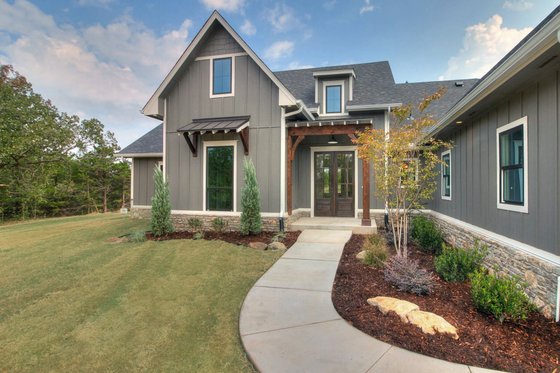 Plan 1067-1
This exclusive farmhouse home design shows off an open layout with great flow into the living room and out to the rear porch. Highlights of the luxurious master suite include a huge walk-in closet and two spacious vanities. Don't miss the well-organized mudroom with lockers.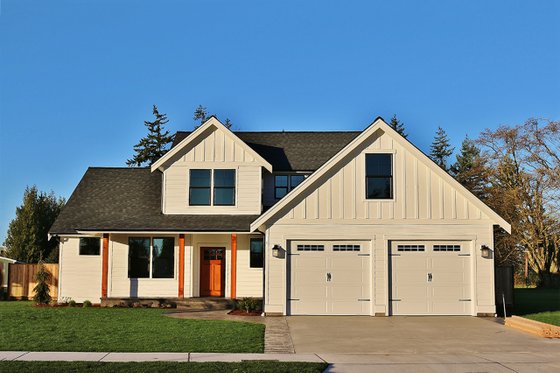 Plan 1070-2
If you want an open layout and some versatility, check out this 2,038-square-foot design. A den near the front can become a quiet home office or hobby space, or maybe your private yoga room. The master suite includes double sinks.
Plan 47-1023
This graceful ranch home offers relaxed, outdoor-focused living and plenty of thoughtful touches. Vaulted ceilings in the great room, country kitchen, and master bedroom add a dimension of extra space. Relax in the master suite's tub with a view.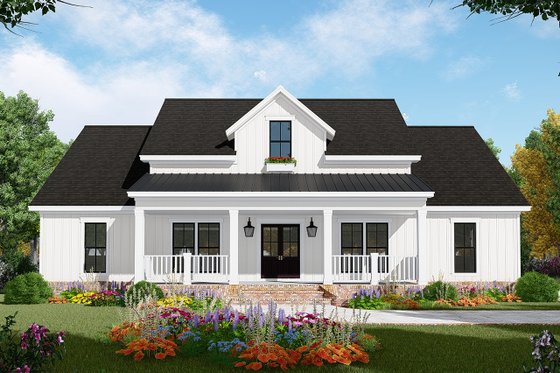 Plan 21-456
Open and modern, this layout flows from the great room into the island kitchen and dining area, then out to the back covered porch. Highlights include extra storage off the carport, a big walk-in shower for the master, and many closets.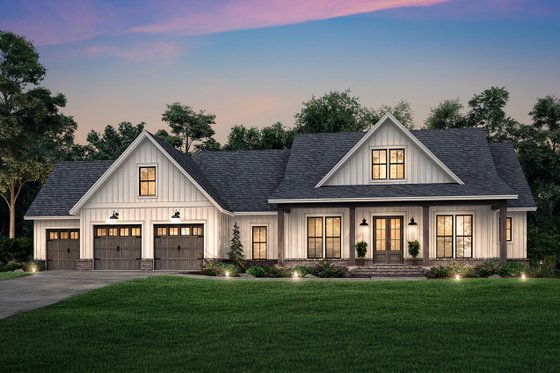 Plan 430-205
With 2,763 square feet, this elegant design provides plenty of space for a family or guests. The master suite occupies the left side of the home and treats you to a huge closet, two vanities, separate tub and shower, and more.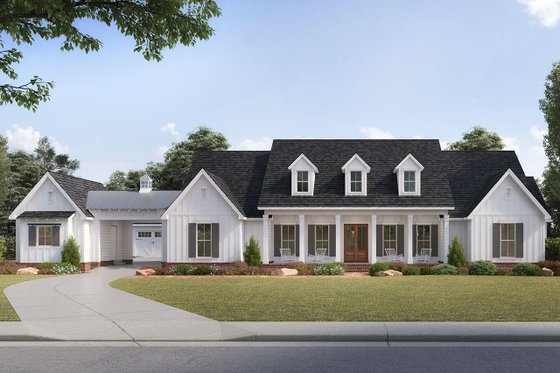 Plan 1074-3
Here's a one-story layout filled with upscale amenities, including tons of storage (check out the big walk-in pantry near the island kitchen), relaxing outdoor living, and a luxurious master suite. The great room flows out to the back porch for easy entertaining.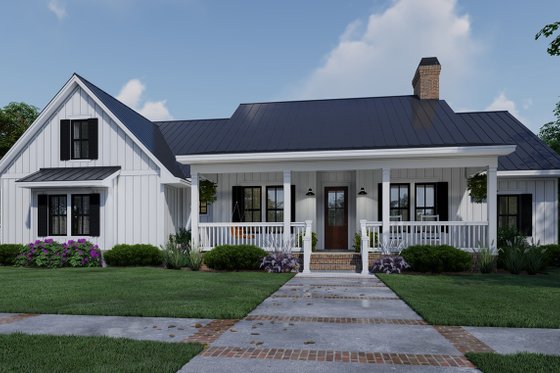 Plan 120-263
Clean and open, this 2,192-square-foot modern farmhouse feels fresh and contemporary. The kitchen overlooks the family room and includes a big island. Relax in the master suite, which includes a five-piece bath and a walk-in closet.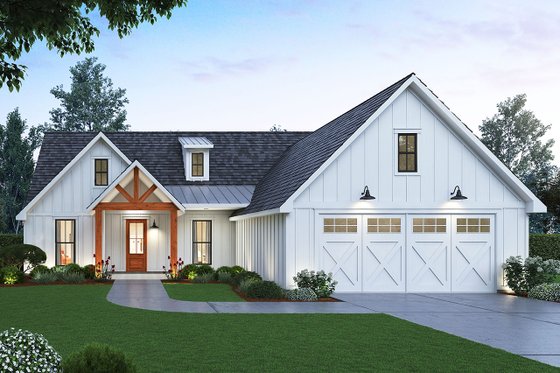 Plan 1074-1
Want a one-story open layout that's perfect for hosting with many well-thought-out amenities? Explore this new design. The living room flows over to the island kitchen and out to the spacious back porch, which connects to the hallway near the master suite for easy access. Take a look at the big master closet!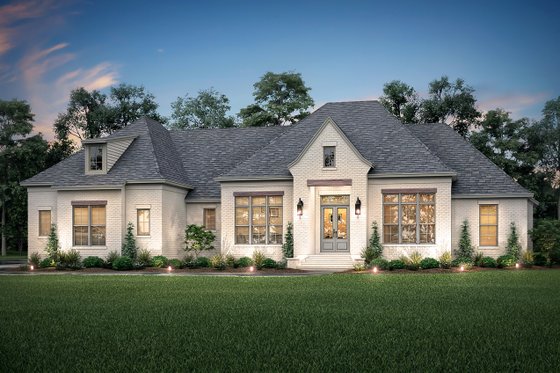 Plan 430-202
Luxurious and amenity-filled, this new plan puts everything on one level (except the versatile bonus suite, which can be finished to give you and your guests more room). The generous great room sports a cozy fireplace – perfect for holiday hangs.
Opening to the great room, the kitchen boasts loads of counter space and a walk-in pantry). Don't miss the master suite's spacious bathroom.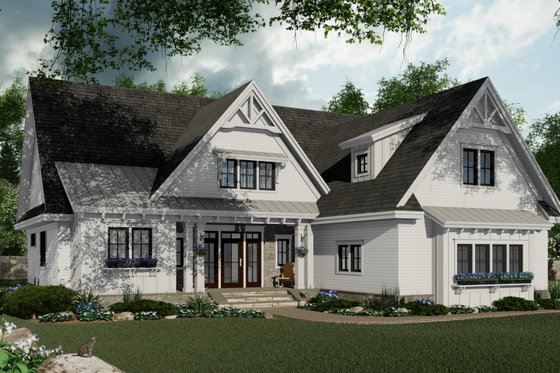 Plan 51-1151
This farmhouse home design gives you an open layout with 2,046 square feet of living space, plus room to expand upstairs with a bonus space. Want a big kitchen island? This one can seat five people, making it the perfect spot for relaxed holiday parties (cookie-decorating party, anyone?) or simply day-to-day hangouts with your family.
The open dining room enjoys a view of the backyard. Step out to the porch from the great room or the master suite to enjoy a lovely afternoon when the weather is nice. Another thoughtful touch: a pocket office near the front, ideal for occasional telecommuting.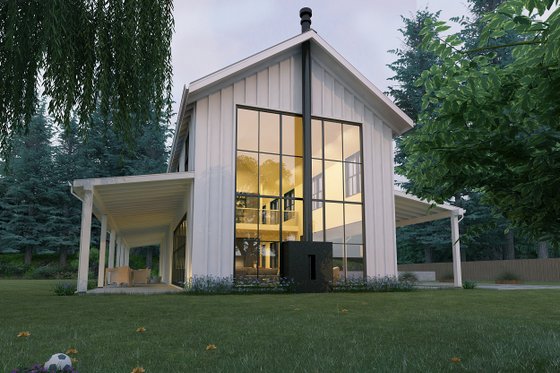 Plan 888-16
Clean and open, this 3,374 square-foot modern farmhouse design feels fresh and contemporary. Entertaining is made easy with a large kitchen island opening to the great room and dining area, while tons of cabinets keep things organized and tidy.
Nice weather? Deep porches run the length of the house on two sides for easy indoor-outdoor living. Don't miss the Loft-office over the kitchen island!
Read our farmhouse trend guide here.
Browse farmhouse plans here.