By Courtney Pittman
Decorate your home like a pro with these budget-friendly design tips. Here, you will find simple solutions that will make your home look elegant and chic in no time (without breaking the bank). Spoiler alert – a little bit of paint can go a long way. Get the look you love with these stylish and affordable home design ideas.
Click here to explore our collection of popular house plans and open floor plans.
What are the 7 elements of interior design?
When decorating your house plan it is important to remember the 7 elements of interior design. These elements include space, line, light, forms, color, texture, and pattern (see this article on Beauty Harmony to learn more about this topic).
Space is the first thing you will look at when you are scoping out your plan of action. This can be extra-challenging when dealing with an open floor plan. Remember to decide where you will have positive space (the space that is being used, like where a dining table or couch sits) and negative space (the space that isn't being used). Rugs can help define these areas and deliver lots of impact.
Lines are what guide the eyes in a room and are created by furniture and the natural architecture of a home (like windows, wood beams, doorways). Light is an important element in interior design because it sets the tone and plays a part in every other design element. Forms create balance in a room and come in two forms, organic (like plants) and geometric (furniture, etc.).
Color helps you create the mood of a space, while texture adds detail and can elevate the overall feel of a room. Patterns add visual interest and are a fun way to provide cool details and balance.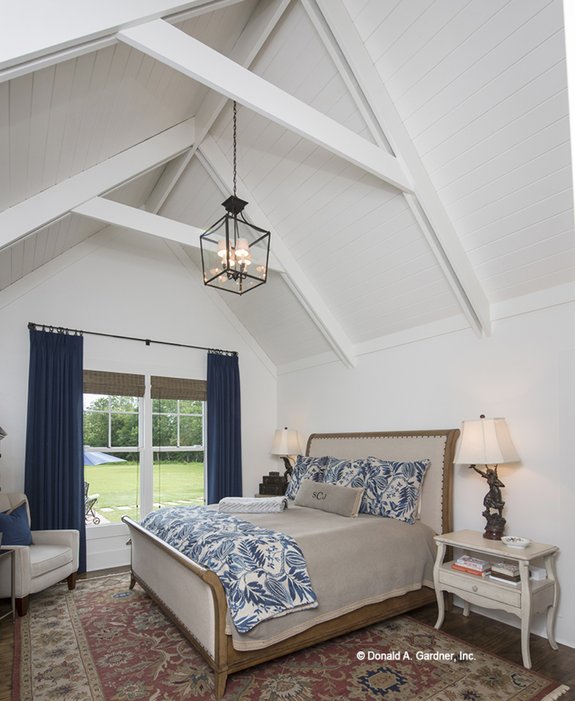 Plan 929-8 uses the 7 elements of interior design with ease.
  What is the rule of three in decorating?
The rule of three helps create visual depth in a space by arranging items in groups of three (or odd numbers). This rule comes in handy with almost all objects in your home. Whether you're dealing with lighting, furniture arrangement, or decor, the rule of three can be applied.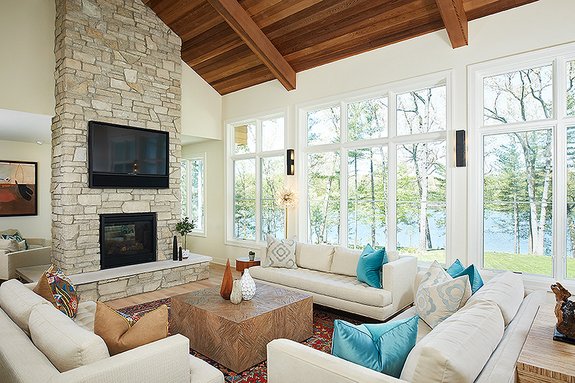 Plan 928-308 is a great example of a living room that uses the rule of 3 with furniture and accessory arrangements.
  What is the 60 30 10 decorating rule?
Trying to decide on the color ratio for your space? The 60 30 10 decorating rule is sure to help. According to Freshome, this timeless take on color allows your main shade (or dominant color) to take up 60% of the space (usually the color you paint your walls), while your secondary color takes up 30%. The remaining 10% of the room will be taken up by your accent color.
  What are the different styles in interior design?
Some of the most popular styles include:
Contemporary

Farmhouse

Mic-Century Modern

Bohemian

Industrial
  Can you mix interior design styles?
Yes! Mixing interior design styles delivers personality and makes things a little more interesting. With that said, there are a couple of things to be mindful of when mixing it up. First and foremost – balance. You want to be sure that the objects in your space create an overall balance in the room.
Another thing to keep in mind is the scale of the objects in your space. The last thing you want is a huge dining chair next to a smaller one – this will throw off the balance of the room.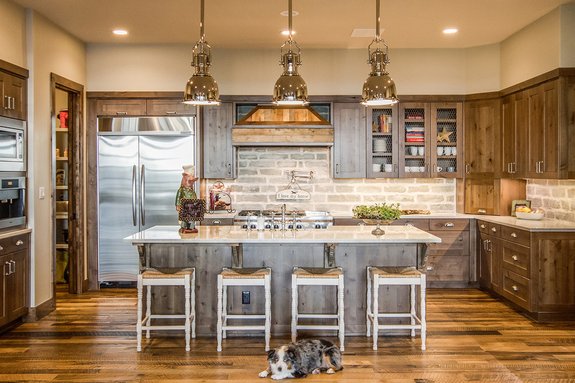 The rustic kitchen in plan 935-17 sports industrial light fixtures above the island to give it a modern touch.
  How can I make my house look rich?
Lighting is key to making a home look and feel rich. Opt for light bulbs that are warmer tones and can dim. This can really set the mood and deliver luxury in your home.

Rugs add elegance to any space and make it feel warm and inviting.

Curtains can turn a room around. Want to make your space even more luxurious? Hang your curtains four to six inches above the window for an elongated look.

Wood floors will enhance any room and the best part? They can put up with heavy foot traffic.

Small details can make a big difference. Items like wall art/paintings, pillows, throw blankets, candles, and more add tons of flair and style.
  How can I make my small bathroom luxurious?
Paint, paint, and more paint! The bathroom is generally a smaller space so you should have some fun with it. Painting the walls (or even just one) is something affordable that you can do yourself – and it will really improve the space.

Find a cool mirror to hang in your bathroom that adds some personality. A fun place to start looking is antique stores or estate sales.

A shower curtain is something that stands out the most in a bathroom and will set the vibe you are going for. Opt for a warm or neutral colored shower curtain if you want the space to appear bigger than it is.

Replace your bath mat with a fresh new one or even a fun bohemian style rug.

Lighting. We've said it before and we'll say it again, lighting makes all the difference. Even just replacing the current light fixtures with fun Edison bulbs can jazz the space up.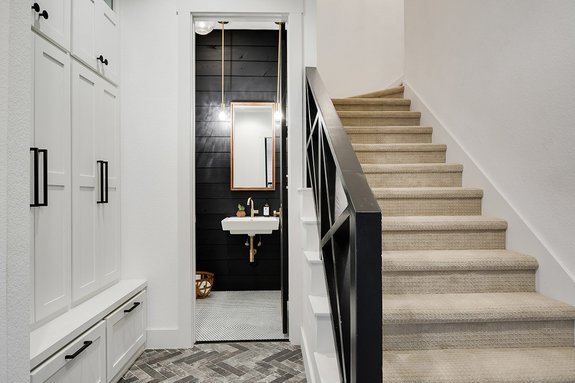 Small bathrooms can feel light and chic, as plan 430-156 proves. Notice the brass light fixtures, dark painted wall, and sleek mirror.
  How can I make my kitchen look expensive?
Cabinets can really bring a kitchen down and make it look dated. Installing shaker style cabinets is an affordable way to achieve a contemporary look. An even cheaper option is to keep the cabinets you already have and paint them or removing your top cabinets and installing open shelving.

A small detail that can take your kitchen to the next level is hardware. Installing new hardware on your existing cabinets can really change the overall look of them.

Light fixtures in the kitchen can either make or break the space. If you don't want to get rid of your current fixtures, you can always dress them up with paint. For example, a gold chandelier from the 90s can be painted matte black and it will suddenly look trendy and chic.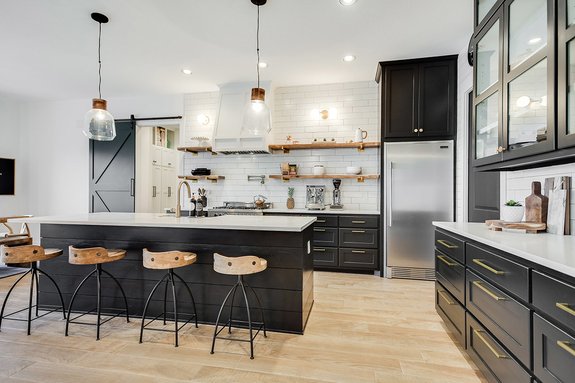 Plan 430-156 features a modern kitchen with simple details that make it feel sleek and fresh.
 What are the colors for 2020?
Here's what MyDomaine had to say about this topic.
Dark colors (think charcoal, black, dark gray) will be all the rage in 2020.

Neutrals and beige will be a hit this year.

Bright colors (like yellows and oranges) will also make an appearance this year.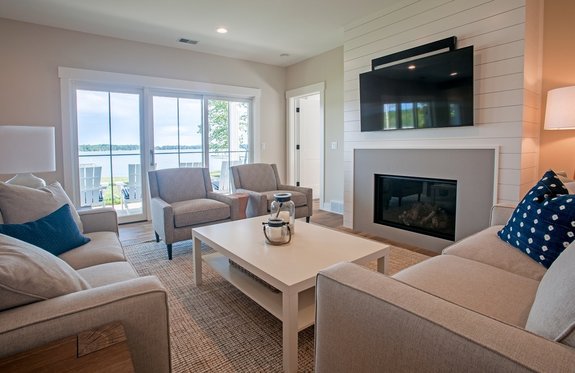 Plan 901-132 feels fresh and bright with plenty of neutral tones, while bold blues add style and pizazz.
Explore open floor plans
Want to read an article on a similar topic? Check out this cool blog about what's in and what's out in 2020.