by Jenny Clark
If you're planning to build a house in a hot, warm, or temperate climate, a mid century modern (MCM) floor plan might be perfect for you. MCM homes are contemporary, single-story designs that beautifully blend indoor and outdoor living spaces. The house plans below bring to mind traditional MCM architecture and design, but updated for today. Note how they visually connect indoor and outdoor living spaces with large, expansive windows — making it almost difficult to tell where indoor living stops and outdoor living begins. Pretty cool!
Small, Simple, Cheap-to-Build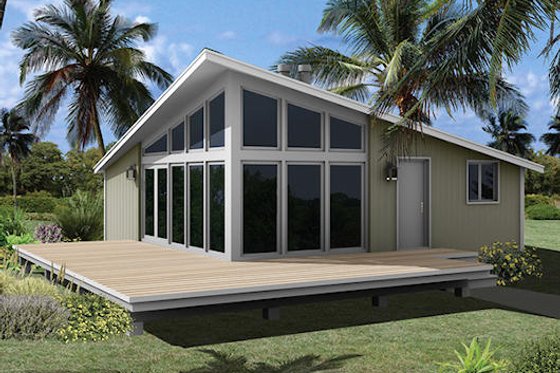 House Plan 57-489
Here's an especially great example of blending indoor and outdoor space. Note how the living room area is almost surrounded by large windows and sparkling views of the deck and the scenery beyond. This three-bedroom design also enjoys a super-simple footprint — only four corners — and a tiny square footage of 784 sq. ft., likely making it both easy and cheap to build. To get a better idea of the cost to build in your area, be sure to order a cost to build report.
Bright and Modern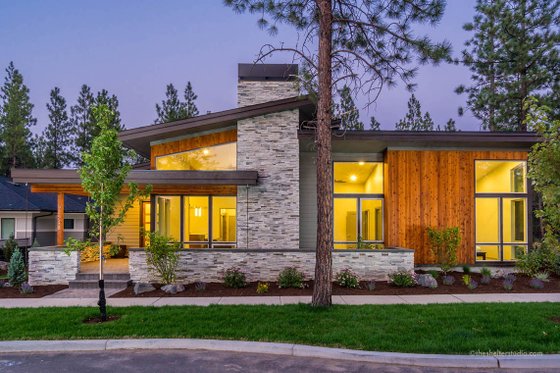 House Plan 895-101
This bold modern home design offers a courtyard, a wrap around porch, and a main-living space that's lavishly decorated with large windows and views of the outdoors.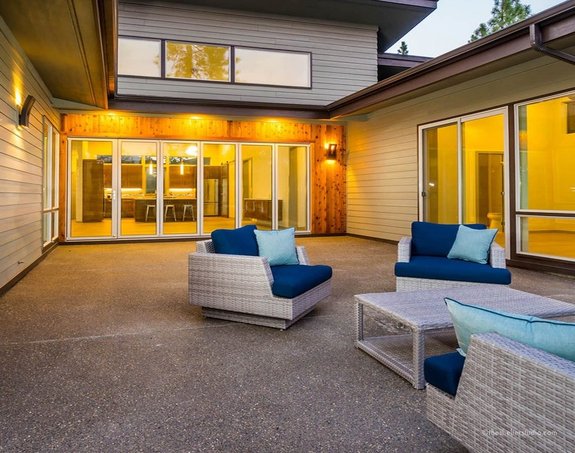 Above, the kitchen and dining room blend with the front courtyard.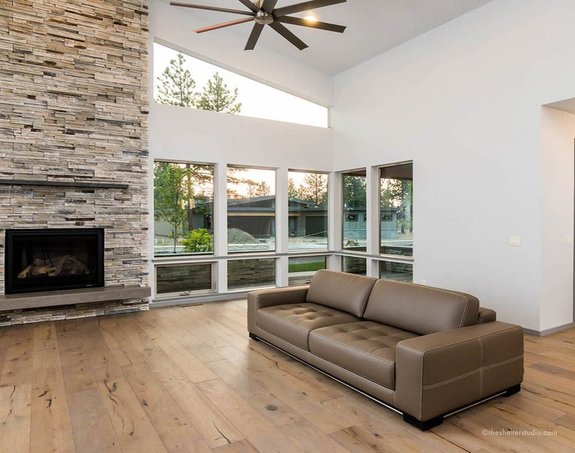 And here, we see how the living room connects with the outdoors.
In addition to outdoor living and LOTS of big windows, this design also boasts an open floor plan, a kitchen island, a walk-in pantry, three bedrooms, two-and-a-half baths, a study/home office, and striking contemporary-modern curb appeal. The primary suite also enjoys a walk-in closet, two sinks, and access to the courtyard.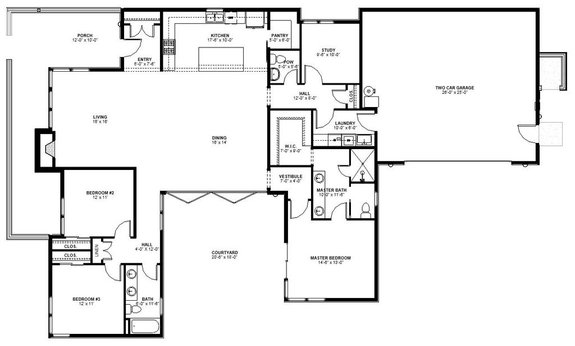 Outdoor Living Everywhere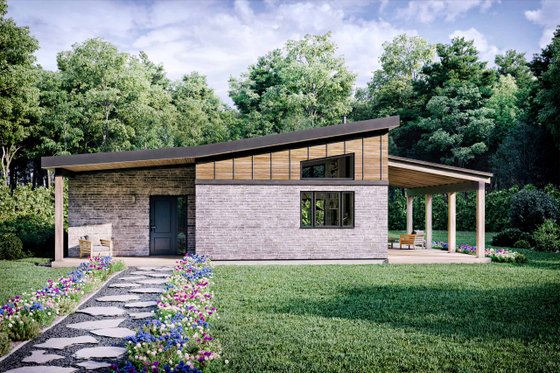 House Plan 924-3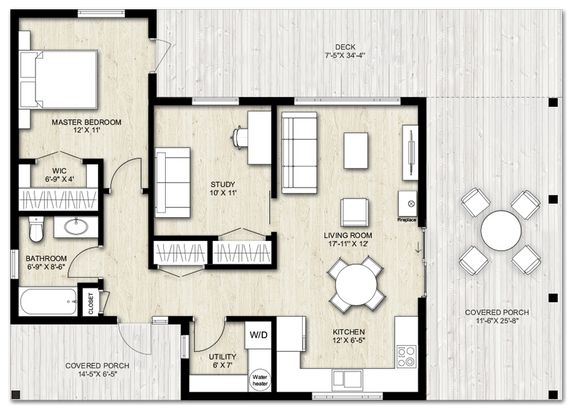 This contemporary-modern design offers a covered front porch, a covered side porch, and a rear deck. The open-concept, main living space has access to and views of the side porch and rear deck. The primary bedroom also enjoys access to the deck.
Bold Design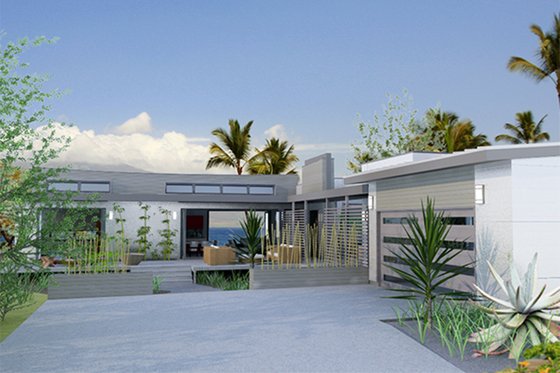 House Plan 484-12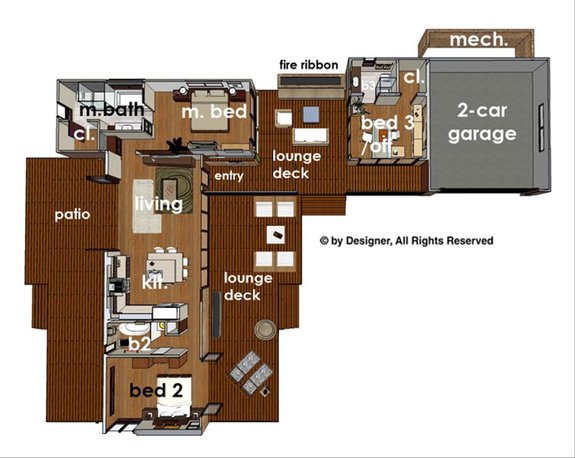 If you're looking for an especially bold, modern layout that doubles as an outdoor living oasis, this modern house plan might be perfect for you. Note how the main living area is sandwiched between a spacious patio and a lounge deck. What's more, the living room opens onto the patio via a folding glass wall of windows. Finally, this design also features a lounge deck between Bedroom 3 and the rest of the home. Given that Bedroom 3 enjoys its own bathroom, this could be an ideal place to house an in-law, a grown child, or out-of-town guests.
Read Now: Outdoor Living Spaces: Ideas for Outdoor Rooms from HGTV
Popular Layout
House Plan 923-166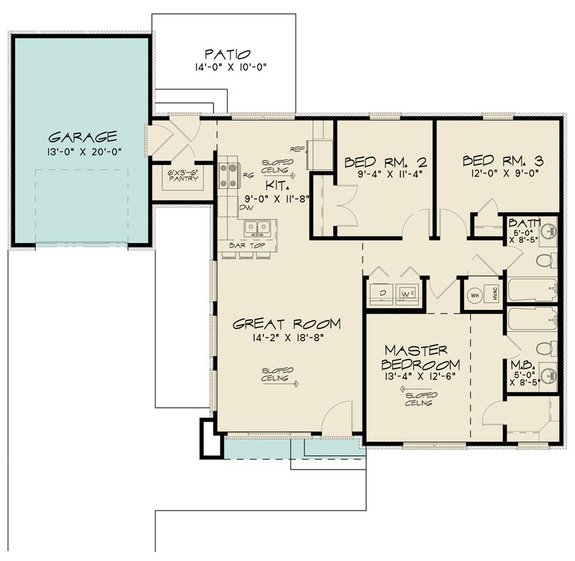 While this contemporary design does not offer lavish outdoor living space, it still brings to mind mid century modern architecture as it boasts a patio, lots of windows, a single level of living space, and modern curb appeal. Inside, note how the kitchen features a peninsula that's open to the great room (a preferred layout for anyone who enjoys entertaining guests). Also note how both the great room and the primary suite sport a cool sloped ceiling.
Covered and Vaulted Outdoor Living
House Plan 124-1251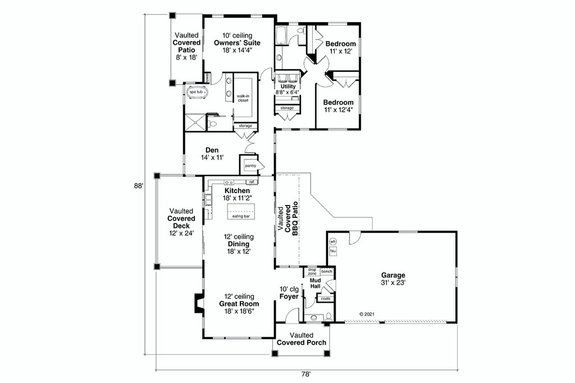 In this modern house plan, the open-concept kitchen and dining room are sandwiched between a vaulted covered deck and a vaulted covered patio. Meanwhile, the primary suite enjoys its own private covered patio on which homeowners could enjoy their morning coffee, a romantic sunset, or a relaxing afternoon.
Two Bedrooms and Lots of Style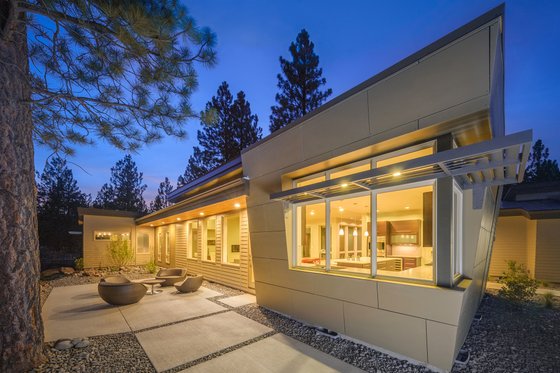 House Plan 892-8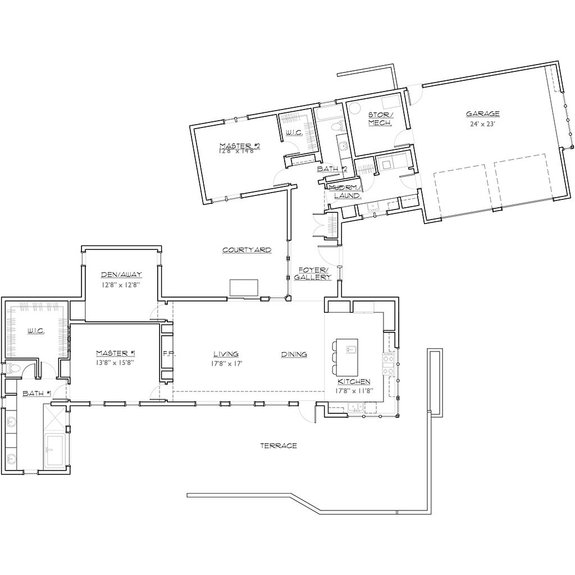 If bright, beautiful, modern curb appeal and big windows are your preferred aesthetic, you'll love exploring this chic mid-century-modern-style design. Inside, note how the living and dining room sit between the courtyard and the terrace. What's more, note all the windows in the kitchen. Just think: as you finish up the dishes each night, you could keep an eye on young kids playing on the terrace, or simply indulge in gorgeous views. Finally, note how spread-out the two bedrooms are in this layout, giving the occupant(s) of each plenty of privacy.
Windows Galore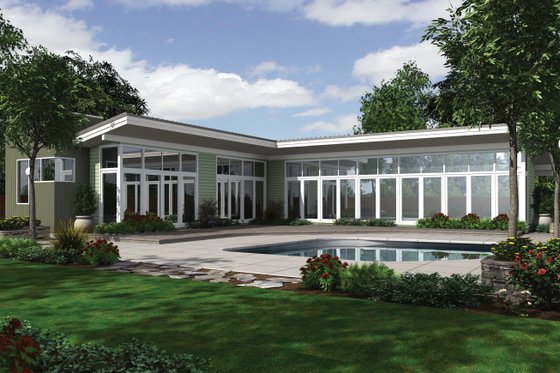 House Plan 48-561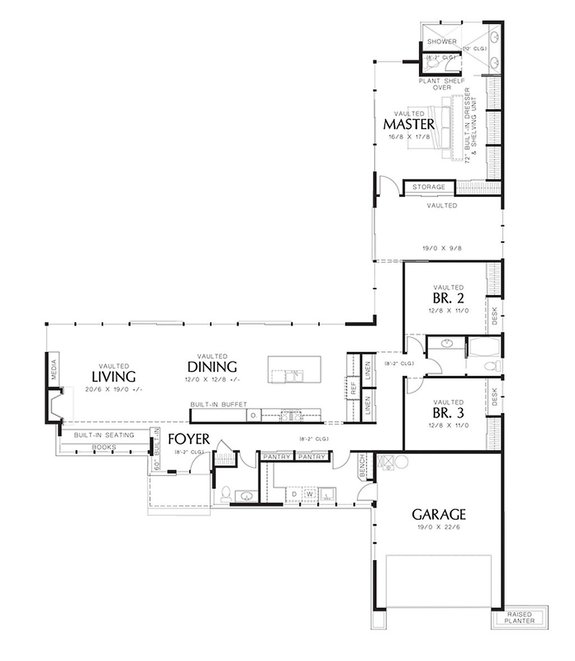 In addition to a multitude of expansive windows, the main living space (and each of the three bedrooms) feature vaulted ceilings, making this entire layout feel that open, airy, and grand. Other call-outs include built-in seating and a place for books in the living room, a built-in buffet in the dining room, and a built-in bench in the mudroom/laundry room.
So Cute!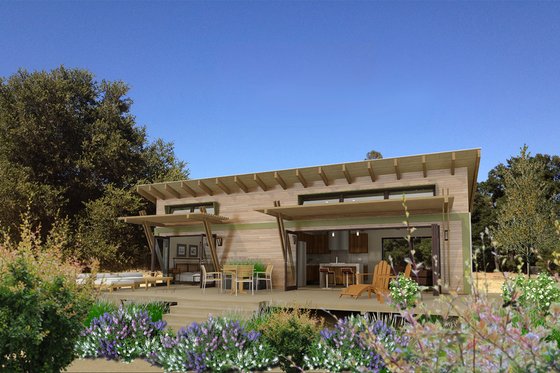 House Plan 484-6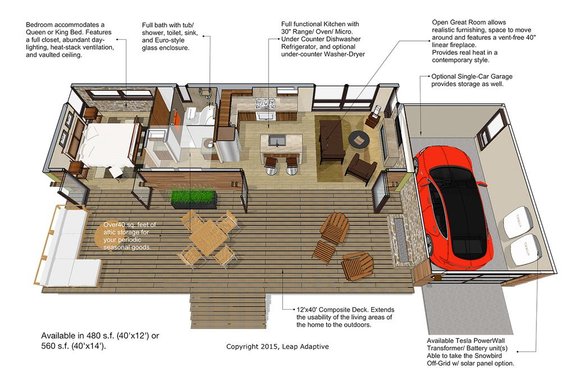 This wonderfully weensy plan is only 480 square feet, but still manages to pack in plenty of style. Note how the spacious deck is easily accessible from both the open-concept kitchen/dining area and the bedroom. Given its modest size, this plan could be used as a tiny primary home, a cute vacation retreat, or as a guest house/accessory dwelling unit.
Prairie Style Meets Mid Century Modern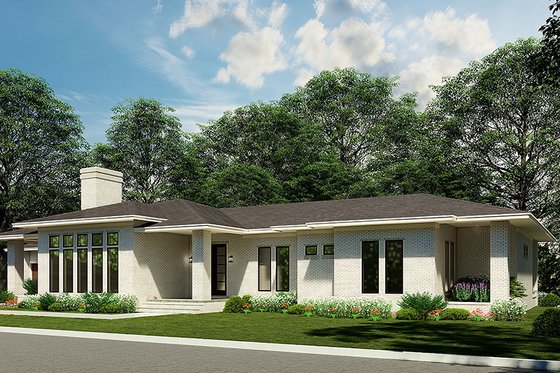 House Plan 923-209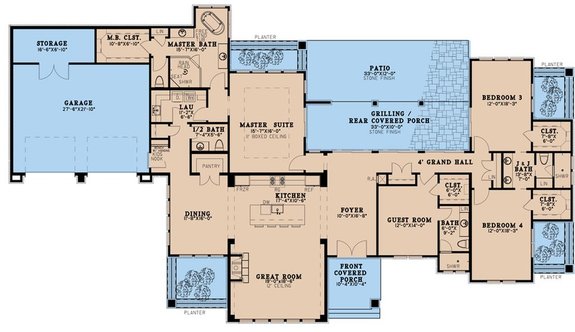 With its hipped, low-pitched roof, we consider this a Prairie-style house plan, but given its outdoor living and abundance of windows, it definitely has a degree of mid century modern flair too. Inside, note the open floor plan and kitchen island. Also check out the primary suite, which lives on the left side of the property and features dual vanities, a separate tub and shower, a private space for the toilet, a walk-in closet, and easy access to the laundry room.
Near the center of the floor plan you'll discover a second, smaller suite (perfect for out-of-town guests, in-laws, or grown children), and on the right side of the property you'll notice two additional bedrooms and a Jack and Jill bath. Finally, be sure to note the garage, which enjoys extra storage and easy access to the powder room, pantry, and laundry room.
Ultimate Ranch Layout
House Plan 48-433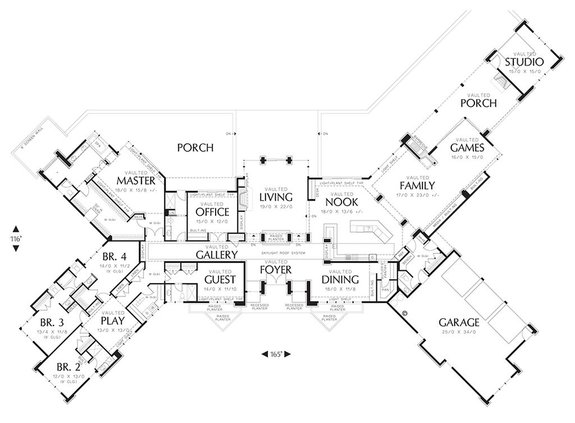 Looking for a gorgeous, one-level luxury home? Look no further than this 5,884-square-foot mid century modern ranch design. Almost every room in the house features a vaulted ceiling! What's more, the primary suite, living room, office, family room, and kitchen offer views of and/or access to the expansive rear porch. Check out the photo below of the primary suite. Wouldn't it be awesome to wake up in this room every morning?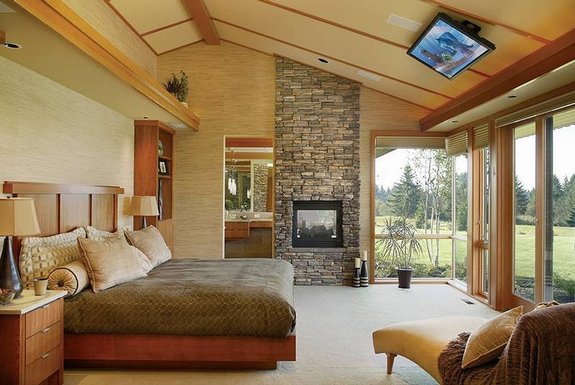 In addition to large windows and bright views, the primary suite also offers an impressive walk-in closet and two sinks. Meanwhile, Bedroom 2 is yet another suite, Bedrooms 3 and 4 share a Jack and Jill bath, another suite lives just off the main entrance, and there's a studio on the far right of the property. This design also enjoys a formal dining room area, an outdoor fireplace, and a three-car garage.