BLOG
Our Favorites + Building Knowledge and Materials
---
Accessory Dwelling Units to Enhance Any Property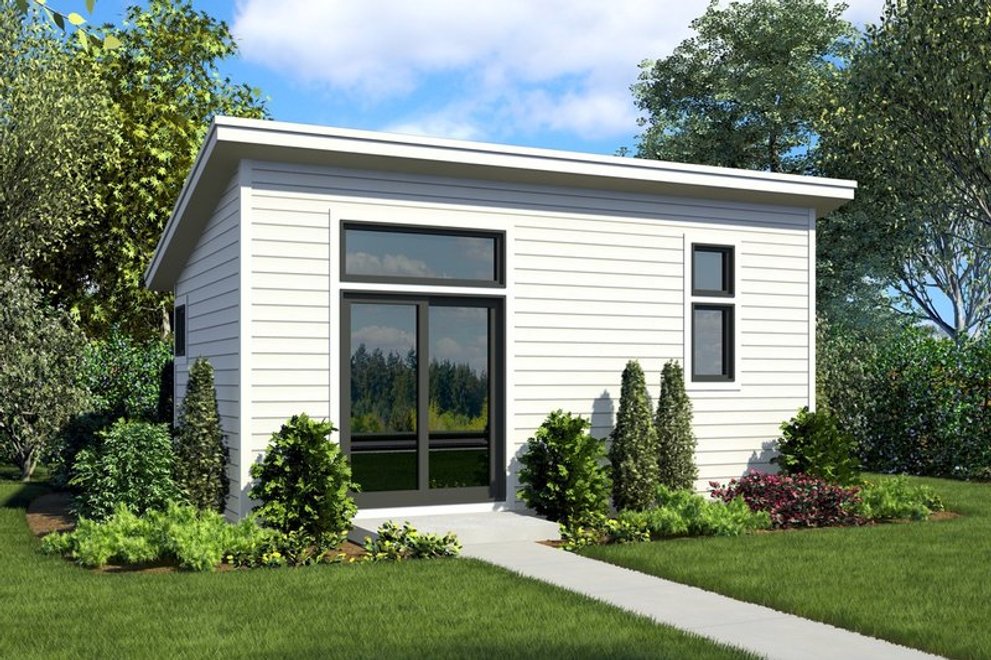 By Gabby Torrenti
Accessory dwelling units, also known as ADUs, add additional space to any house plan. From garages that can double as living spaces to well-designed pool houses perfect for entertaining, these added structures can give you more room for guests, in-laws, or simply relaxing. Building specifications for accessory units may vary by location, so please check with local guidelines. Explore this collection to find the perfect fit for your home.
Want to see more? Check out our collection of accessory structures here.
Contemporary Accessory Structure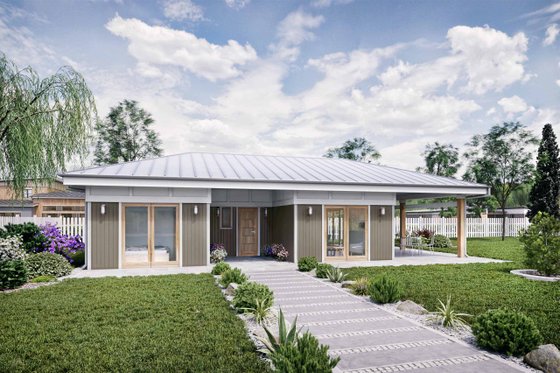 Plan 924-11
This modern bungalow would find itself right at home poolside, serving as a convenient additional space for guests to enjoy. With two bedrooms and one bathroom, a family could comfortably stay in this 795-square-foot property. Step into the home's main living space, which includes a combined living room and kitchen, as well as a pantry and laundry room. From the kitchen, the space opens onto a covered porch which allows this small structure to feel like an escape in your own backyard.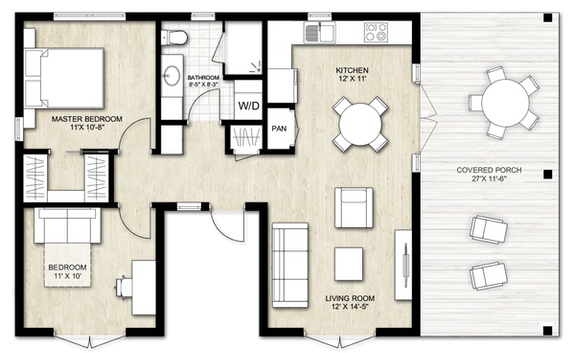 Modern Tiny Home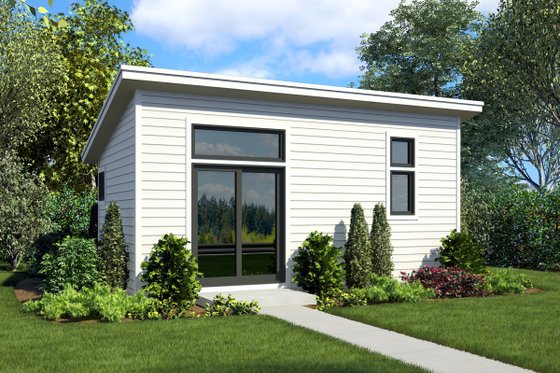 Plan 48-1025
This 276 square foot structure makes up for its small size with limitless ways to customize it. Inside, a pantry, washing machine, and dryer make up the front of the home, leading into an open living space with a half bathroom. The space comes equipped with a fold-down table, which makes it simple to dine or entertain in this quaint getaway space. Optimized for a narrow lot, this structure's small footprint allows it to fit seamlessly onto an existing property. Whether used as a shed for extra storage or doubling as an entertaining space, this small space is sure to make a big impact.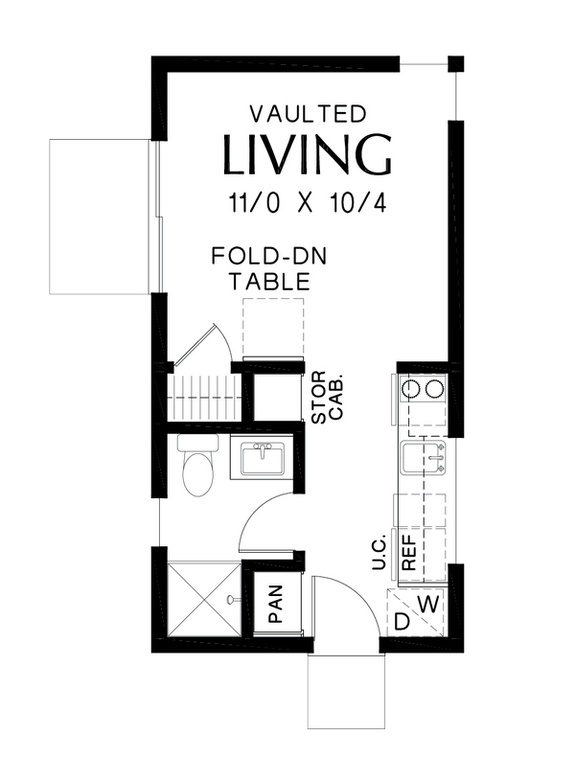 Cottage-Style Workspace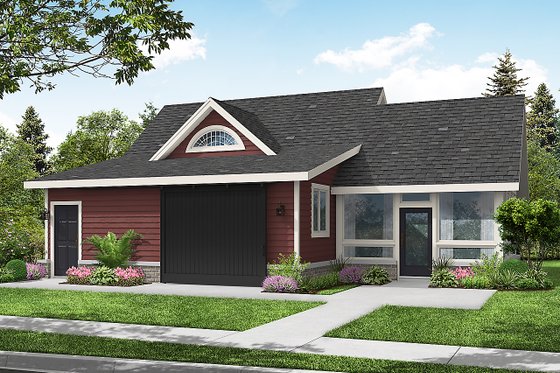 Plan 124-1258
In the age of working from home, it can be nice to have a separate space for meetings. Equipment and garden storage sits at the front of this structure, leading into a wide-open workspace with a kitchenette. Making it simple to prepare a cup of coffee or whip up a snack between Zoom calls, this space is perfect for those looking to establish their own space for conducting business, minus the commute. Get some fresh air between meetings on the screened porch, which provides an additional entrance into the structure. When the workday is done, this space can double as an entertaining area, fully equipped for relaxation.
Convenient Poolside Storage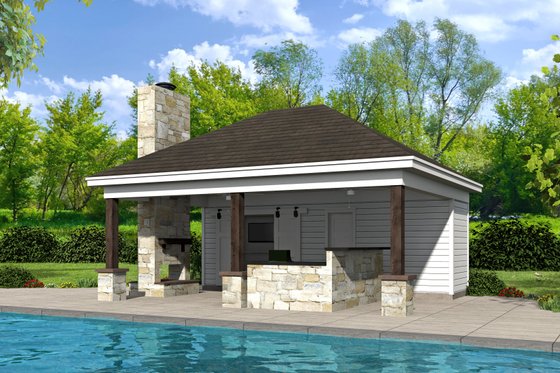 Plan 932-114
Bring storage and convenience poolside with this structure. On the outside, the covered lanai features a fireplace and kitchenette, which serve as the ultimate summer grilling destination. Step inside for a pool bath, shower, and lots of storage space. An additional outdoor shower makes rinsing off after a dip in the pool simple, allowing you to keep the party going poolside. In the winter months, let this space amp up your home's storage capacity, keeping belongings in close proximity to the main property.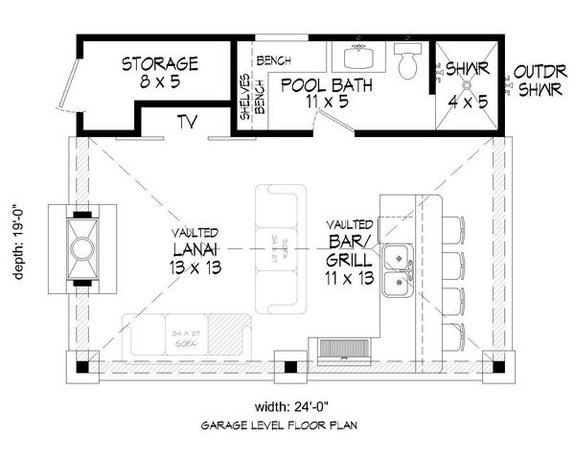 Modern Studio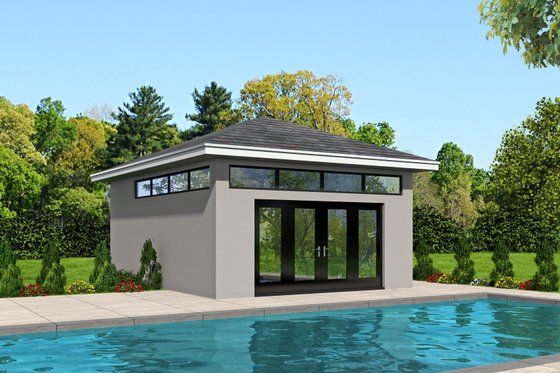 Plan 932-182
This one-story structure features modern details and clean lines, allowing it to fit seamlessly into any existing property. Enter through the glass doors and enjoy 432 square feet of space, including a full bathroom and additional storage closet. Thinking about learning a musical instrument? Practice in here without bothering anyone. Or make it your private yoga zone.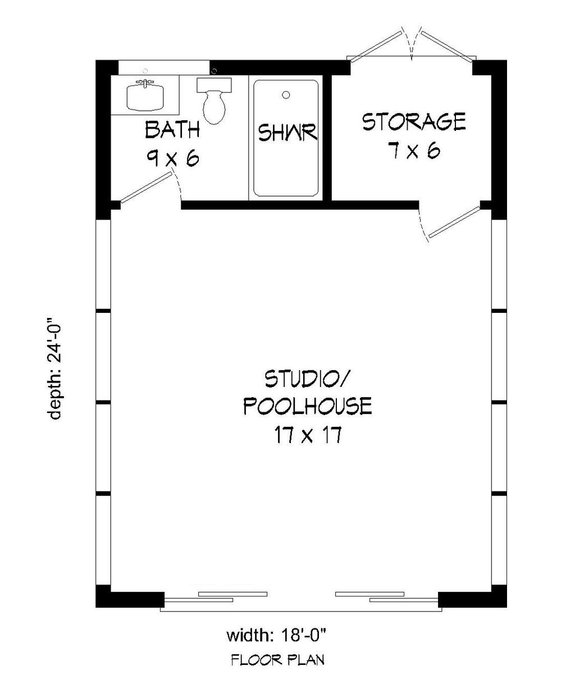 Accessory Structure with Lots of Kitchen Space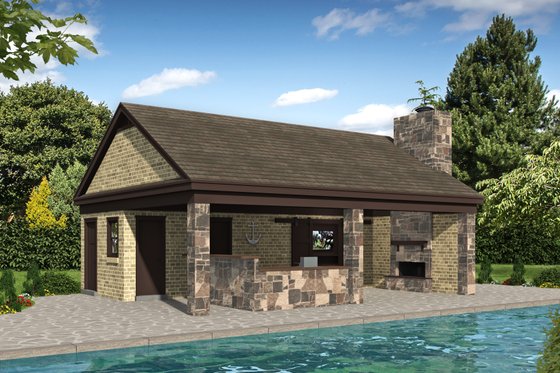 Plan 932-135
On the exterior, this poolside space features a vaulted lanai, allowing for the ultimate outdoor entertaining space. A bar and grill make for the perfect space to host friends and family. Inside, a walk-in pantry makes it convenient to keep all of your grilling supplies within reach. The interior space also includes a half bathroom, as well as extra storage space at the back of the structure. Convert your backyard into the perfect entertaining location with a unique accessory structure like this one.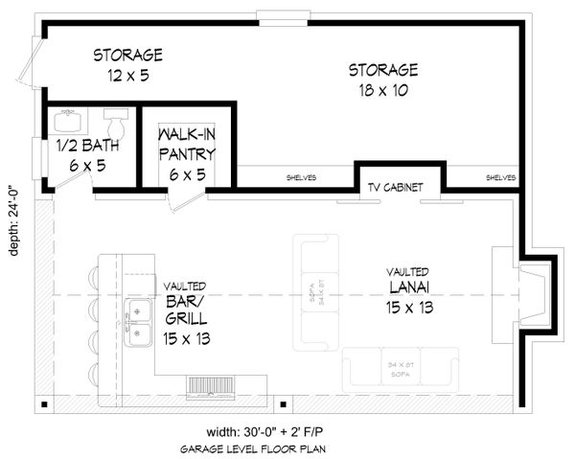 Looking for more inspiration to transform your accessory structure into something amazing? Check out these ideas from House Beautiful.
Traditional Garage Loft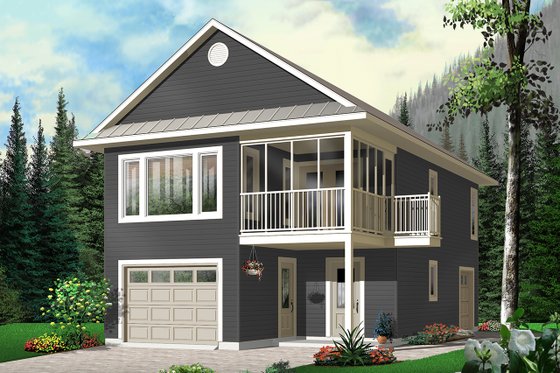 Plan 23-442
With 1,080 square feet of living space, this garage loft makes a luxe addition to your existing property. Enter through either the garage (with space for lawn equipment, sports gear, and much more) or directly into the foyer. A half bathroom down here adds convenience. Upstairs, two bedrooms and a full bathroom give a generous amount of space for friends or family visiting. The loft also includes a full living room, eat-in kitchen, and a screened-in patio for enjoying time outdoors. If you're in search of more space for guests or simply looking for a relaxing escape in your own yard, this structure is sure to be a perfect fit.
Farmhouse Garage Plan
Plan 22-575
With two spaces for cars at the front, this farmhouse-style structure is the perfect addition to an existing design. On the main level, the garage spaces are bordered by a utility closet and stairs that provide access to the second floor. Head upstairs to the main living space, which includes a sizable sitting area, bedroom with a walk-in closet, and full bathroom. A kitchen and breakfast area round out the space and allow access to the back deck. Guests are welcome to the added amenity of a washer and dryer on the second level, helping them to feel right at home.
Country-Style Study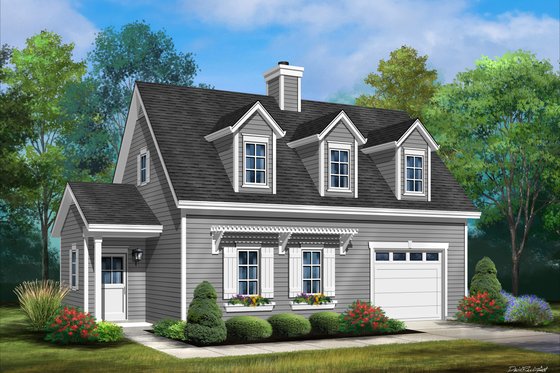 Plan 22-603
Contained in the 1,054 square feet of this space is plenty of room to both relax and entertain. On the main level, space for a vehicle borders the main living area and connects to it. Inside you will find a spacious sitting area, a combined kitchen and breakfast nook, and a half bathroom. Head upstairs to enjoy even more living space, including designated sleeping space, a full bathroom, walk-in closet, and study. The space is anchored by a central fireplace, helping this upstairs living area feel even cozier. The study is ideal for those working from home, allowing your office to feel like a retreat in your own yard.
Want to see more accessory dwelling units? Check out our full collection here.
Get Personalized Help