by Jenny Clark
Small luxury house plans exude practicality and elegance, providing homeowners a piece of paradise without breaking the bank. Consider all the things we now do at home: We work from home. We eat meals at home. We school our kids at home. We exercise at home. We watch brand new movies at home. The home has become the place in which we spend the vast majority of our days. And we want it to be nice. We don't need a castle or lavish estate, just a few frills, some solace, and an aura of magnificence — and that's precisely what the cool house plans below deliver!
View the Small Luxury House Plans Collection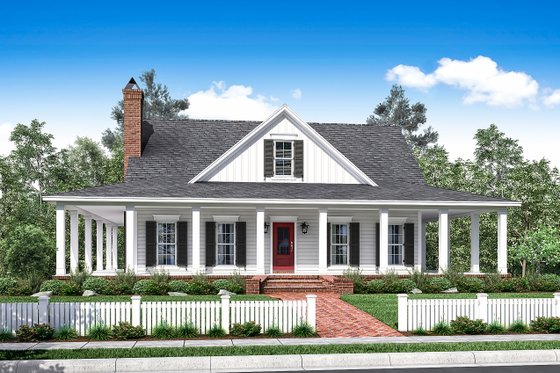 Plan 430-150
Small Modern Farmhouse with Open Floor Plan and Huge Wrap Around Porch
So what is "luxury?" The truth is luxury can mean different things to different people. If your idea of luxury is spacious outdoor living and grand curb appeal, look no further than two story modern farmhouse plan 430-150 (above). Can't you just imagine yourself being on that porch – maybe sitting on a swing, drinking a glass of wine after a long day, rocking away your woes to a beautiful sunset? I can!
Inside, check out the open floor plan, kitchen island, and main-level master suite fit with dual vanities and a walk-in closet. Upstairs, note the flex space and special built-in desks in each of the two extra bedrooms. If you need a place to work from home, you could easily turn one of these extra bedrooms into a home office.
One final thing to note about this design: its footprint is relatively simple – only 8 corners. While a multitude of variables contribute to the cost to build a house (location, materials, overall size, etc.), in general, the simpler the footprint is, the cheaper the property is to construct.
Craftsman Style Ranch Home with Cool Kitchen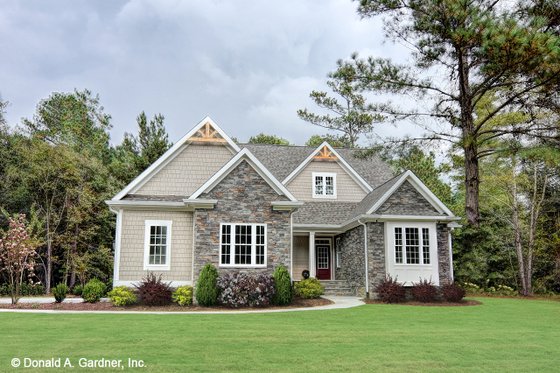 Plan 929-1013
Before we examine the interior of this plan, close your eyes. Now imagine your current kitchen. What's it like? How big is it? Is it open to the main living space? Do you enjoy cooking in it? Ask yourself this: if you're prepping a meal in the kitchen and your significant other walks in — what happens? Do you welcome them into the space with open, loving arms, or do you demand they leave immediately because there's just no room?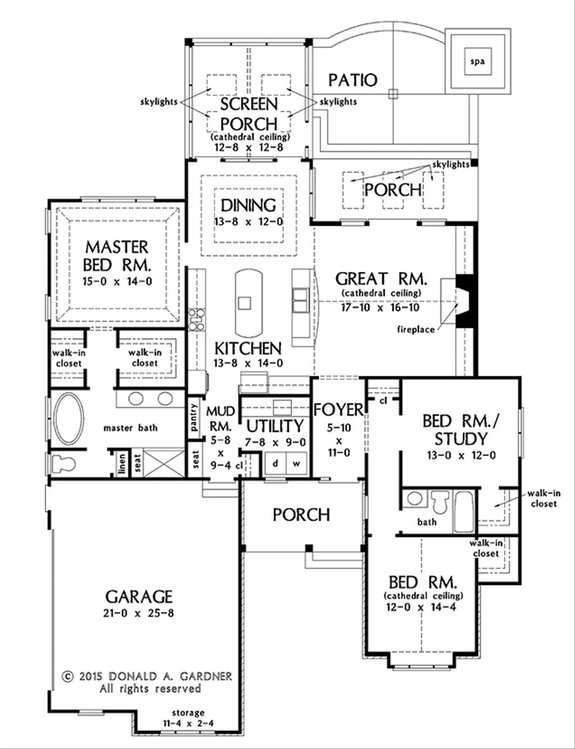 For anyone who's ever lacked the right amount of counter space to prepare tasty, nutritious meals, this home is a dream come true. Just look at those two big kitchen islands. As if that wasn't enough, the kitchen is also open to the main living space, which offers cathedral ceilings, a fireplace, and views of the rear porches.
While it's difficult to take your eyes off the kitchen, notice how this design also boasts an assortment of smart details. For instance: take a look at the entrance off the garage which presents a built-in seat, a pantry, a closet, and easy access to the laundry room. What's more, the master suite offers two sinks, a separate tub and shower, and a private, semi-enclosed space for the toilet. And just because a little extra luxury never hurt anyone, this plan also features cathedral ceilings in one of its extra bedrooms as well as a small storage area in the garage.
Check Out: 21 Kitchen Design Trends from Homes and Gardens
Country Farmhouse Plan with Three Suites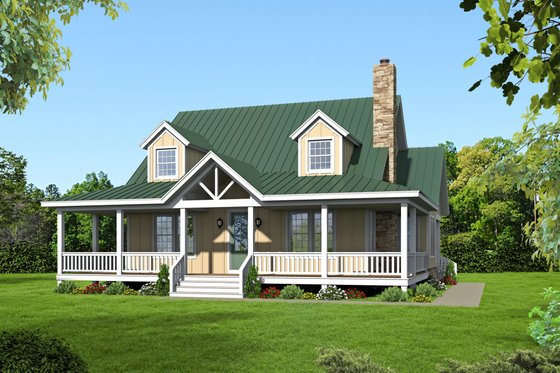 Plan 932-13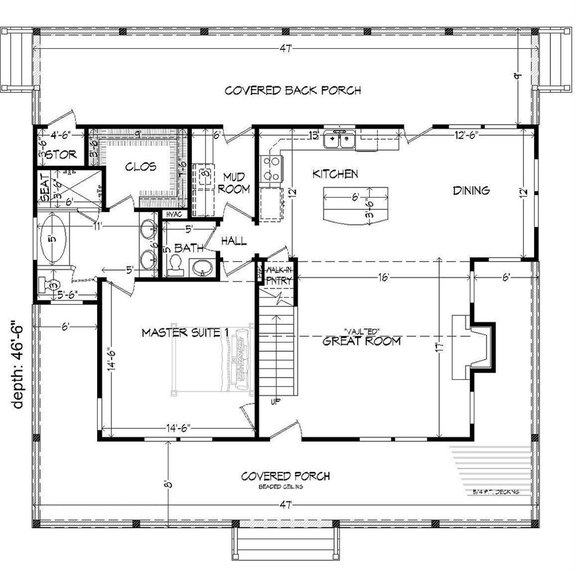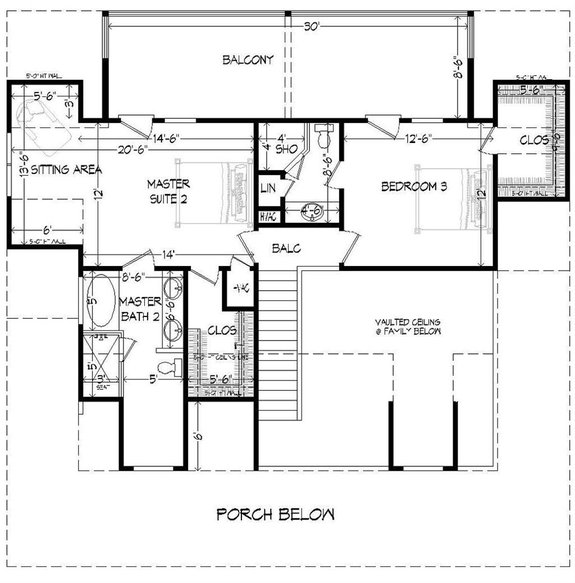 With only a modest square footage of 1,990, this chic layout offers three suites, one on the main level and two upstairs. Each suite boasts its own walk-in closet, and two of the three suites feature a separate tub and shower, two sinks, and access to a beautiful balcony. Note: Depending on your situation, you might consider renting out one or more suites to housemates to help cover mortgage and maintenance costs down the line.
Finally, take note of the vaulted ceilings in the main-level great room and the posh porches that nearly encircle the entire property. Both of these features add a dose of personality and flare to the design while also making the home feel bigger than it actually is.
Deluxe Craftsman Ranch House Plan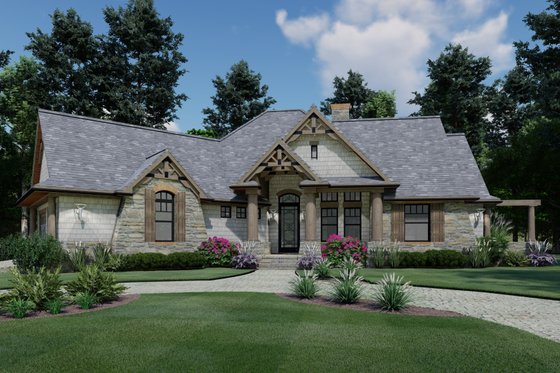 Plan 120-171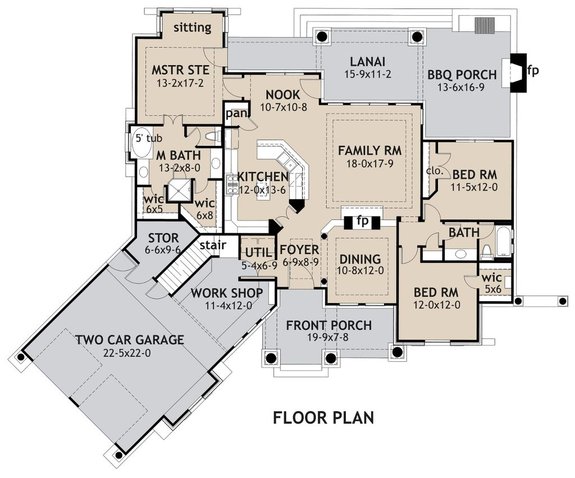 This rustic, open concept Craftsman home turns up the heat with two fireplaces—one on the inside and one out back. The indoor fireplace is two-sided, offering views and warmth to both the family room and dining room. Meanwhile, the kitchen sports a large, curved kitchen island to facilitate meal prep, and the primary suite offers dual vanities, a separate tub and shower, and a little extra space to move around (note the "sitting" area). If storage is a necessity, there's a walk-in closet in the garage that could house tools, supplies, old boxes, you name it. The garage also sports a workshop area that could be used for additional storage or as a hobby space.
Open Concept Ranch Plan with Storage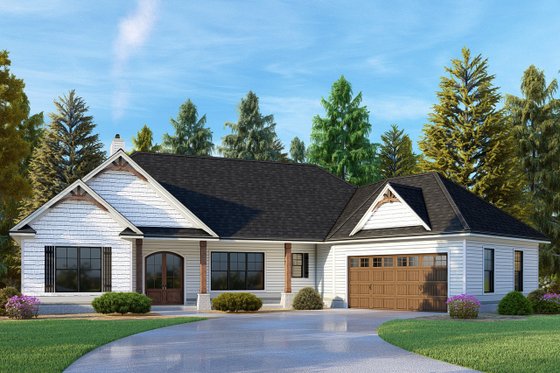 Plan 437-101
In addition to a huge master closet and walk-in pantry, this plan presents a screened porch with outdoor fireplace—perfect for cool fall nights—a spacious open layout, and an office alcove should you need to work from home. Little, thoughtful, luxurious details are also sprinkled throughout, like the French doors that separate the great room from the screened porch; the built-in vanity in Bedroom 2; the dual vanities in the master suite; the proximity of the master closet and the laundry room; and the extra walk-in closet just off the main entrance, which could be used as a second walk-in pantry or a larger-than-average coat closet.
Small Modern Farmhouse Plan with Sky Lit Master Suite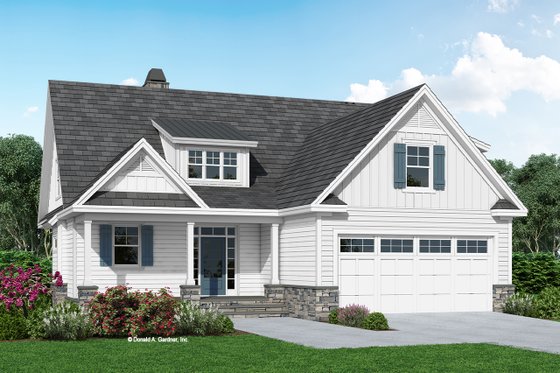 Plan 929-1124
Need a little extra natural light in your life? This modern farmhouse design sports two skylights in its main-level master suite and a sun tunnel in the kitchen. The layout also boasts a variety of other details that are designed to make homeowners' lives easier, including a mudroom with a built-in seat and close proximity to the pantry and laundry room, extra storage and built-in shelves in the garage, two master bath sinks, an open floor plan, and a kitchen island.
Upstairs, the two extra rooms could be used as guest bedrooms or home offices. Meanwhile, the spacious (optional) bonus room could be used for storage, a children's play area, or as a rocking den fit with a pool table and big screen TV!
Read Now: 10+ Brilliant Bonus Room Ideas from Elle Decor
Beautiful Modern Farmhouse Plan with Cooktop Kitchen Island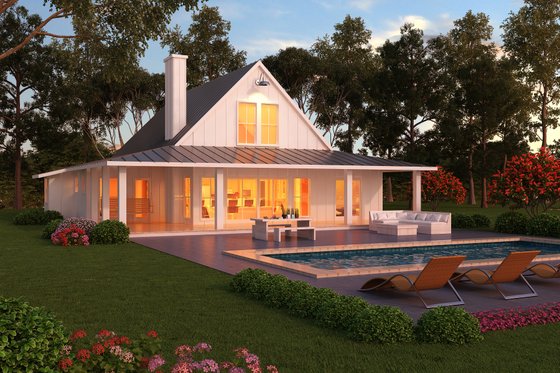 Plan 888-7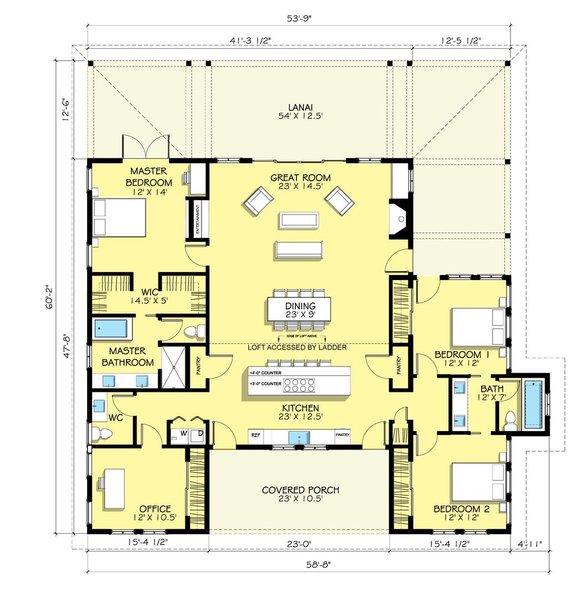 With a covered, wrap around rear lanai, a covered front porch, and a glistening metal roof, this stunning, 2,168 sq. ft. modern farmhouse design leaps off the screen and into our imaginations. Wouldn't it be nice to just chill on that lanai while reading a good book and nursing an ice-cold glass of lemonade?
Inside, the main living area commands attention with an expansive open layout, two pantries, a big, cooktop kitchen island, a fireplace, and access to the wrap around lanai. Note: The large lanai is also accessible via the master suite, which sports French doors, a walk-in closet, a separate tub and shower, and double sinks. Other notable takeaways include: two extra bedrooms, a home office, and a secluded, upper level loft.
Small Luxury Craftsman House Plan with Photos & Wet Bar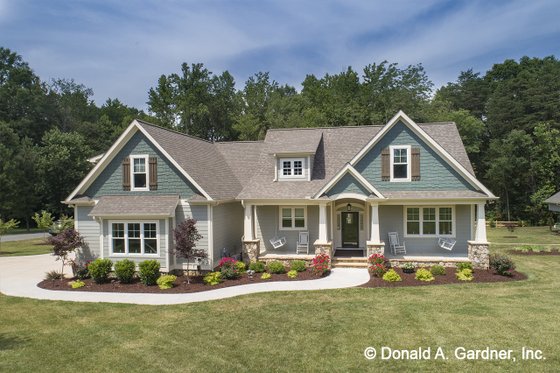 Plan 929-1043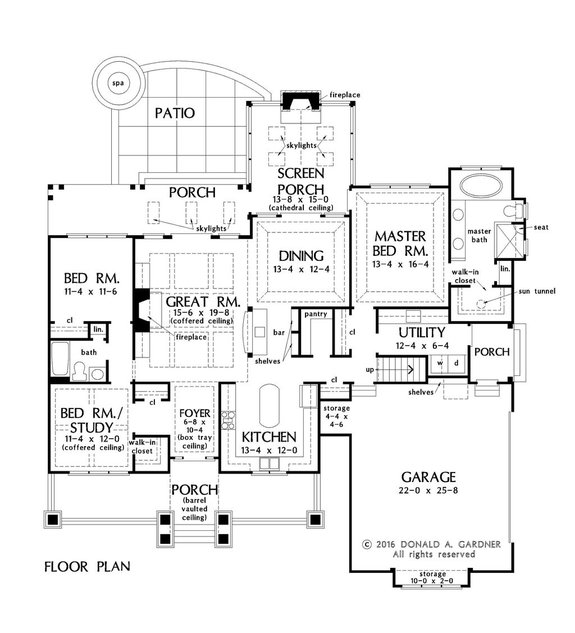 This small Craftsman design enjoys an extra cool main living space that features an open layout, coffered ceilings, a kitchen island, a wet bar island, and views of a covered, sky lit porch — a good portion of which is screened and warmed by an outdoor fireplace. Did we mention the screened porch also offers cathedral ceilings? Pretty cool!
In the main-level master suite, note the two sinks, separate tub and shower, and chic sun tunnel that delivers a stream of natural light to the walk-in closet. On the other side of the property live two extra bedrooms, one or both of which could be used as a homeschooling area, office, game space, guest bedroom, etc. Meanwhile, the optional upstairs bonus room presents even more possibilities.
Browse the Small Luxury House Plans Collection
Take Note: All of our house blueprints can be customized. If you find a design that's almost perfect, but not quite, call 1-800-528-8070 to discuss modifications. You can also click the "Modify This Plan" button on any product detail page and describe the changes you wish to make in the short form that follows.