By Boyce Thompson
Decades ago, families preferred homes with public rooms – the living and dining room – facing the street. That way they could keep an eye on passing neighbors, street activity, and approaching guests. These rooms were often the most elegantly furnished. They were the ones that visitors saw first from the entry hall, along with a grand stairway. Even 15 years ago, center-hall colonials were the dominate housing styles in traditional markets such as Washington D.C. and St. Louis.
Click here to browse our collection of house plans with great rooms.
These days, most people prefer a less-formal great room plan with combined kitchen, living, and dining spaces along the private back side of the house. Great rooms, also called out in plans as family rooms, have become the anchor of many suburban house plans. Great room plans used to be built primarily as second homes in country settings, with beamed ceilings, loft bedrooms, and big fireplaces. Newer plans developed as primary residences may retain vestiges from the old days as you can see in plan 70-1040 (below) with its stone fireplace and arched ceiling.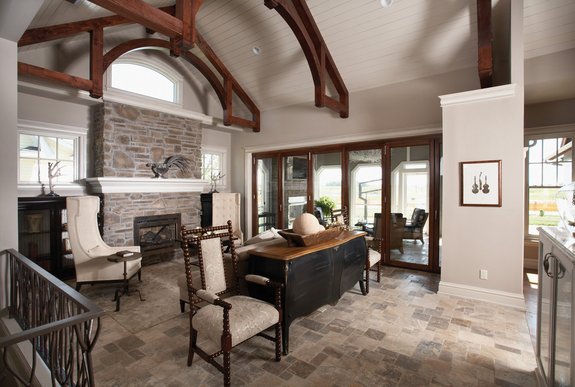 Plan70-1040
Aesthetics aside, there's added pressure on great room plans to perform for daily living. This is where families expect to spend big chunks of time. The challenge is to envision all the activities that might take place in this space. Some are obvious, like sitting by the fire, watching the big game, or reading a book. Others are less so – like hosting book club or a holiday celebration. This great room plan (plan930-19) mixes traditional great room elements like a beamed ceiling with modern floor plan touches like a sunny breakfast nook for lingering with a crossword puzzle. It's easy to imagine a big gathering in this home.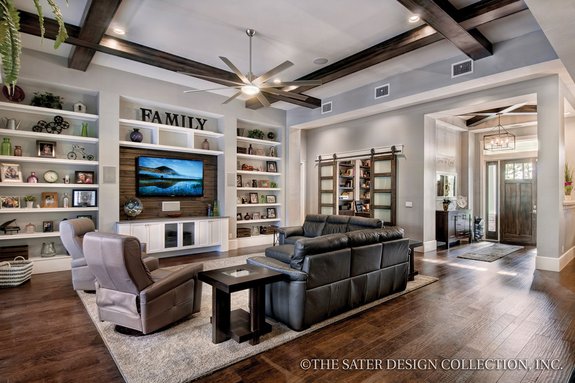 Plan 930-19
Since you'll be spending a lot of time in the great room, it goes without saying that the room needs to be supremely comfortable, and brightly lit. In most great room plans, patio doors and windows link public space in the back of the house to a porch, deck, or patio.
Blurring the boundaries between indoor and outdoor space makes a house appear much more spacious. Plans are widely available with patio doors that fold back or disappear into the wall, completely erasing boundaries between indoor and outdoor space. This living option is so compelling that it's showing up even in cold climates where the doors much remain closed for much of the year. The look is especially popular in contemporary house plans that aim to merge indoor and outdoor space anyway. Here's a good example: a transitional farmhouse plan.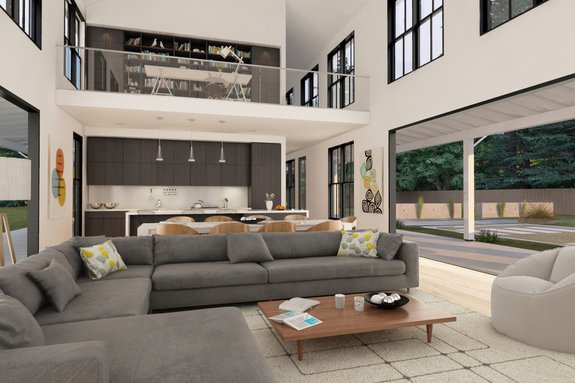 Plan 888-15
If you prefer great rooms to more formal house plans, you are far from alone. A 2015 survey by the National Association of Home Builders found that 70 of recent and prospective home buyers preferred a plan with a completely or partially open kitchen-family room arrangement. When asked a similar question a year later, an even higher 84 percent of builders said they built homes with combined kitchen/family room spaces.
The key to making a great room work on a day-to-day basis is to establish zones to accommodate different activities – like eating, reading, cooking, napping, dining, partying, or doing homework. Some boundaries come baked into plans. An island, for instance, effectively separates the kitchen but still allows a visual connection to other living spaces. Other plans rely on changes in ceiling heights (a lower ceiling in the kitchen) and wall treatments (a media wall in the TV area) to highlight zones. You can see that tactic at work in this plan below.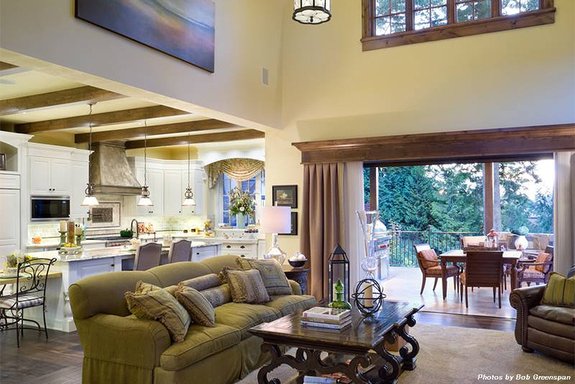 Plan48-625
The way you furnish the space can make a big difference. Bigger great room plans, for instance, usually accommodate two main seating areas – one for watching TV, the other for carrying on a conversation. A sofa facing away from the kitchen is a great way to define the entertainment area of the house. Arranging two chairs to face each other over a shared table establishes a conversation area. Even better if the zone is tied together with an area rug, like you see in plan 927-5 (pictured below).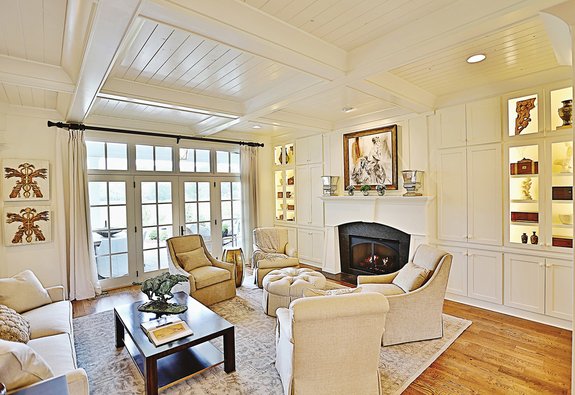 Plan 927-5
The big question, when it comes to furnishing a great room, is what serves as a focal point of the design. Many plans are aligned for views of a roaring fireplace, just like in country retreats. But you need to ask yourself whether the family will spend more time watching TV than a fire. Some plans relegate the TV to a spot over the fireplace where it's more difficult to watch. You may prefer to have a TV at eye level, especially if your family routinely gathers round to watch a video, a big game, or election coverage. Some plans may be big enough to support having both the TV and fireplace at eye level. The sectional sofa used in this plan accommodates that arrangement. An area rug would be a great place for children to throw down pillows and watch TV from the floor.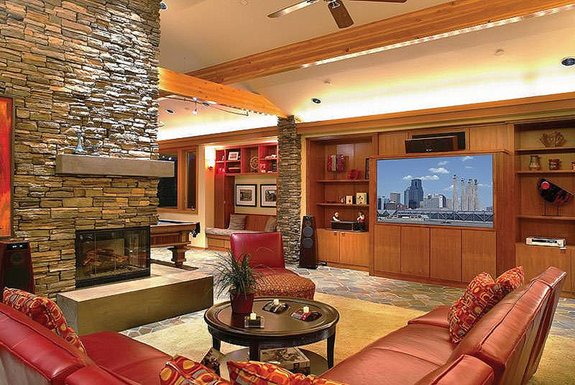 Plan 48-433
One benefit of sectionals is that they can include several types of units – from armless chairs, to love seats, to ottomans, and chaises. You might be able to turn lightweight furniture to face either the fire or television, depending on your focus of attention that evening. Practical details can make or break a great room. Most people prefer to hang a TV on the wall these days so that it takes up less floor space. You need to make sure there's a wall big enough to accommodate your TV.
The other common visual focus of a great room plan is a backyard garden or woods. The cottage home below features a wide-open floor plan with great backyard views from the living room and nook. Only columns separate a formal dining room and study from the main living spaces, meaning that these spaces can also take advantage of views. In the living room, using the same upholstery on a couch and arm chairs creates a structured setting. Using matching lamps on either side of the sofa imposes symmetry and a sense of order.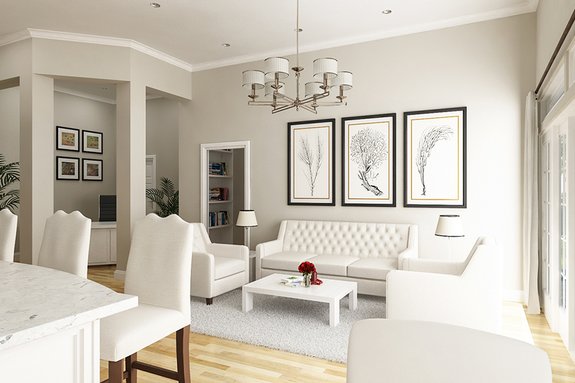 Plan 45-368
Circulation can be an issue in great room plans. In great room plans of yore, the front door often opened right into the main living area. That configuration can work in southern climates; it may even be preferable if the view from the front door is really special. In colder climates, though, it may be better to have some separation between the entry hall and the great room. A common approach is to provide a tantalizing glimpse of the great room from the entry vestibule, using light from back windows to draw eyes and people toward the space.
The dining space may raise other circulation issues. If the plan calls for a dining table between the kitchen and entertainment zones, there needs to be enough clearance around the table for people to circulate, especially during parties. This is especially important if you plan holiday celebrations. It would be easy to expand the dining table with eaves in the plan below and still have room to circulate. On other days, the table's location by the window makes it a cheery space to read or drink coffee.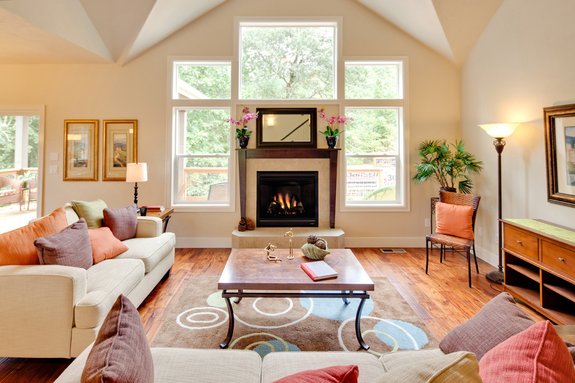 Plan 124-921
Great rooms don't have to be big, but they do need to be comfortable. They need to retain a human scale no matter how big the house. The kitchen and powder bath can't seem too far away. In bigger homes, it's especially important to break down space with variations in ceiling heights and wall treatments. Here's a house plan (pictured below) with a great room that feels warm and inviting. A nook by the window would be the ideal place to read a book or write a letter.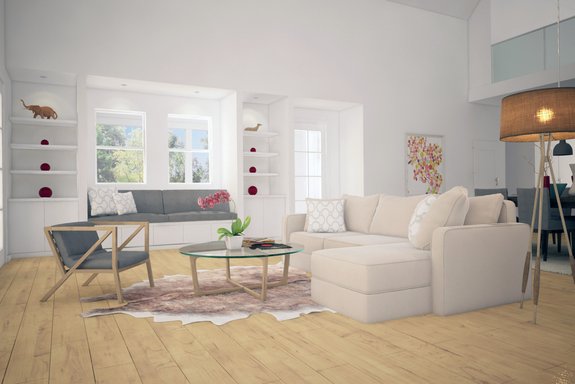 Plan 888-1
Browse our collection of house plans with great rooms here.
Explore open layout plans here.