by Jenny Clark
Professional house builders and non-pro builders who seek to have their dream home built on the cheap appreciate simple floor plans. Pro builders prefer simple layouts because—generally speaking—they tend to be easier and faster to build, allowing the builder to move on to their next project as soon as possible. People working with a tight construction budget also favor simple designs because they tend to be cheaper to build, heat, cool, furnish, and maintain. What's more, if you're planning to build a home in a popular area, chances are land is going to be scarce. So, even if you're lucky enough to be working with a larger-than-average budget, a small home that can fit nicely on a modest lot might still be your best bet. Below, discover ten builder and budget-friendly house plans that offer open floor plans, curb appeal, and more.
Browse Our Blueprints for House Builders collection
Fun-Size Farmhouse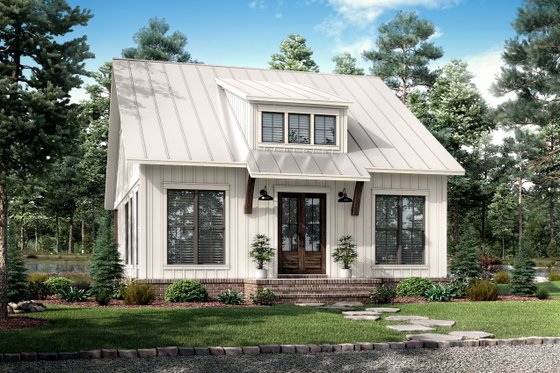 Plan 430-238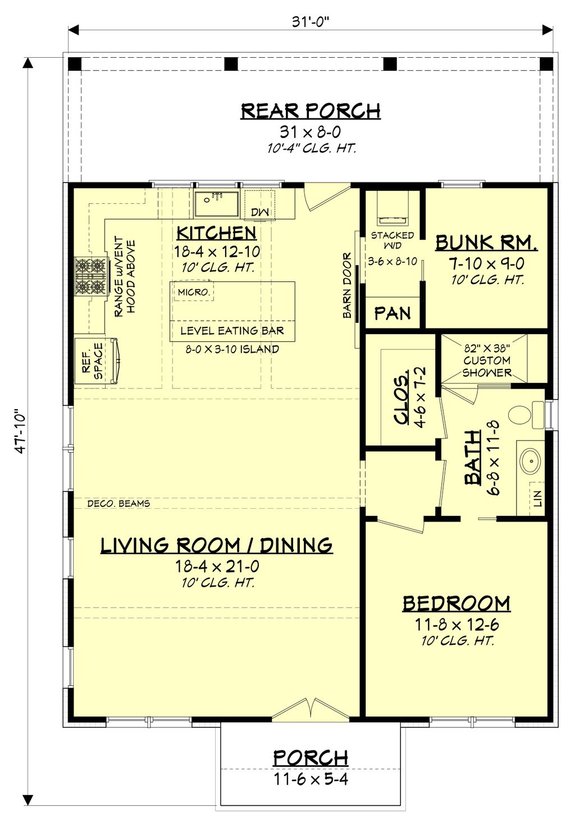 This fun-size modern farmhouse plan delivers several cool features, including an open floor plan, a kitchen island, decorative ceiling beams, and a large shower. Also note the 10' ceilings and rear porch, both of which make the home feel larger and airier than it actually is. Finally, there's a bunk room which could be used as an office, extra storage, or something else entirely.
Builder / budget-friendly perks include: a simple gable roof, a four-corner footprint that could work well on a narrow lot, and modest square footage of 1,070 square feet.
Fits a Narrow Lot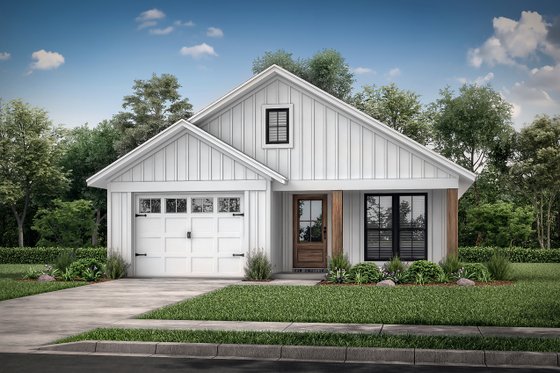 Plan 430-206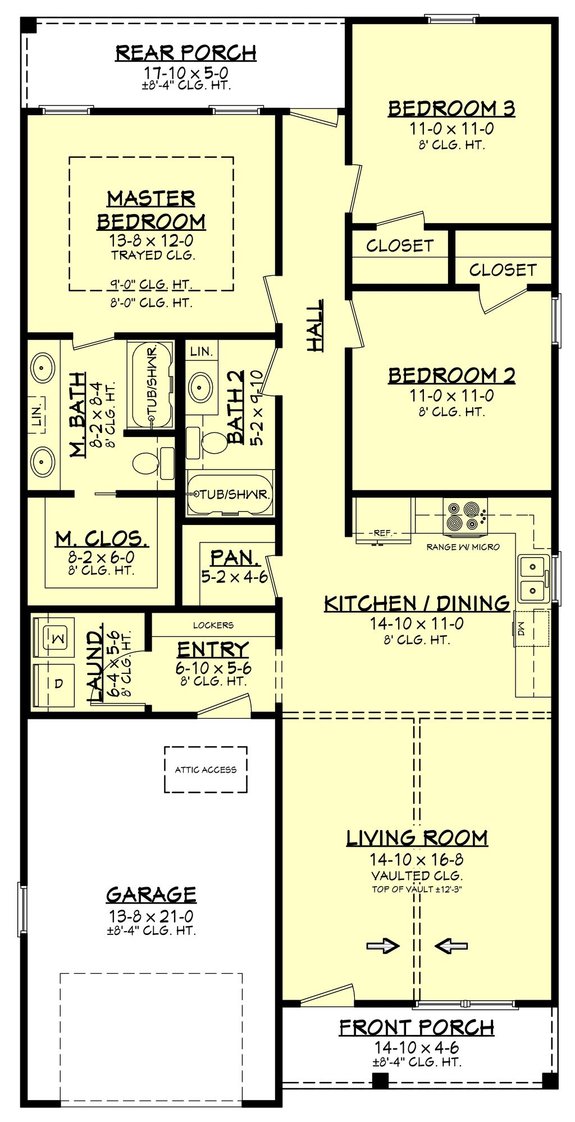 This design has something for everyone. Narrow-lot owners will appreciate the modest width. Families with children, or couples who enjoy entertaining guests, will enjoy the open-concept living space that sports a vaulted ceiling. And anyone who has ever come in from a storm and wondered, "Where am I going to put all my wet stuff?" will adore the built-in lockers next to the garage entrance, as well as the entrance's close proximity to the laundry room. As you proceed to the rear of the house, you'll notice two bathrooms and three bedrooms, one or more of which could be used as something else (an office, a den, a music room, and so on). Inside the primary suite, note the tray ceiling, two sinks, and walk-in closet.
A Small Five-Bedroom Design - Say What?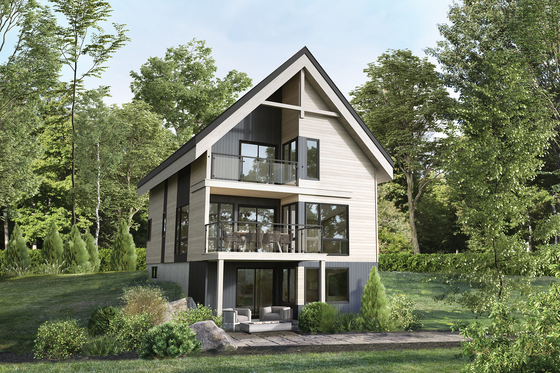 Plan 25-4925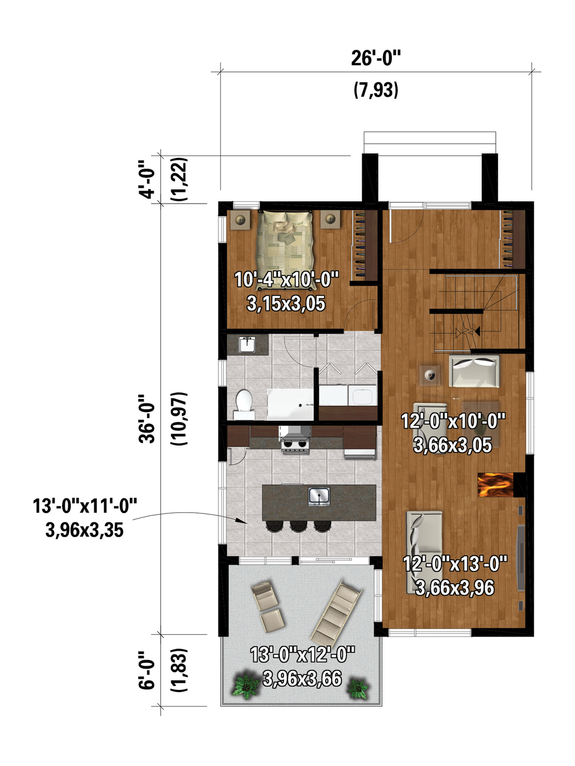 Main Floor Plan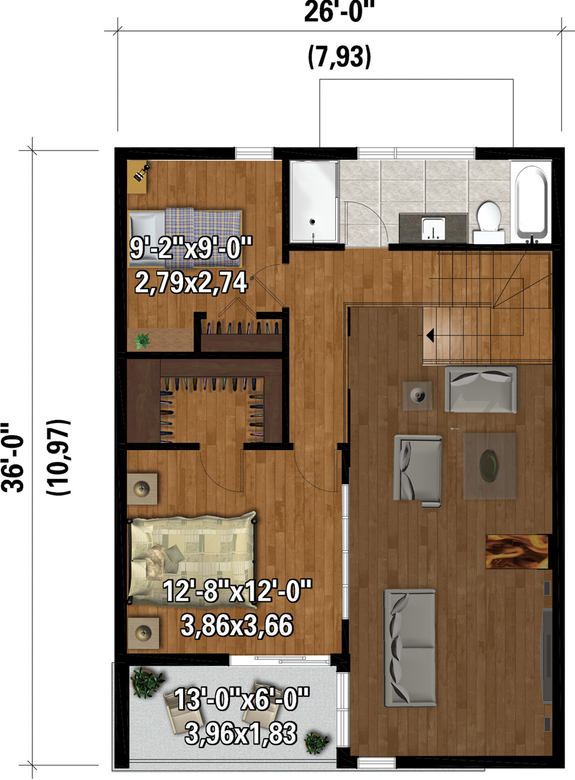 Upper Floor Plan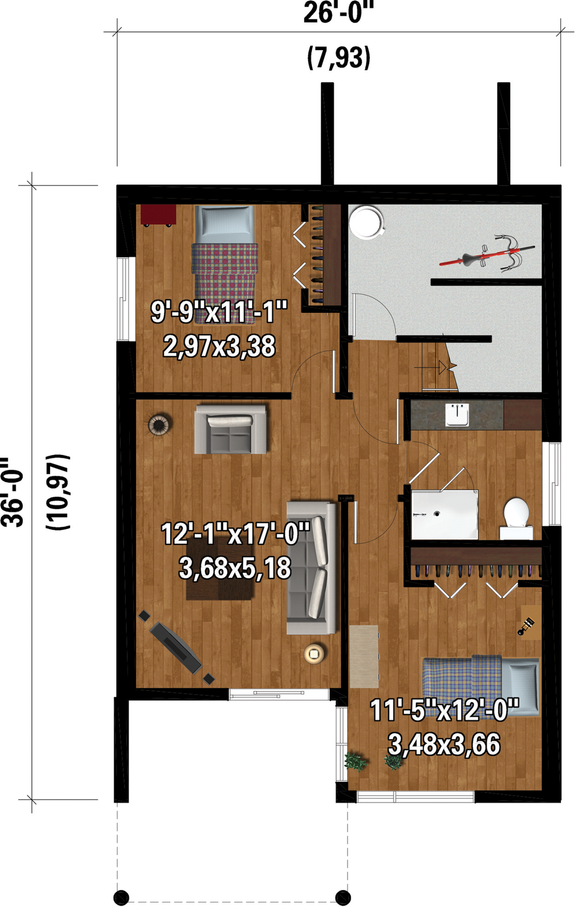 Lower Level Plan
A small five bedroom home…is that even possible? On ePlans, it is! Check out modern cottage style design 25-4925 (above). This five-bedroom layout sports three floors (two stories, plus a finished basement), three bathrooms, and two living rooms. It's also only 26' wide, and 36' deep, making it potentially perfect for a shallow or narrow lot. Inside the design boasts an open floor plan, a kitchen island with an eating bar, and three levels of outdoor living. Pretty chic, to say the least, especially if you have a view lot. I mean, can't you just imagine enjoying your morning coffee on the primary bedroom's balcony? What a nice way to start your day!
Sweet Suites
Plan 929-1092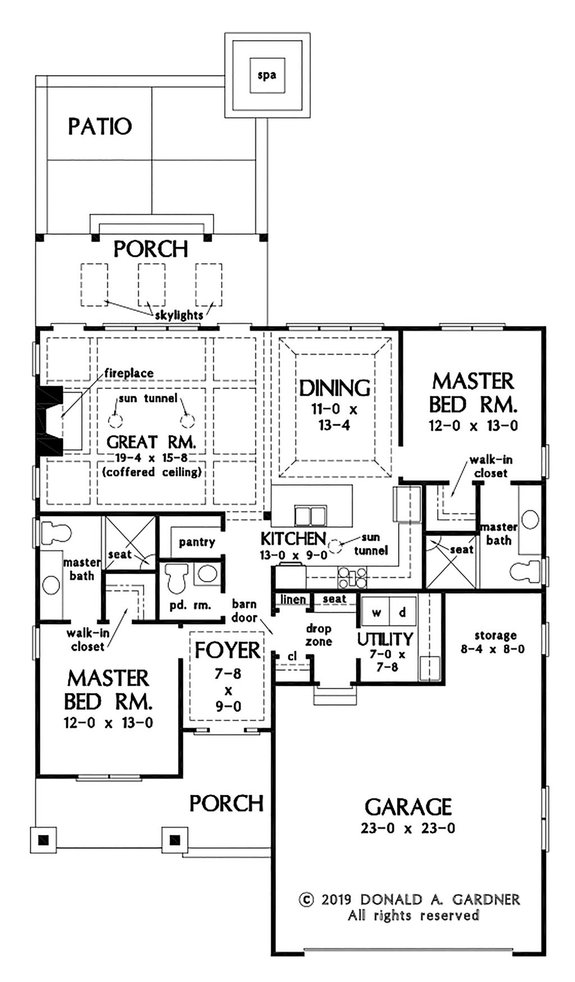 Step inside this cute cottage design and discover two main-level suites, each of which boasts a walk-in closet and a shower with a built-in seat. This type of layout often works well for someone living with a parent or in-law who might have trouble going up and down stairs, or an adult child who prefers to have their own private bathroom.
Enter through the garage and note the built-in seat, two closets, and easy access to the laundry room, pantry, and powder room. Travel farther into the house and you'll find yourself in the open-concept kitchen/main-living space. Note all the cool details, including the coffered ceiling, the sun tunnels, and the kitchen island. Through the great room you can access the rear covered porch that features skylights. Did we mention this deluxe design is only 1,428 square feet and 44' wide?
Vaulted Ceilings, Simple Footprint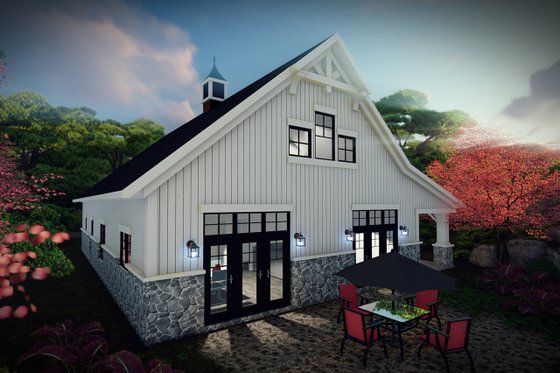 Plan 70-1478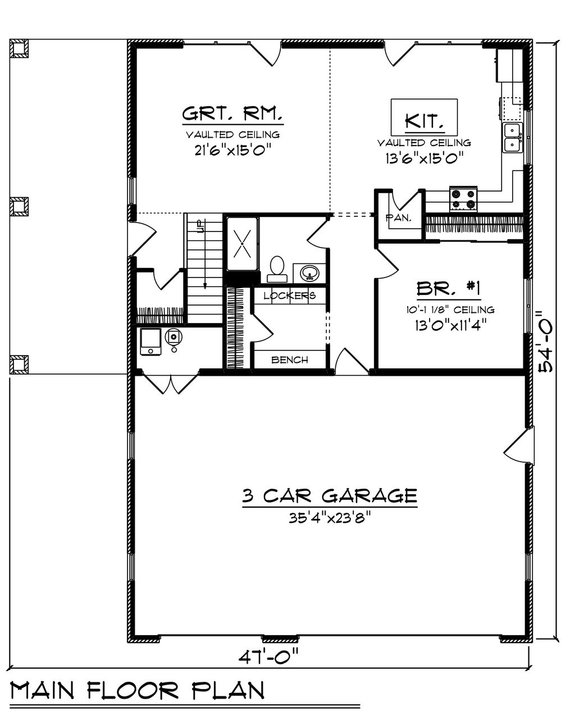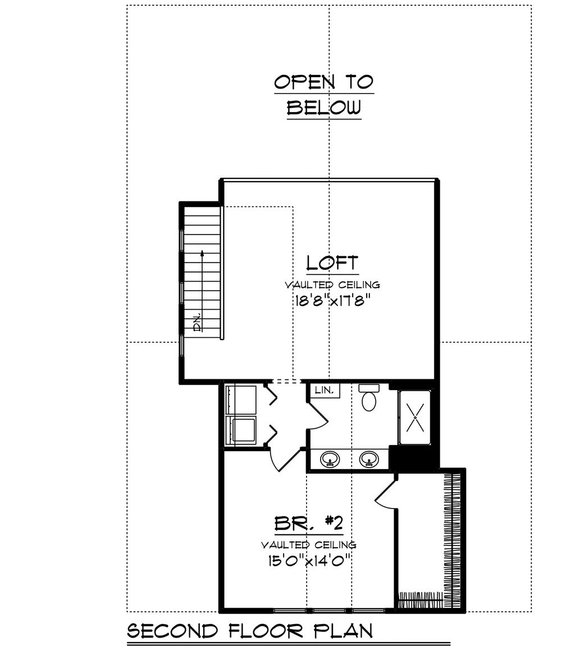 This farmhouse floor plan boasts a simple, four-corner footprint, 1,871 square feet, two bedrooms, a loft, and luxurious details, including vaulted ceilings on its first and second floor and an impressive three-car garage. Just off the garage, note the built-in bench and lockers, perfect for storing wet or dirty clothing before reaching the main-living space. Bedroom one lives on the first floor and could be used as a guest room, a home office, or an exercise area. Upstairs, note the primary bedroom, which enjoys a spacious walk-in closet and easy access to the washer and dryer.
Stunning A-Frame Cabin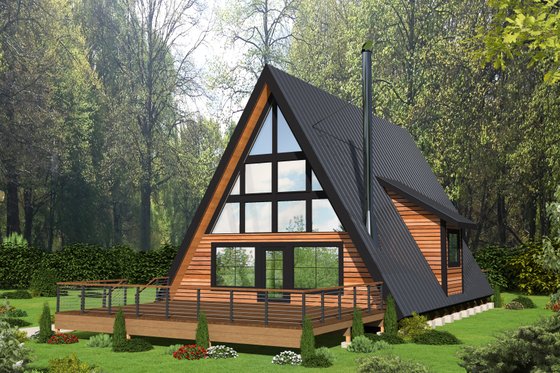 Plan 117-914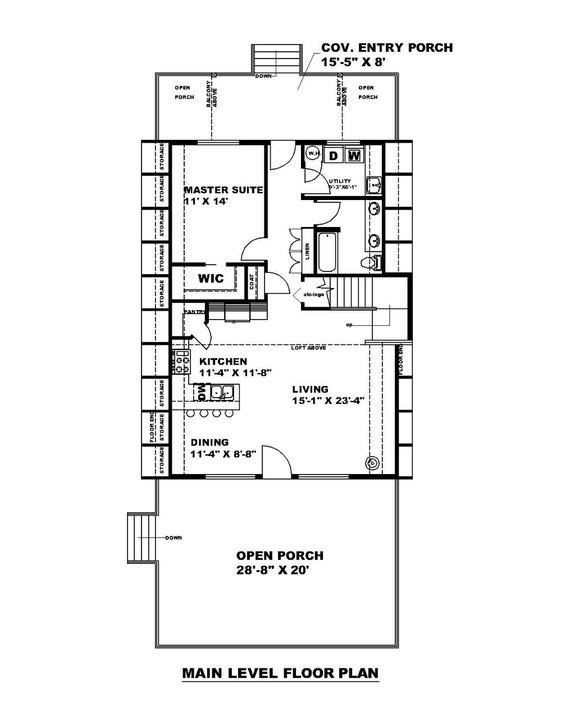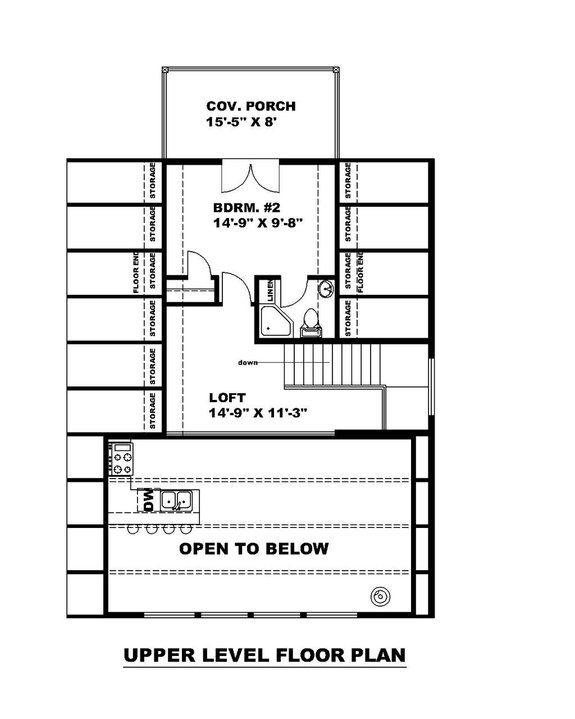 Looking for a simple-yet-stunning vacation home? Look no further than plan 117-914 (above). This cool, contemporary cabin plan boasts a dramatic a-frame roof. Roofs like this often work well in cold, mountainous areas, as the steep angle allows for the shedding of heavy snow. Also note the design's big windows and spacious porches, all of which lend themselves to a view lot. Other sweet details of this layout include: an open floor plan, a kitchen peninsula and pantry, a main-level primary bedroom with a walk-in closet, a loft, which could be used as a second living space or game room, and an extra, upstairs suite that boasts its own private, covered porch.
Beach Beauty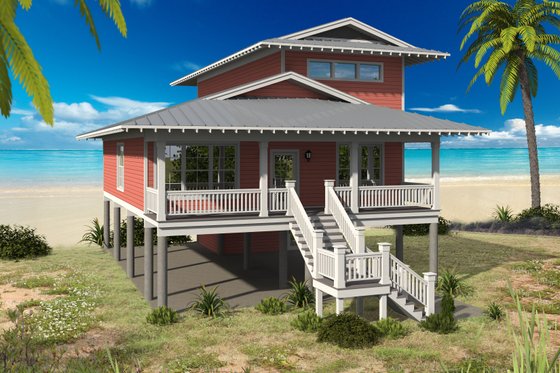 Plan 932-274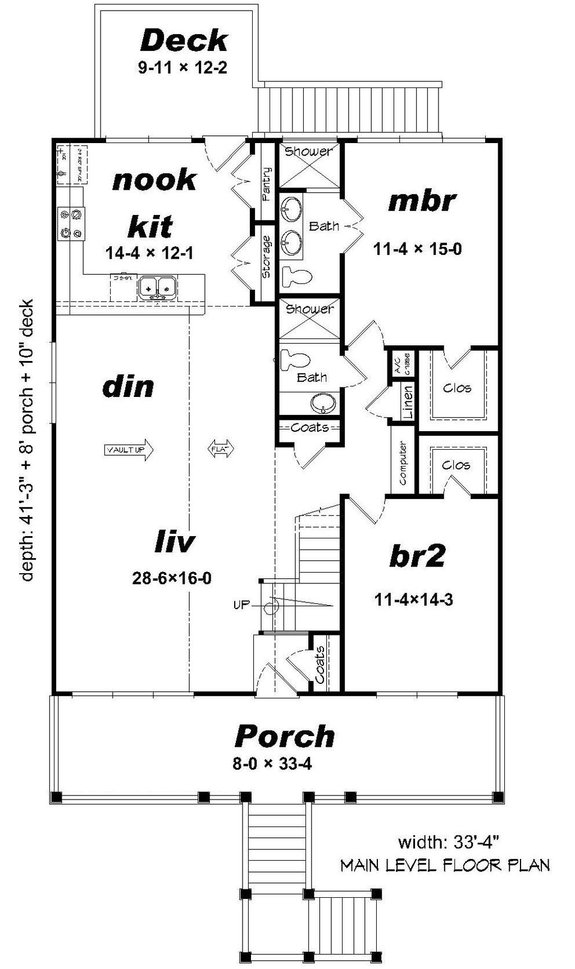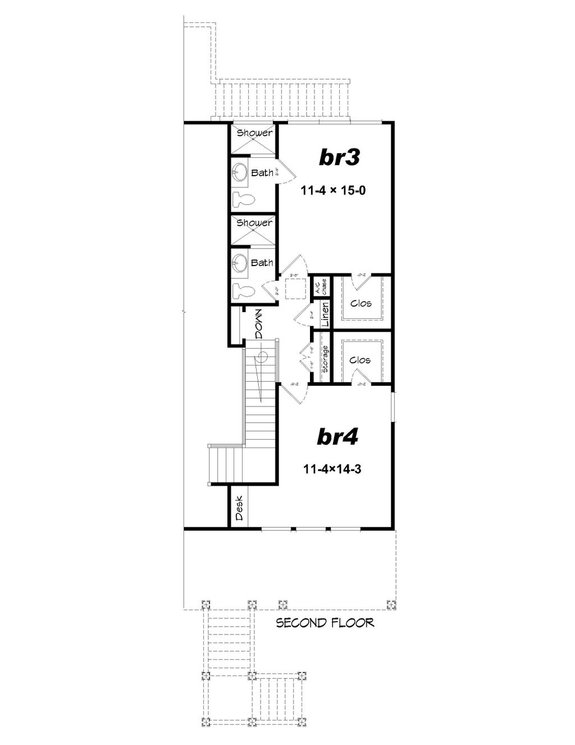 Prefer to vacation (or live!) by the beach? Take a look at beautiful beach-style design 932-274 (above). Builders will appreciate this narrow- (33' 4'' wide) and shallow- (41' 1'' deep) lot plan's simple footprint and modest square footage. Meanwhile, homeowners will enjoy the fact that all four bedrooms boast a walk-in closet, and three of the four bedrooms feature their own bathroom. Also note the smart built-ins in and around the bedrooms, like the computer area between bedrooms one and two, and bedroom four's built-in desk. Additional perks include a kitchen peninsula that is open to the vaulted-ceiling living space, a pier foundation, a deck, a sweet front porch, and two sinks in the primary bathroom.
Check It Out: 48 Beach House Decor Ideas from Country Living
Unique and Chic Curb Appeal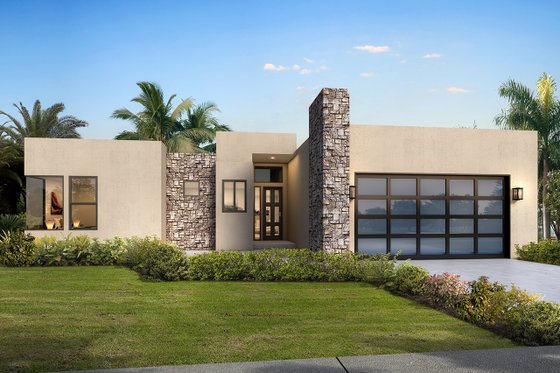 Plan 1073-6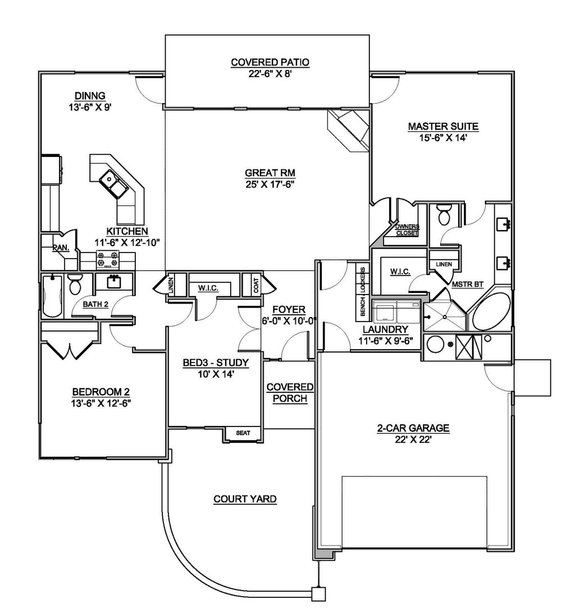 Adobe/Southwestern style meets modern flare in this unique and chic single-story open floor plan. Inside, note the angled kitchen island that's open to the fireplace-warmed great room, as well as the main-level primary suite fit with two sinks, two walk-in closets, a separate tub and shower, a private area for the toilet, and access to the rear, covered patio. Other cool details include a built-in bench and lockers that live right next to the garage entrance.
Take Note: This design is only 1,791 square feet. If you think you might need more space (now, or in the future), consider selecting a basement foundation (available for an additional fee), which can be finished at a later date. If you're building on a sloped lot, a walkout basement might work best (be sure to discuss details like this with your builder!)
Simple Country Plan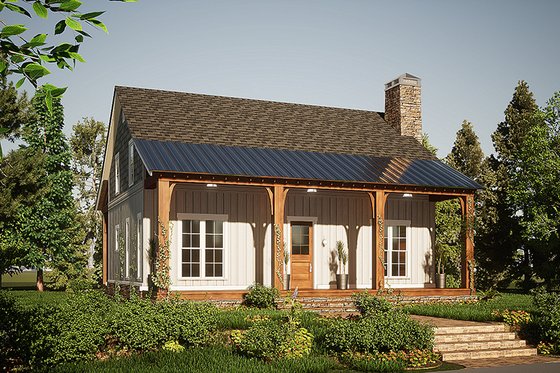 Plan 923-207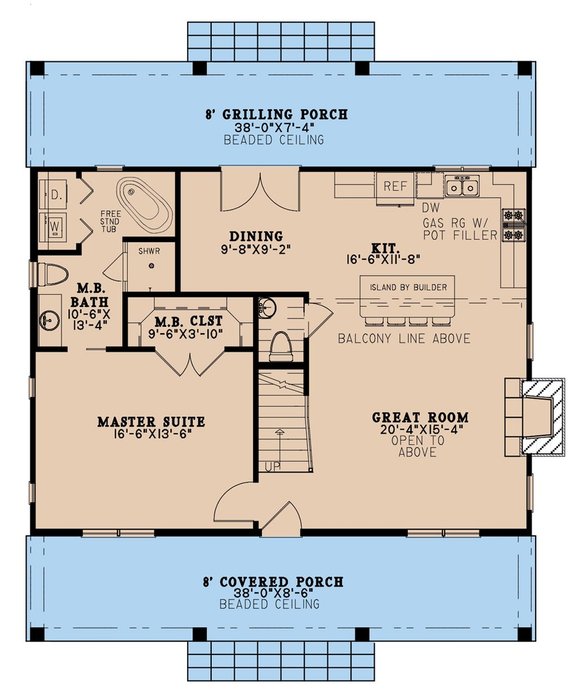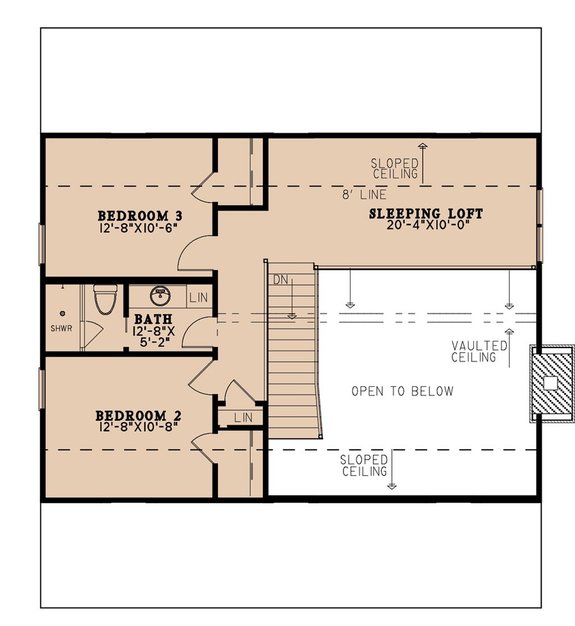 This narrow (40' 4'' wide) and shallow (44' deep) lot plan features a simple, four-corner footprint, 1,764 square feet, three bedrooms, and two-and-a-half baths. As you step inside the front door, you're greeted to an open-concept living space, a kitchen island, 9' ceilings, and a main-level primary suite that sports a separate tub and shower and a washer/dryer. Upstairs live two extra bedrooms, an extra bathroom, and a sleeping loft with a sloped ceiling. What makes this plan "pop" are its posh front and rear covered porches. Can't you just imagine starting your day on the front porch, watching the sun rise as you enjoy your coffee? Later on, unwind by having a glass of wine or lemonade on the rear porch. Or, better yet, set up a BBQ out back and entertain some friends.
Super-Cute Curb Appeal!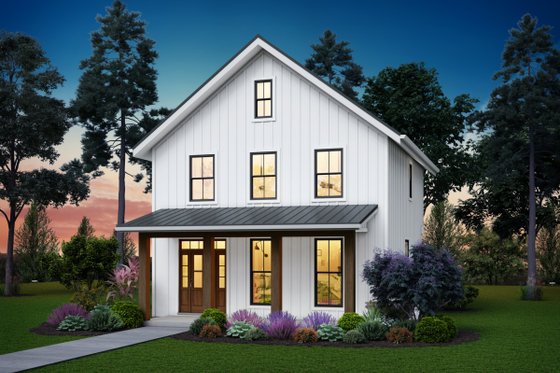 Plan 48-992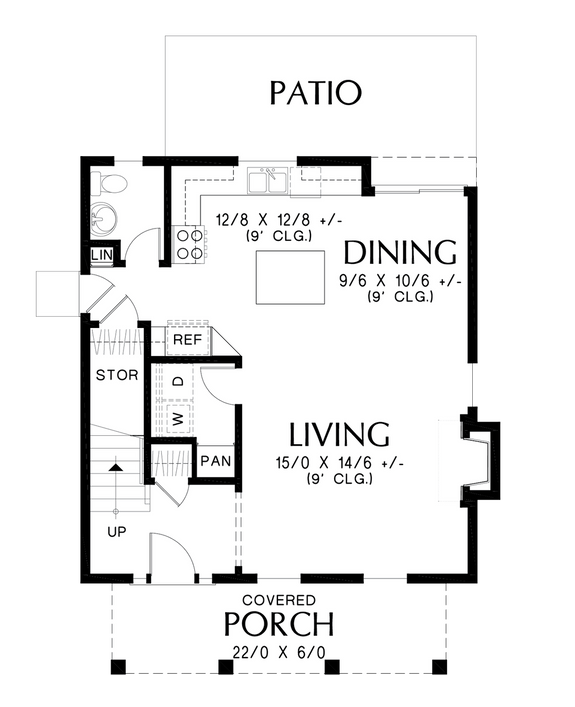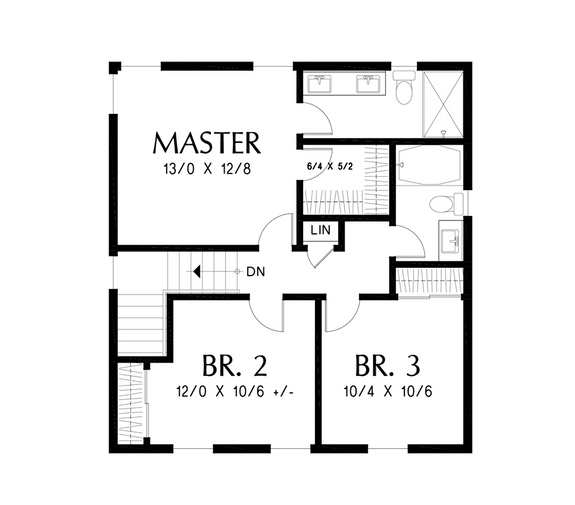 This super-cute modern farmhouse plan might be just what the doctor ordered if you're working with an extra small lot. At only 26' wide, 34' deep, and 1,394 square feet, this little-but-mighty layout offers an open floor plan, a kitchen island, a fireplace, three bedrooms, and two-and-a-half baths. Note how all the bedrooms (including the primary suite) live upstairs, a setup that tends to work well for families with young children. Also note how the primary suite boasts two sinks and a walk-in closet. Finally, don't forget about the covered front porch and rear patio, both of which help to make the home feel larger than it actually is.